St. Louis, Missouri Car Donations
Donate Your Vehicle and Save Lives!
St. Louis, Missouri Car Donations: Fight for Breast Cancer Patients and Get Tax Deduction
As part of our advocacy to fight breast cancer, we at Breast Cancer Car Donations are undertaking activities such as our St. Louis, Missouri car donations program to generate more funds to help needy fellow Americans who are stricken with this devastating disease.
We are thus encouraging people to donate to us their vehicles, even those that are old and are no longer being used, so that we can sell them through auctions, with the proceeds going to our non-profit organizations that are providing strategically effective programs to aid breast cancer patients.
The proceeds from your St. Louis, Missouri car donations will be used to fund the programs of our nonprofit partners—American Breast Cancer Foundation and Women Involved in Nurturing, Giving, Sharing, Inc. These nonprofits help uninsured women in gaining access to breast cancer screening, diagnosis, and treatment in case they are found positive for the disease.
The proceeds of your car donations in the city will also be used to:
Support research on breast cancer cure
Help in empowering breast cancer patients, survivors, and their families by providing patient-centered care aimed at maximizing quality of life
Help patients in managing the unwanted side effects of breast cancer treatment such as removal of parts or all of the affected breast and hair loss
Raise awareness about breast cancer prevention and detection of early breast cancer signs
Understanding Breast Cancer
Breast cancer begins when cells in the breast grow out of control and form a tumor. Most cases of breast cancer start in the ducts that carry milk to the nipple. This is called ductal cancer. Another type of cancer, called lobular cancer, starts in the glands that produce breast milk.
A part of our ongoing campaign is to shed light on breast cancer and to disabuse people's mind on certain cancer myths that are not true. These include the myth that women with larger breasts have a higher chance of having breast cancer and that having a lump in your breasts is a clear sign of cancer.
Studies show that 90 percent of lumps felt in the breast area are not cancerous. Some lumps are just abnormal growths that do not spread. Nevertheless, for your peace of mind, you need to consult with a medical professional if you notice these lumps in your breast.
Quick and Easy St. Louis, Missouri Car Donations Process
Our St. Louis, Missouri car donations process is quick and easy, so you save time and effort. There are only three easy steps to get your car towed for free:
Step 1: Fill out the online vehicle donation form on our website. You may also call us at 866-540-5069. Our helpful donor specialists will explain everything to you. We will only ask for a few details about the vehicle you're donating such as its make, model, and mileage. You may also tell us your preferred time and date for pick-up, and your vehicle's pick-up location.
Step 2:  After checking the information you provided, we will hire a professional tow company in your area to pick up the car you're donating to our St. Louis, Missouri car donations program.
Step 3: The tow company will pick up your vehicle on the agreed date, time, and place. We will give you a tow or donation receipt that releases you from all liability regarding your car insurance and registration, which you can now scrap.
We will then auction off your car. For our mutual advantage, we will try to get the highest selling price for the car you donated to our St. Louis, Missouri car donations program.
After your car is sold, we will send to you by mail your tax or sales receipt, indicating the sale price that your car fetched. If your vehicle was sold for less than $500, you can claim as your tax deduction your donated car's selling price or its fair market value up to $500, whichever is higher. You can calculate your car's fair market value by checking the prices online for vehicles of the same make, model, year and condition as your car.
If your vehicle was sold for more than $500, you can claim that bigger tax deduction when you file your itemized income tax return. In this case, however, you cannot claim your donated car's fair market value.
Choose to fight for breast cancer patients and save their lives by donating your car to our St. Louis, Missouri car donations program. In doing so, you will reward yourself with a hefty tax deduction. You may contact us at 866-540-5069 to donate.
or Call Us Now at 866-540-5069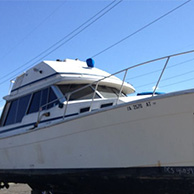 Excellent customer service!