Spokane, Washington Car Donations
Donate Your Vehicle and Save Lives!
Spokane, WA Car Donations: Show Breast Cancer Patients You Truly Care
Letting go of an old car, especially one that holds a sentimental value to you, can be really difficult. As much as you want to hold on to it, you need to get rid of it if you don't want to keep paying for its repair and maintenance. Selling it won't do you any good either since you'll have to spend a considerable amount of time and cash while you look for ways to advertise it.
So, why not give your old beater a new and meaningful purpose instead? Turn it into a cancer-fighting weapon by simply donating it to our Spokane, WA car donations program!
While your old car may no longer be useful to you, it can be a vital source of hope for uninsured and needy breast cancer patients in the Evergreen State. Breast Cancer Car Donations will use it to fund two of the nation's top cancer nonprofits, the Women Involved in Nurturing, Giving, Sharing, Inc. (WINGS) and American Breast Cancer Foundation (ABCF). We'll use the proceeds from the auction sale of your donated vehicle to provide them additional funds. This will help them sustain the services they're providing to their beneficiaries. These services include:
Connecting patients to local facilities that provide free access to medical services

Financial assistance that covers consultation and admission fees, oncology services, medication, and surgery

Fundraising and outreach events for the benefit of breast cancer patients

Advancing research on breast cancer prevention, screening, diagnosis, and treatment

Growing public awareness and inviting everyone to take action
How Your Donation Will Help You, Too
By donating to our Spokane car donations program, you'll provide great relief not just to breast cancer patients but to yourself as well. Here are some of the perks you stand to gain:
When you no longer have ownership of your car, you can finally separate yourself from the financial burdens that go with it. Say goodbye to your car's insurance, repair, and upkeep fees, and say hello to more savings!
Experience a stress-free donation process
Unlike other car donation programs in Spokane, we make it our job to process all the necessary paperwork. We won't even let you handle a single document.
Free towing at a time and place you prefer
With us, you won't spend a single dime! Just tell us when, what time, and where you want your car picked up, and we'll gladly contact a local affiliate licensed towing company to handle the job at no cost to you.
Skip the costs and hassles of reselling a used vehicle
Looking for potential buyers can be an exhausting process, especially if you're reselling a secondhand vehicle with some minor damages. You'd have to go through the trouble of getting it fixed, replacing parts that are no longer functioning well, and arranging ad placements. Dealing with annoying hagglers is another nuisance you'd unfortunately encounter if you try to resell your vehicle yourself.
Getting a top tax deduction is probably the biggest reward you can get from your Spokane car donation. With us, you can be sure that your donated vehicle will be sold at its highest possible price, so you will be able to claim the maximum tax deduction for it.
A Donation Process for Your Convenience
At Breast Cancer Car Donations, we strive to provide quality service like no other to our donors. We want nothing more than to make the donation process as quick and straightforward as possible.
All it takes for you to join our Spokane car donations program is a simple phone call. Call us at 866-540-5069 and provide us specific details about the vehicle you're planning to donate. You also have the option of filling out our online donation form.
After verifying all the information we've obtained from you, we will call you again to arrange the schedule for the free pickup and towing of your vehicle. Towing normally takes place a day or two later. If you have to be somewhere else when we haul your car away, make sure you leave your car keys and title behind and, of course, inform us ahead of time.
Our driver will issue you a donation receipt, which you can use to de-register your car at the DMV. From this point on, you're no longer liable for anything that happens to your vehicle, and you can now cancel its coverage as soon as you want to. You'll also need the receipt for tax purposes.
Apart from the donation receipt, we'll be sending you another one – your tax-deductible sales receipt. Expect the document in your mailbox a few weeks following the sale of your Spokane car donation. The receipt will show your vehicle's final selling price and the amount of tax deduction you can claim.
Got a question for us? Check out our FAQs page or give us a call at 866-540-5069. We love to hear from you.
Vehicles for Our Spokane, WA Car Donation Program
Another reason you'll love about us is the fact that we accept almost all types and kinds of vehicles, including those that are no longer in good shape. As long as you're giving us the title along with your car, we'll consider it ours without any hesitation. You can even make multiple donations for more tax incentives!
Vehicles we welcome in our Spokane, Washington car donations program include:
Cars: 

pickups, sedans, SUVs, trucks, vans, minivans, fleet vehicles

RVs: 

motorhomes, campers, pop-up trailers, travel trailers

Specialty vehicles: 

ATVs, motorized wheelchairs, farm equipment, snowmobiles, golf carts

Boats: 

yachts, pontoon boats, fishing boats, sailboats, jet skis

Motorcycles: 

sports bikes, dirt bikes, scooters, mopeds, cruisers
We seldom reject donation offers. Whether the vehicle you're donating is in good working condition or not, we'll be glad to have it with us. if you have any questions, call us at 866-540-5069 or contact us online.
Join Our Life-Saving Mission Today
Taking part in a worthy cause is a decision you'll forever be grateful for. Lives will be saved, and you'll be part of the reason for this. Fill out the form below to donate! Fill out the form below to donateWe can't wait to save lives with you.
or Call Us Now at 866-540-5069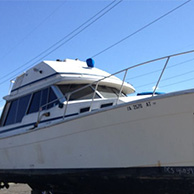 Excellent customer service!