Rhode Island Car Donations
Donate Your Vehicle and Save Lives!
Rhode Island Car Donations: Your 'Useless' Car Can Help Save Lives of Breast Cancer Victims
Finding a way to beat breast cancer may sound impossible, but with your Rhode Island car donations, it can happen. You might not be aware of it yet, but vehicle donations can be quite instrumental in finding treatment for the disease that has claimed countless lives in the country. An old car that no longer seems useful to you can actually play a life-saving role for women suffering from breast cancer.
With your support, Breast Cancer Car Donations makes it possible for cancer nonprofits to continue providing services to uninsured and underprivileged breast cancer patients. Through your Rhode Island car donations, you allow these charities to move further with their research, which includes early breast cancer detection, screening, and treatment method options. A car that you may find useless can actually help save lives, believe it or not.
There may be other car donation programs in Rhode Island, but you might as well choose one that provides a quick and simple process, and tax benefits that go along with it. You'll definitely find these in Breast Cancer Car Donations.
What Types of Vehicles Qualify as Rhode Island Car Donations?
If you plan to make a vehicle donation with Breast Cancer Car Donations, there's no reason for you to be anxious about your car's working condition. This is because we'll be the ones to take care of the towing and hauling away of your vehicle.
From watercraft — such as boats, jet skis, or yachts – to land vehicles — such as cars, trucks, recreational vehicles, motorbikes, or scooters — we'll be more than glad to accept whatever vehicles you have. We also take specialty vehicles, in case you're wondering. If you have an ATV, a snowmobile that no longer works, or a piece of farm equipment you no longer need, do not hesitate to hand them over to our Rhode Island car donations program.
Breast Cancer Car Donations is also open to multiple vehicle donations if one doesn't seem to be enough for you. Also, feel free to give us a call if you're still unsure about your automobile's eligibility for our Rhode Island car donations program.
Enjoy the Ease of Our Donation Process
What's great about working with Breast Cancer Car Donations is the fact that you get to save yourself from the hassles of a complicated donation process. We see to it that our donors won't be dealing with any form of paperwork. Looking for an affordable towing service wouldn't be a problem for you either.
Once you've made up your mind to donate to our Rhode Island car donations program, just contact us. You may either give us a call or fill out our online donation form. Provide us relevant details about the vehicle you wish to donate, including its manufacturer and mileage.
A tow truck will come to haul your car away, which is of course, at the time and place of your own convenience. Don't worry if you have to be someplace else, as we wouldn't really require that you need to be around. Make sure, however, that the towing company will find your car keys and title inside the vehicle. Make sure also that you don't have personal belongings inside the vehicle.
We will convert your car donations in the state into funds by auctioning them off. The proceeds will enable our nonprofit organization partners to support sufferers of breast cancer as well as their families.
Expect a 100 percent tax-deductible sales receipt in your mailbox days after we sold your vehicle. This will serve as the basis of your tax deduction claim when you file your itemized income tax return.
How Can I Benefit from Rhode Island Car Donations?
Donating to us not only gives you the opportunity to support breast cancer patients; it also offers several good things for you to enjoy. The possibility of receiving huge tax deductions isn't the only benefit you'll be receiving from us. As a matter of fact, there's more to expect when you take part in our Rhode Island car donations program.
Check out the list below to see a number of rewarding things when you work with Breast Cancer Car Donations:
Getting rid of a car that you no longer need for free
Freedom from paying for your car's upkeep and insurance
Free towing and pickup
Additional room for your garage
Saving yourself from doing tons of paperwork
No need to deal with annoying hagglers or potential buyers
No need to advertise your car for sale
Get a sense of fulfillment from helping cancer-stricken women and their families with your Rhode Island car donations
Now that you're pretty much aware of the benefits you stand to receive, there's no need for you to search for other car donation programs in Rhode Island.
Support Women with Breast Cancer Today
Are you ready to make a huge difference in the lives of breast cancer patients? Join Rhode Island car donations now. Contact us at 866-540-5069 and donate your car today.
or Call Us Now at 866-540-5069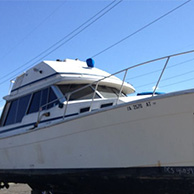 Excellent customer service!