Reno, Nevada Car Donations
Donate Your Vehicle and Save Lives!
Join Reno, Nevada Car Donations to Make a Difference!
If you want to make a difference in the lives of breast cancer patients in your city while getting rid of an unwanted clunker for free, then turn over your old and unwanted vehicle to us at Breast Cancer Car Donations through our Reno, Nevada car donations program. It's the best move you can make if you're looking to dispose of your money pit on wheels. We serve all of Nevada, including Reno communities such as Lemmon Valley, Midtown, Virginia City Highlands and Somersett. Instead of letting your car rot away in your backyard or spending a fortune on its endless repairs, why not use it to help save the lives of your fellow Americans afflicted with breast cancer?
When Breast Cancer Rears Its Ugly Head
According to the latest U.S. breast cancer statistics, one in eight women in America will develop invasive breast cancer within her lifetime. Furthermore, this year alone, medical authorities expect 268,600 new cases of invasive breast cancer in the United States. On average, an American woman is diagnosed with breast cancer every two minutes.
Being diagnosed with breast cancer is one of the worst things that could happen to anyone. Aside from being a physical burden, the deadly disease can also take its toll on a person's emotional well-being and financial resources.
For this reason, we at Breast Cancer Car Donations are here to raise money that our IRS-certified 501(c)3 nonprofit partners need to sustain their delivery of breast health services to all who need them.
When you make a vehicle donation to us, we will auction it off and transfer the generated funds to our charity partners. They use the funding to provide uninsured and underserved breast cancer patients with financial assistance, counseling, therapies, and treatment. Other beneficiaries receive free access to early breast cancer screening and other breast cancer prevention and education services.
How to Join Reno, Nevada Car Donations
Breast Cancer Car Donations makes it easy for you to help breast cancer patients in your city. Even if it's your first time to donate a vehicle to charity, we guarantee that you'll find our donation process incredibly simple and straightforward. Here's a look at how you can join our Reno, Nevada car donation program:
1. Contact us.
You can choose between the two ways to contact us. You can either call us at 866-540-5069 or fill out our donation form on this website. Tell us a few basic details about the vehicle you're donating and your contact information as well.
2. Schedule your vehicle removal.
Next, we'll call you back as soon as we've verified your given information. You'll need to give us your preferred time, date, and location for your vehicle's FREE pickup. A licensed towing company will then collect your car at no cost to you. Before the tow truck leaves, you'll be handed a towing receipt that releases you from all liabilities on your donated vehicle from that point onward. Once you have this document, you can cancel your car's insurance coverage and registration.
3. Receive your tax-deductible receipt.
We'll have your vehicle auctioned off in one of the best auction houses within our network. Within days after your vehicle is sold, we'll have your IRS tax-deductible sales receipt delivered to your doorstep by mail. You'll need this receipt to claim your tax deduction when you file your itemized federal income tax return in the next tax season.
If you want to know more about tax deductions, our vehicle donation process, and other related matters, check out our FAQs page. For any questions or concerns that you may still have, call us at 866-540-5069 or send us a message online.
What You Gain from Joining Reno, Nevada Car Donations
Aside from feeling great knowing that your charitable contribution will enable needy breast cancer patients to receive treatment that they otherwise could not afford, you'll also enjoy the following benefits when you take part in our Reno, Nevada vehicle donation program.
You'll have the opportunity to considerably reduce your tax bill since your vehicle donation is tax-deductible. If your vehicle is sold for less than $500, you can take a deduction that's equivalent to your clunker's selling price or its fair market value but not exceeding $500, whichever is higher. If your vehicle is sold for more than $500, you can claim a deduction equivalent to your vehicle's selling price.
You won't have to worry about getting that old beater out of your property because we'll have a professional towing company haul it away for you for FREE! You wouldn't even have to be present on the day of pickup as long as you tell us where in your vehicle we can find the keys and the title of your vehicle.
Experience a hassle-free donation process.
With us as your charity partner, expect to be treated like royalty. Our team will handle everything for you – including all the donation paperwork. If you've lost the title of your car, you don't have to worry because our title experts will help you obtain a replacement copy of your title so you can proceed with your donation.
The Types of Vehicles You Can Donate
We at Breast Cancer Car Donations accept all sorts of vehicles regardless of their age or physical state. Whether the vehicle you're donating is an old commuter car with a scratched hood, or a van with a flat tire, or a run-down truck that's been idle for months now, we'd love to have it with us!
If you have some doubts about your vehicle's eligibility for our Reno, Nevada auto donation program, don't hesitate to call us. Don't worry; we seldom turn down an offer!
Meantime, here's a list of the vehicle types that you can donate to us:
Cars: 

sedans, luxury cars, coupes, convertibles, hybrids, sports cars, wagons, hatchbacks
Vans: 

family minivans, camper vans, cargo vans, passenger vans
SUVs: 

compact, midsize, full-size or crossover versions
Motorcycles: 

touring bikes, cruisers, scooters, off-road bikes, mopeds, sports bikes, choppers
Trucks: 

box trucks, pickup trucks extended cab pickup, panel trucks, refrigerator trucks, tank trucks
Boats: 

fishing boats, sailboats, tugboats, speedboats, houseboats, cruise ships, catamarans, pontoon boats, yachts
Specialized vehicles: 

riding lawnmowers, motorized wheelchairs
Fleet vehicles:

 SUVs, pickups, trucks, buses, cars, passenger vans, cargo vans, limousines, ambulances, taxicabs
Recreational vehicles: 

noncommercial planes; campers, travel trailers, snowmobiles, Jet Skis, RVs, motorhomes, pop-up trailers, ATVs
Work-related vehicles: 

construction vehicles, tractors and farm equipment, buses, large trucks, landscaping vehicles
Learn More About Reno
Nicknamed the Biggest Little City in the World, Reno is known for its neon lights and casinos. However, it also has a thriving arts scene, craft breweries, boutique hotels and fun annual events such as Reno Rodeo. This city even has some local cancer treatment centers. These include the Forsythe Cancer Care Center on Hammill Lane, William N. Pennington Cancer Institute on Mill Street and Saint Mary's Center for Cancer on Arlington Avenue.
Save Lives Today!
Do you want to show your support to needy breast cancer patients in your city? Then join our Reno, Nevada car donations program to help save their lives! Call 866-540-5069 or fill out our online donation form now!
or Call Us Now at 866-540-5069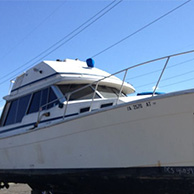 Excellent customer service!