Raleigh, North Carolina Car Donations
Donate Your Vehicle and Save Lives!
Raleigh, North Carolina Car Donations: Help Breast Cancer Victims Survive the Disease!
Do you have an idea how Raleigh, North Carolina car donations can save the lives of those who are currently grappling with breast cancer? Everyone knows that the cost of cancer treatment is sky-high. That's why when cancer hits people who do not have money to pay for their treatment, death is not too far behind.
We at Breast Cancer Car Donations are here to do whatever we can to help breast cancer patients facing a life-or-death situation. With your generous car donations, we can enable indigent breast cancer patients to find treatment and survive the disease. If you have an old car that you no longer want, do consider donating it to us. Even if your car is no longer in running condition, you can still donate it and we will gladly accept it, knowing that it can still go a long way in helping save lives and boosting the fight against breast cancer.
Raleigh, North Carolina: 'The City of Oaks'
Raleigh is the capital of the state of North Carolina and the second-largest city in the state after Charlotte. It is known as the "City of Oaks" for its many oak trees, which line the streets in the heart of the city.
The city has estimated population of 451,066 as of July 2015, according to the U.S. Census Bureau. It is one of the fastest-growing cities in the country.
Raleigh was founded in 1792 and was named after Sir Walter Raleigh, a well-known English explorer, soldier, and writer.
How Can You Donate?
We at Breast Cancer Car Donations offer a simple, quick, and hassle-free Raleigh, North Carolina car donations process as part of our efforts to give our donors a most satisfying charity giving experience. In just three easy steps, you can dispose of your unwanted vehicle while supporting a noble cause.
Here's how to donate your preloved automobile:
Fill out our online donation form or call us at 866-540-5069. Tell us your vehicle's make and model, year, and other basic details. You may also tell us when, what time, and where you would like us to pick up your car.
We will tow away your car for free.
We will make an arrangement with an affiliate towing company in your area to pick up and tow away your car for free. You don't even need to be there when we haul it away. We will give you a donation receipt that will release you from all liability on your car and allow you to de-register it, dispose of your license plates properly, and cancel your insurance coverage.
Receive your tax-deductible receipt.
After your vehicle is sold, we'll send you the IRS tax-deductible receipt in the mail. You'll need it upon claiming your top tax deduction.
That's all that needs to be done! In three easy steps, you'll help save people' saves!
The Types Of Vehicles We Accept
We at Breast Cancer Car Donations accept almost all types of vehicles in our Raleigh, North Carolina car donations program as long as they come with titles or proof of ownership. There's also no limit on the number of vehicles you can donate to us – the more the merrier we'll be!
If you've lost your vehicle's title, we can help you obtain a replacement title quickly.
Meanwhile, here's a list of vehicles that we commonly accept as donations:
Cars: sedans, vans, SUVs, trucks, motorcycles
Boats and watercraft: sailboats, motorboats, fishing boats, yachts, pontoon boats, houseboats, personal watercraft (like jet skis)
RVs: recreational vehicles, motorhomes, campers, travel trailers, pop-up trailers, 5-wheelers
Specialty vehicles: ATVs, snowmobiles, motorized wheelchairs, riding lawn mowers, tractors, farm equipment
Fleet vehicles: cars, passenger vans, cargo vans, SUVs, pickups, trucks, buses
How You'll Boost the Fight against Breast Cancer
Breast Cancer Car Donations supports certified 501(c)3 non-profit organizations that continuously battle breast cancer all over the United States. We operate our Raleigh, North Carolina car donations program and other such programs in other cities to raise funds to sustain, develop, and improve the comprehensive breast health services that these charities provide in all target communities. These services include:
Raising public awareness on the signs and symptoms of breast cancer to promote early detection;
Improving existing link referral systems that allow affected women free access to local resources, services, and information that are customized according to the individual's ethnicity and language;
Financial assistance for breast cancer treatment including surgery, oncology services, hospital fees, and outpatient medication
Although these non-profits serve all people needing help, they give special attention to uninsured and underserved women. They believe that every breast cancer victim deserves proper treatment to survive the disease regardless of ethnicity or socioeconomic status.
Benefits for You as Donor
Your participation in our Raleigh, North Carolina car donations program will not only bring immense benefits to breast cancer patients but to yourself as well. How is this possible? When you donate to us your old and unwanted vehicle, you'd get to enjoy these:
Fast and free pickup and towing
Top tax deduction
No paperwork hassles
Financial freedom from maintenance and repair
More space in your garage
The joyful feeling of serving a worthy cause – one meant to save people's lives
Save Lives Now!
Your car donation will definitely go a long in giving hope to breast cancer victims and boosting the campaign against the dreaded disease. Call us at 866-540-5069 and save lives with your Raleigh, North Carolina car donations!
or Call Us Now at 866-540-5069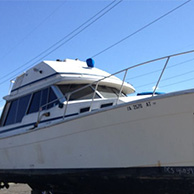 Excellent customer service!