Peoria, Illinois Car Donations
Peoria, Illinois Car Donations: Your Clunker Can Help Beat Breast Cancer!
When you hand over your old and unwanted car to us at Breast Cancer Car Donations through our Peoria, Illinois car donations program, you will literally be helping save lives!
We will transform your clunker into a vital fund-generating tool for our IRS-certified 501(c)3 nonprofit organization partners. Like us, these nonprofits work tirelessly to extend life-saving assistance to breast cancer-stricken individuals who are fighting for their lives every single day.
We auction off all vehicles donated to us and use the proceeds to help fund the comprehensive breast health services that our nonprofit partners provide to all individuals who need them, particularly those who are uninsured and underprivileged. The funding they get from the donations we receive enables them to deliver the following services:
Connect or refer patients to local medical facilities that offer accessible breast health resources and assistance programs;

Provide financial aid to patients who are unable to afford the costs of screening and treatment;

Raise public awareness on the significance of breast cancer screening and prevention;

Host fundraising events for the benefit of breast cancer patients;

Support research on breast cancer cure
Our Quick and Effortless Donation Process
At Breast Cancer Car Donations, we make everything simple and easy for our donors. We don't want you to go through a complicated donation process that would consume so much of your time and effort. You only need to spend a few minutes of your time to make a contribution to our Peoria, Illinois car donations program.
Here's our quick three-step donation guide:
1. Contact us.
Once you've decided to donate a vehicle to charity, reach out to us by either calling us at 866-540-5069 or by filling out our online donation form. Tell us a few basic details about the vehicle you're donating as well as your personal contact information.
2. Schedule your vehicle pickup.
After verifying the information you shared with us, we'll call you back to arrange your vehicle's FREE pickup and towing. Tell us the most convenient date, time, and place for handing over your vehicle to us. We'll then coordinate with a licensed towing company to collect your vehicle. If you can't be around during the time of the pickup, that's alright. However, make sure that your car's title and keys are in a conspicuous location inside the vehicle so our driver can easily pick them up.
Before we collect your vehicle, we will issue you a towing receipt. This document will enable you to de-register your vehicle at the local DMV and cancel its insurance coverage.
3. Get your tax-deductible receipt.
We'll fix and polish your vehicle before sending it to one of the best auction houses in our network. We'll make sure that your vehicle is sold at its highest possible price so you can claim a maximized tax write-off. Expect a 100-percent tax-deductible sales receipt in your mailbox within 30 days after your vehicle is sold. You can present this receipt to your local IRS to claim your tax deduction when you file your itemized federal income tax return in the next tax season.
Can't find your vehicle title anymore? Got a question about tax deductions? To find the answers to these questions and more, check out our FAQs page. If you have other questions not answered on that page, call us at 866-540-5069 or send us a message online and we'll gladly help you out!
Awesome Treats to Expect From Your Car Donations for Cancer
At Breast Cancer Car Donations, we always make sure that our donors are rewarded for their charitable deeds. When you take part in our Peoria, Illinois car donations program, it makes perfect sense that we repay you by giving you your own share of rewards. If you've never believed in good karma before, it looks like we're about to change your mind!
Here are some of the incentives we have in store for you when you donate a car for charity:
Get a hefty tax cut.

We haul your vehicle away at a day, time, and place convenient to you.

Leave all the paperwork to us.

No need to waste your time, money, and effort in looking for a potential buyer.

Save money when you stop paying for your vehicle's costly repairs, maintenance, and insurance coverage.

Get the opportunity to collaborate with the country's leading breast cancer organizations.

Feel great knowing how big of an impact your donation will make on the lives of breast cancer patients.
The Types of Vehicles Acceptable to Us
Unlike most vehicle donations programs, we're open to nearly all sorts of vehicles regardless of their age, mileage, and condition. Just be sure to have your vehicle's title with you because we cannot sell your vehicle without it.
The various types of vehicles we welcome in our Peoria, Illinois car donations program include the following:
Cars: 

sedans, luxury cars, coupes, convertibles, hybrids, sports cars, wagons, hatchbacks

Vans: 

family minivans, camper vans, cargo vans, passenger vans

SUVs: 

compact, midsize, full-size or crossover versions

Motorcycles: 

touring bikes, cruisers, scooters, off-road bikes, mopeds, sports bikes, choppers

Trucks: 

box trucks, pickup trucks extended cab pickup, panel trucks, refrigerator trucks, tank trucks

Boats: 

fishing boats, sailboats, tugboats, speedboats, houseboats, cruise ships, catamarans, pontoon boats, yachts

Specialized vehicles: 

riding lawnmowers, motorized wheelchairs

Fleet vehicles:

 SUVs, pickups, trucks, buses, cars, passenger vans, cargo vans, limousines, ambulances, taxicabs

Work-related vehicles: 

construction vehicles, tractors and farm equipment, buses, large trucks, landscaping vehicles

Others: 

noncommercial planes; campers, travel trailers, snowmobiles, Jet Skis, RVs, motorhomes, pop-up trailers, ATVs
Can't find your vehicle title anymore? Don't worry – we'll gladly assist you in securing a duplicate copy. Tell us all your concerns by calling us at 866-540-5069.
Learn More About Peoria
Located in central Illinois, Peoria is known as an industrial trade city. This is because it's situated along the Illinois River. It boasts beautiful, old architecture, a vibrant riverfront and historic landmarks. It also has some local cancer treatment centers. These include Illinois CancerCare on N Wood Sage Rd.; UnityPoint Health – Methodist Cancer Support Services on Main St.; and OSF Saint Francis Medical Center on NE Glen Oak Ave.
Fortunately, thanks to better treatment and early detection methods, the mortality rate for this disease has declined since the 1990s. The cancer death rate among young individuals is rare; it's known to affect mostly the elderly population. For example, in 2018, age groups with the most cancer death rates in Peoria were 65-74, 75-84 and 85-plus.
Get Rid of Your Clunker for a Worthy Cause Now!
Why continue burdening yourself by keeping an old and worn-out vehicle when you can easily get rid of it for free and, more importantly, for the worthy cause of saving lives? Indeed, your clunker can help beat breast cancer! Call us at 866-540-5069 or fill out our online donation form to join our Peoria, Illinois car donations program now! We serve the entire state of Illinois, including nearby communities such as Ancient Oaks, Bradford Woods, Chadwick Estates, Forrest Hill, Haymeadow, Meadow Lawn, Rolling Acres, Timberlane and Yorkshire Village.
or Call Us Now at 866-540-5069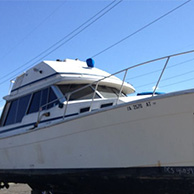 Excellent customer service!