Palm Beach, Florida Car Donations
Donate Your Vehicle and Save Lives!
Palm Beach, Florida Car Donations: Help Fight Breast Cancer – Donate A Car!
If you're thinking about selling your shabby car, hold that thought and consider donating it to our Palm Beach, Florida car donations program! When you donate a car to Breast Cancer Car Donations in Florida, your contribution will fund the ongoing research on breast cancer. We serve the entire Palm Beach County area, including (but not limited to) nearby communities such as Boca Raton.
Breast Cancer Car Donations has partnered with the nation's leading charities and non-profit organizations that are fully committed to screen, prevent, treat, and/or cure this life-threatening disease.
Breast cancer is the most common type of cancer in American women next to skin cancers. With 252,710 estimated new cases in the United States this year – with the number rising by the minute — it is up to you to take up arms and join the fight against the disease.
Donate your old junk of a car and help the following non-profit organizations that we are in partnership with:
American Breast Cancer Foundation (ABCF)
This organization is dedicated to the early detection and diagnosis of breast cancer. This can potentially help save millions of lives since early detection of breast cancer is the key to a higher rate of survival. Early detection means more opportunities for treatment, which leads to a 93 percent chance of survival in the first five years.
Women Involved in Nurturing, Giving, Sharing, Inc.

 

(WINGS)
This organization aims to narrow down the gap between diagnosis and treatment of cancer. It does so by providing all-inclusive breast health services to those who are not insured.
Now that we've captured your interest, here's all you need to know about donating your car to the sunny town of Palm Beach, Florida.
Learn More About Palm Beach, Florida
Palm Beach, located in South Florida, is home to historic landmarks, legendary resorts and beautiful mansions. It's also known for world-class shopping along Worth Avenue, a four-block shopping and dining district lined with galleries, upscale boutiques and restaurants.
Moreover, this town has some exceptional, local breast cancer treatment centers, including JFK Medical Center and Palm Beach Breast Institute. This is especially important since there are 20,920 estimated new cases of breast cancer for females in Florida in 2022.
What Are the Types of Accepted Vehicles?
If you own a vehicle you no longer need – may it be a motorcycle, a Range Rover, or even an old, rusty truck – you can donate it to us. We accept almost any kind of vehicle, running or not. I'm pretty sure you have a little something to give, but if you're not sure if your vehicle is going to make the cut, here's a list of the cars we accept for your car donations in this town:
Cars:

 cars, vans, SUVs, trucks, motorcycles

Boats:

 sailboats, motorboats, fishing boats, yachts, pontoon boats, houseboats, personal watercraft (like jet skis)

RVs:

 recreational vehicles, motorhomes, campers, travel trailers, pop-up trailers, 5-wheelers

Specialty vehicles:

 ATVs, snowmobiles, motorized wheelchairs, riding lawn mowers, tractors, farm equipment

Fleet vehicles:

 cars, passenger vans, cargo vans, SUVs, pickups, trucks, buses
If you're interested in donating not just one but multiple vehicles, we'd gladly accept all. Multiple donations are very much appreciated.
All we require of you is a proof of ownership or the title to the vehicle since we're going to sell it. However, you don't have to worry if you don't have the title with you. Give us a call and we'd be glad to help you get a replacement title.
How Can You Donate?
We can't stress this enough: it is our goal to give you a simple and hassle-free Palm Beach, Florida car donations process because you deserve it. In just three easy steps, you'll get rid of your non-functioning vehicle while donating to a good cause. Win-win!
Here's how to donate your pre-loved vehicle:
Call us at 866-540-5069 or fill out our online donation form. Tell us your vehicle's make and model, year, and other basic details. It will only take a few minutes of your time.
Have us tow your car for FREE!
Once we get a hold of your request, we'll arrange with a towing company to go to your home (or wherever the vehicle is) and tow your vehicle whenever it is convenient for you – for free! You don't even need to be there when we haul it away.
Receive your tax-deductible receipt!
After your vehicle is sold, we'll send you the IRS tax-deductible receipt in the mail. You'll need it upon claiming your top tax deduction.
And we're done! In three easy steps, you'll help change the world one vehicle at a time.
What Will You Gain?
Breast Cancer Car Donations in Palm Beach, Florida does not want you to go empty-handed. Having donated a vehicle you once loved to our Palm Beach, Florida car donations program, you deserve a little something, don't you think?
Donating your car qualifies you for a top tax deduction if you itemized your taxes.
Get extra space and get rid of the vehicle you no longer need.
Is the vehicle taking up all the space in your driveway? Donating the vehicle gets you the extra space you've always wanted.
Get the burden of maintaining, storing, and insuring a vehicle off your shoulders.
When you donate your car, you eliminate the hassle of paying for a vehicle you don't even use. Instead, use the money you'll save to buy a new car.
The most rewarding part of donating a car is knowing that you helped fund a worthy cause – one meant to save people's lives.
Your Car for a Life
You can't even begin to imagine the difference that your vehicle donation would make to those who are affected by breast cancer.
Call us at 866-540-5069 and get free towing services for your Palm Beach, Florida car donations!
or Call Us Now at 866-540-5069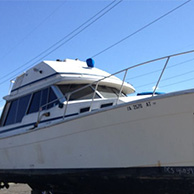 Excellent customer service!