Mississippi Car Donations
Donate Your Vehicle And Save Lives!
Mississippi Car Donations: Give Breast Cancer Victims a Better Chance of Survival
Perhaps not even in your wildest dream did you imagine that the piece of junk gathering dust in your backyard could miraculously transform into something valuable and priceless – a source of hope and financial relief for fellow Americans struggling to survive breast cancer.
Yes, you can give yourself "magical" powers by donating your old unwanted car to Mississippi car donations in support of charitable non-profit organizations that are engaged in a never-ending battle to save and enhance the lives of breast cancer sufferers in the United States, including those in your own community.
Your car donation will certainly give breast cancer victims a better chance of surviving the disease. Imagine the joy of a patient and her family, knowing that your donation has helped in her treatment and recovery! The sense of fulfillment you will feel will be out of this world.
Your Car, Their Life-Saver
We at Breast Cancer Car Donations are here to help turn your Mississippi car donations into something truly wonderful — a life-sustaining source of financial support for destitute breast cancer patients. We do this by selling the donated cars through auction and then transferring the entire proceeds to our two trusted nonprofit organization partners that are in the thick of the fight against breast cancer. These are the American Breast Cancer Foundation (ABCF) and the Women Involved in Nurturing, Giving, Sharing, Inc. (WINGS).
These nonprofits use the funds we provide to carry out their various programs. Their main objectives are aimed at:
Providing uninsured and underserved breast cancer patients access to screening, diagnosis, and effective treatment
Providing funds for research on breast cancer cure
Raising public awareness about breast cancer prevention and detection of early breast cancer signs
Your Car Donation Will Help Breast Cancer Victims – and Also Yourself!
Your Mississippi car donations will not only help cancer victims gain an edge in their fight to beat the disease. The donation also offers you the most convenient way to let go of an unwanted vehicle — minus all the fuss and expense involved.
Because we value our donors, we have designed a car donation process that's quick and easy. It will take just a few minutes of your time to get it done. Here's how it's done:
We just need your vehicle's basic information such as the year, make, model and mileage.
Schedule your vehicle pick-up
Give us your preferred time, date, and location for pickup. We will arrange for a local towing company to promptly show up at your doorstep on the scheduled date. You don't even have to be there when they take away your car!
Receive your tax-deductible receipt
After we sell your car at auction, we will mail you a tax-deductible receipt, verifying the actual sale price of your vehicle. You'll need this when claiming your tax deductions after you made your Mississippi car donations.
We Accept Nearly All Kinds of Vehicles for Donations
We're not selective at all when it comes to accepting vehicles for donations. Breast Cancer Car Donations will most likely accept any vehicle that you have, either old or not so old, running or not running. You can donate not just your car but any other type of vehicles such as minivans, motorcycles, buses, motorized wheelchairs, riding lawnmowers, tractors, jet skis, yachts, golf carts, campers, snowmobiles, and trucks.
If you want to donate more than one vehicle, that would be awesome! We love multiple Mississippi car donations!
Get These Rewards for Your Car Donation
No other donation program can beat Mississippi car donations in terms of ease, convenience, and benefits. If you're still unsure about donating your car, check out these benefits that await you if you do so:
Free and fast pickup and towing
If you donate your car to us, you won't have to spend a single dollar to get rid of that unwanted clunker occupying space in your garage or backyard. We would gladly take it free of charge.
Claim a sizeable charitable tax deduction
You can claim $500 worth of tax deduction or even higher depending on the final selling price of your donated car.
Avoid the uncertainties and costs involved in selling
To say that it's difficult to sell an old ugly car is an understatement. It will take too much effort, time and expense on your part to try and sell it – with no certainty that there would be a buyer. So why not just donate it to us and avoid all the hassles?
Your old car is unlikely to attract good buyers because of its sorry condition. But even if nobody is interested in your car anymore, we will take it! To us, old does not mean useless. We will find a way to sell your car at a good enough price. We will then transfer the proceeds to our charity partners to fund their programs aimed at saving the lives of more breast cancer victims.
Call us at 866-540-5069 and donate your car to Mississippi car donations now!
or Call Us Now at 866-540-5069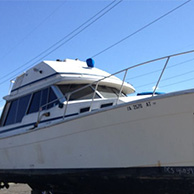 Excellent customer service!