Memphis, Tennessee Car Donations
Donate Your Vehicle and Save Lives!
Memphis, Tennessee Car Donations: Help Breast Cancer Victims Without Spending a Dollar
Some people would very much like to do a charitable act — like helping others in need — but are prevented from doing so by lack of money, time, and opportunity to do so.
We are here to remove those limitations. With the Memphis, Tennessee car donations program of our Breast Cancer Car Donations organization, you don't have to shell out money, not even a dollar, to extend a helping hand to people who desperately need help — the destitute victims of breast cancer. The act of generosity and compassion won't also require much of your time and effort since all you have to do is give us a call. And to make it even more appealing, we give you rewards for your charitable act.
You may have more than one car, one of which you can afford to give away. You may have a car that you want to dispose of so you can buy a new one. You may have an old car that's just gathering dust in your garage or backyard. Giving your car to support a truly noble cause won't hurt you a bit. At the same time, it will provide life-sustaining support to fellow Americans struggling with breast cancer.
Don't worry if your car has mechanical problems. We take vehicles as Memphis, Tennessee car donations whether they're running or not.
One Car Donation, Multiple Beneficiaries
When you donate your vehicle to car donations in the area, your generous act will help not just one person in need. Our breast cancer non-profit organization partners will use the proceeds from the sale of your donated car to fund their programs that are intended to save the lives of thousands of breast cancer sufferers.
Breast Cancer Car Donations has teamed up with two dedicated charity organizations: the American Breast Cancer Foundation (ABCF) and the Women Involved in Nurturing, Giving, Sharing, Incorporated (WINGS, Inc.).These two charitable organizations are currently engaged in a comprehensive campaign to combat breast cancer with the following objectives:
Provide access to medical screening, diagnosis, and treatment to breast cancer patients who have no health insurance policy and who are not receiving support from the government.
Provide financial assistance to breast cancer patients, survivors, and their families
Fund research on more effective methods to treat and cure breast cancer
Fund information campaign to make people more aware of the causes, prevention, and detection of breast cancer
One Call to Start Donations Process
We have come up with three easy steps to speed up the Memphis, Tennessee car donations process. Of the three steps, all you need to do is the first one, and we'll take care of the rest.
Step 1:
Contact us at 877-494- 4662. Just tell our donors' reception officer that you want to donate your car for the benefit of needy breast cancer patients. Let us know your car's make and model, your preferred time and date for the vehicle pick-up and towing, and where we can pick up your car. You can also just fill out the online donor's registration form on our website and then click the "submit" button. We will then contact you to verify the information you shared.
Step 2:
Once we have verified the information you provided, we will arrange with a local tow company to pick up your car. We will pay the towing fee.
Step 3:
The tow truck we hired will arrive at your location on the appointed time and date or as early as 24 to 48 hours after you notified us of your Memphis, Tennessee car donations.  It's not a problem if you have to be somewhere else during the time of the pick-up. You can just delegate anyone to represent you. The tow company representative will hand you or your representative a receipt acknowledging your car donation. Keep the receipt since you may need it as part of the documents you need to present when you make your top tax deduction claim.
After this, we will put your car on the auction block. As soon as your car is sold, we will notify you by mail of your car's final selling price and send you the tax receipt. You will need that document to claim your tax deduction when you file your income tax return.
Memphis, Tennessee: The Bluff City
Memphis City is nicknamed The Bluff City based on the city's location on the fourth Chickasaw Bluff, the name of the high ground rising about 50 to 200 feet above the flood plain in Tennessee.
The name Memphis was based on the ancient capital of Egypt along the Nile River.
One of the best places to visit when you're in the Bluff City is the National Civil Rights Museum. It is a complex of historic buildings that exhibit the history of the Civil Rights Movement from the 17th century until today.
If you are into rock and roll, surely you are familiar with the "King," Elvis Presley. Memphis, Tennessee is the home of his Graceland mansion, which has been turned into a museum.
Help save the lives of breast cancer patients today. Call 866-540-5069 to take part in the Memphis, Tennessee car donations program.
or Call Us Now at 866-540-5069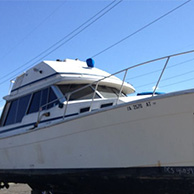 Excellent customer service!