Havre de Grace, Maryland Car Donations
Donate Your Vehicle and Save Lives!
Save Lives and Get Rewards for Your Generosity Through Havre De Grace, Maryland Car Donations
Joining our Havre de Grace, Maryland car donations program is a surefire way to never lay eyes on your rusty old Pontiac Firebird ever again while helping out people who've been diagnosed with breast cancer. We know how it feels like to take your car over to the shop for the nth time in a year because the catalytic converter died or the intake manifold broke.
Before you find yourself spending approximately $200 each month for clunker repairs and maintenance, why not simply donate that car to us at Breast Cancer Car Donations to put an end to your misery and at the same time, grab that opportunity to be a blessing to others?
Breast Cancer in Our Community
Havre de Grace had an estimated population of 13,527 residents as of 2016, according to the data released by the United States Census Bureau. More than half of the population comprised of females – the common targets of breast cancer. Studies show that one in eight women in the U.S. is expected to develop invasive breast cancer within her lifetime.
The National Breast Cancer Foundation, Inc. estimates that a woman is diagnosed with breast cancer every two minutes and another woman dies of it every 13 minutes in the U.S. The same source also estimates that more than 40,500 individuals lose their lives to breast cancer each year.
The good news is, no matter how disturbing these numbers may be, we can do something to bring them down – through our Havre de Grace, Maryland car donations fundraiser.
What Your Donated Vehicles Can Do
We at Breast Cancer Car Donations, together with our IRS-registered nonprofit partners, ultimately seek to increase breast cancer survival rates in the country. Proceeds from the sale of all donated vehicles through our car donations program in the area are used by our charity partners to provide top-quality comprehensive breast health services to all individuals who need them, particularly breast cancer patients who are financially challenged. The services include:
Financial assistance for breast cancer treatment such as surgery, chemotherapy, and radiation;
Financial assistance for mammograms, ultrasound, lab works, and physician's visits;
Follow-up care for patients five years following remission;
Information campaigns about breast cancer screening, diagnosis, and treatment;
Distribution of resource tools such as Newly-Diagnosed Patient Kits
Your support is needed to help us save more lives. If you want to do something great with a car that's finally hit the end of the road, donate your car to Breast Cancer Car Donation by calling us at 866-540-5069 today!
Your Donation Rewards are Waiting for You!
Newsflash! Donors have their share of benefits as well! Check these out:
All you have to do is call 866-540-5069 or fill out our online donation form to tell us about your vehicle's year, make, model, mileage, VIN, running condition, and your personal contact details. Next, you'll need to give us your preferred schedule for the professional towing company to pick your car up at no cost to you. Lastly, you'll receive your 100-percent tax-deductible sales receipt by mail within 30 days after your car is sold at auction.
We'll do all the paperwork!
Count on us to efficiently handle all paperwork concerns such as title replacements, the issuance of tax receipts, transfer of vehicle ownership, etc.. You can expect to enjoy customer service at its finest from our end.
Instead of losing all your cash to that money pit that's parked in your garage, don't you think it's time for you to enjoy your hard-earned money on something that you truly want like a vacation or even a brand-new car? When you take part in our Havre de Grace, Maryland car donations fundraiser, you won't have to worry anymore about extra expenses for car repairs, insurance, registration, and whatnot!
Fast and free pickup and towing services!
The towing is on us! You can finally get your beater out of your property without lifting a finger for it to happen – without spending a single dime!
We work with IRS-qualified nonprofits, which means that all donations made through our service will entitle you to enjoy a healthy tax write-off if you itemize your deductions when you file your IRS income tax return. The amount will be based on your car's gross selling price if it's sold for more than $500. If your car is sold for less than that amount, your tax deduction will either be your vehicle's selling price or its fair market value. The final selling price of your car is shown in the IRS tax-deductible receipt that we'll send to you by mail after the sale of your vehicle.
Save yourself the trouble of selling your own car!
We all know what a big headache it is to try to sell something. We're talking about spending time and money for advertising, dealing with prospective buyers, taking calls, and replying to emails. If you're selling a clunker, you might have to spend extra dollars on bodywork and repairs to make it more saleable.
You'll see it the moment the guys from the local towing company hauls your car away: extra storage space in your garage!
Be a Part of Something Great Today!
Be a part of something greater than yourself. Save lives through our Havre de Grace, Maryland car donations program and get the biggest return for your generosity! Contact us at 866-540-5069 today!
or Call Us Now at 866-540-5069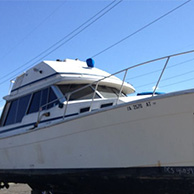 Excellent customer service!