Greensboro, North Carolina Car Donations
Donate Your Vehicle and Save Lives!
Greensboro, North Carolina Car Donations: Take Active Role in the Fight against Breast Cancer!
There is a one in eight chance that a woman in the United States will be diagnosed with breast cancer in her lifetime, according to the American Cancer Society, adding that for 2018, it expects 266,120 new cases of invasive breast cancer, not counting about 63,960 new cases of non-invasive cancer, also known as carcinoma in situ or CIS.
About 40,920 women will die from breast cancer this year, the report states.
Is this report shocking enough for you? Can you stand idly by while your fellow Americans—including some from your home city of Greensboro, North Carolina—struggle in what could be a losing battle against breast cancer because of lack of financial support?
We at Breast Cancer Car Donations have set up our Greensboro, North Carolina car donations program to encourage you to take an active role in the fight against breast cancer.
The victims of breast cancer are not just numbers but real people who are suffering from the effects of this devastating disease. Some of them may be residing in your own community.
You can do something to help them, and it will not cost you much. In fact, you will even reap benefits for your generosity.
If you have an old car, truck or motorcycle that you are not using anymore, consider donating it to us. You will be making a huge difference in the lives of breast cancer victims if you do so. This will happen because we will convert your donated vehicles to financial resources that we will use to provide life-sustaining services to indigent breast cancer patients.
Our Simple, Easy and Rewarding Car Donation Process
You can extend a helping hand to needy breast cancer patients in your city and receive rewards for your good deeds by simply initiating our three-step Greensboro, North Carolina car donations process. Here are the steps:
Step 1:
Give us a call at 866-540-5069. Simply tell one of our donations specialists that you want to take part in Greensboro, North Carolina car donations. Provide a few details like your car's make and model. Another option would be for you to fill out our online donation registration form and submit to us the completed form online. We will then call you to verify the information you shared.
Step 2:
Once we have verified the information you provided, we will make arrangements with a local tow company to pick up the vehicle you're donating. The towing fee is on us, and you don't have to pay for anything. Our affiliate towing company will then pick up your vehicle on your preferred time and date or as early as 24 to 48 hours after we make the towing arrangement. You don't even have to be present during the pickup, and you can just assign anybody to represent you. During the pick-up, you will receive a towing receipt from us that will release you from all liabilities on your donated car. With that document in your hand, you can now de-register your vehicle, dispose of your license plates properly, and cancel your registration and insurance coverage. Keep the receipt since you may also need it for tax purposes.
Step 3:
After we auction off your car, we will send you the tax-deductible sales receipt by mail. That document would show your car's final selling price and the tax deduction you can claim in the next tax filing season.
The Types of Vehicles You Can Donate
The great thing about our Greensboro, North Carolina car donations program is that we accept nearly all types of vehicles. You don't even have to worry about the condition of the vehicle you're donating. Even if it has not run for months, even if there scratches and dents on its exterior, even if it has busted tail lights, we will still likely accept it for donation.
The only ones we cannot process for donation are stolen or abandoned vehicles since they have no titles or proof of ownership, which is a requirement during car auction. We also have to decline vehicles that are so heavily damaged that they have little or no more value whatsoever.
Here are some of the vehicles we accept:
Cars
SUVs
Trucks
Vans
Boats
Jet Skis
RVs
Campers
Trailers
ATVs
Snowmobiles
Golf carts
Farm equipment
Non-commercial planes
Where Your Donations Will Go
We would transfer the proceeds from the sale of your Greensboro, North Carolina car donations to our non-profit partners to help fund their various programs in support of breast cancer patients who lack financial resources for their treatment. We have partnered with two outstanding non-profit charity organizations: the American Breast Cancer Foundation (ABCF) and the Women Involved in Nurturing, Giving, Sharing, Incorporated (WINGS, Inc.).These two non-profits are working to:
Help uninsured and underserved breast cancer patients gain access to medical screening, diagnosis, and treatment
Provide financial assistance to breast cancer patients, survivors, and their families
Fund research on more effective breast cancer treatment and cure
Boost information campaign to educate the public on the causes, prevention, and detection of breast cancer
Benefits That Await Car Donors
We made donating to a worthy charitable cause even more appealing by providing material benefits to the donors.
Aside from the inner joy you will feel for helping others, you also get to receive substantial perks for yourself.
First, your participation in our Greensboro, North Carolina car donations will entitle you to a hefty tax deduction when you file your itemized personal income tax return. You will get more or less a $500 tax write-off. In effect, you get back a portion of the cash value of your donated car.
Second, you get rid of an unwanted junk that you've long wanted to dispose of anyway, and you get it out of your property for free and without lifting a finger.
Third, you will actually save money donating the car rather than trying to sell it because selling the car would mean spending money for repairs and repaint since you can't possibly find a good buyer for a car that does not run and looks ugly. Chances are, the cost of repairs and repaint would even be higher than the payment you would get for selling your car. You also don't have to pay for your car's registration and insurance anymore if you just donate it to us.
Donate Now In Greensboro, North Carolina!
Are you ready to join the fight against breast cancer? Contact us at 866-540-5069 and join our Greensboro, North Carolina car donations program. Donate a vehicle and extend a lifeline to poor breast cancer patients in your city!
or Call Us Now at 866-540-5069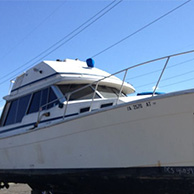 Excellent customer service!