Frederick, Maryland Car Donations
Donate Your Vehicle and Save Lives!
Frederick, Maryland Car Donations: Help Find Sure-fire Cure for Breast Cancer
Do you want to know what makes donating to our Frederick, Maryland car donations program significant in the lives of women who are struggling with breast cancer? When you give away your old vehicle to Breast Cancer Car Donations, you help reputed nonprofit organizations move closer to finding a sure-fire cure for the fatal disease.
Having claimed countless lives in our country alone, it's no wonder that breast cancer has been classified as the second leading cause of cancer death among women in the United States, next only to lung cancer. Experts have long been trying to find a cure for breast cancer but have not found it yet, mostly due to insufficient resources. With your Frederick, Maryland car donations, however, there might be hope after all.
An automobile that you deem useless can be a source of funding for the research on the prevention, screening, diagnosis, and treatment of breast cancer. You might be surprised to know how many lives you'll be helping through a little act of charity.
Admit it, getting rid of a car is much more meaningful when you're doing it for a purpose. Besides, why would you even want to put yourself in a stressful situation of having to sell it?
Quick and Efficient Donation Process
As a way of making things more convenient for our donors, we provide a donation process that's really straightforward and stress-free. Breast Cancer Car Donations takes care of every single thing involved in the process. We'll be taking care of the free towing and the paperwork.
After you've informed us of your decision to join our Frederick, Maryland car donations program, leave the rest of the process to us. Here's a step-by-step guide on how you can contribute to Breast Cancer Car Donations:
Reach out to us. Give us a call or fill out our online donation form, whichever works well for you. We'll ask about your car's make and model, and then we'll arrange for its towing.
Our tow truck will then come to your place to pick up your vehicle. Feel free to be somewhere else if you need to be. The towing company will hand you a towing receipt that will release you from all liability. You can now terminate your car's insurance and registration details anytime you want to.
You're good as done after this! A car that's been filling up your driveway can finally have a new home through our car donations program in the area.
We will then have your Frederick, Maryland car donations auctioned off to generate funds for our nonprofit partners. These funds will enable them to continue providing assistance to uninsured cancer patients and their families.
You get to give new hope to cancer patients. To top it off, you get to enjoy tax incentives from us! How does that sound?
At least 30 days after selling your donated vehicle at its highest possible price, we will send you a 100 percent tax-deductible sales receipt indicating the sale price of your vehicle. If your vehicle sells for less than $500, you can claim the selling price or the vehicle's fair market value up to $500, whichever is higher.
However, if your vehicle sells for more than $500, you can claim only the exact amount for which it was sold, even if the fair market value is greater than the selling price. For more information on this, please call us at 866-540-5069.
What You Can When You Donate a Car
By donating an automobile to Breast Cancer Car Donations, you're not only supporting the patients, but you also have the opportunity to enjoy a number of benefits. The simplicity of our donation process is just one of the many good stuff you'll be experiencing. There's certainly more!
When you contribute to our Frederick, Maryland car donations program, rewarding things will surely come your way. These will include:
Free pickup and towing of your car
Potential huge tax deductions
More room for your driveway or garage
Freedom from insuring, repairing, or maintaining your car
Freedom from the hassles of advertising and selling
Feeling of happiness knowing that your contribution to Frederick, Maryland car donations will make an impact on the lives of breast cancer patients
Vehicles Eligible for Car Donations
Yet another good thing about collaborating with Breast Cancer Car Donations is the fact that you can donate a vehicle that's no longer in good working order. Whether the vehicle you're going to donate is running or not running, our tow truck will come to haul it away. As long as it's able to provide funds for our Frederick, Maryland car donations program, we'd be glad to have it with us.
If ever you have questions about your vehicle's qualification, you can always call us. Tell us what's bothering you about it. There's a big possibility that we'll still accept it.
For your information, here's a list of what vehicles we normally have in our Frederick, Maryland car donations program:
Cars: SUVs, trucks, vans, jeepneys
Motorcycles: mopeds, touring motorcycles, cruisers, sports bikes
RVs: motorhomes, tent and travel trailers, campers, pop-up trailers
Watercraft: boats, jet skis, catamaran boats, cruise ships
Specialty vehicles: motorized wheelchairs, electric lawnmowers, tractors, snowmobiles
Aircraft: helicopters, planes
Help Save Lives with Breast Cancer Car Donations Today
Are you excited to make a difference in the country? Let's work together to finally put a stop to this life-threatening disease. Donate to Frederick, Maryland car donations now at 866-540-5069.
or Call Us Now at 866-540-5069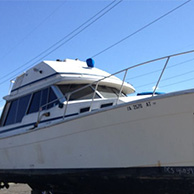 Excellent customer service!