Fox Valley, Illinois Car Donations
Donate Your Vehicle and Save Lives!
Fox Valley, Illinois Car Donations: Use Your Old Beater to Make Life Better for Breast Cancer Sufferers
Would you believe if we told you that your clapped-out car could be a vital source of funding for our nation's leading breast cancer organizations? Just hand it over to us at Breast Cancer Car Donations through our Fox Valley, Illinois car donations program. You'd be surprised to discover how powerful of a tool your clunker could be in helping save the lives of breast cancer-stricken individuals in your local area.
We'll place your vehicle for sale in one of the best auction houses within our network, with the proceeds going straight to our IRS-certified 501(c)3 nonprofit partners. These well-trusted charities use the funds we provide them to deliver comprehensive breast health services to various communities throughout the country.
They provide uninsured and underserved breast cancer patients with financial assistance and easy access to medical facilities where they can undergo full treatment, which includes surgery, chemotherapy, and radiation treatment. They also provide breast cancer survivors with follow-up care. Other beneficiaries receive free breast cancer screening and prevention and education services.
Additionally, your donation will help in the funding of breast cancer research, cancer awareness campaigns, and fundraising events for the benefit of needy patients and their families.
The Joys of Donating to Breast Cancer Car Donations
Before joining our Fox Valley, Illinois car donations program, you probably want to know the benefits that are in store for you. Well, you'd be thrilled to find out that we have lots of amazing stuff for you! Here are some of them:
You'll get a maximized tax deduction.
All paperwork will be managed by our donation experts.
You'll get free vehicle removal.
We'll help you obtain a duplicate copy of your vehicle's title in case you lost it.
You'll skip the hassles associated with selling a used vehicle yourself,
You'll save loads of cash once you stop paying for your car's insurance, repairs, and maintenance fees
You'll get to collaborate with some of the country's top charities.
You'll gain extra space in your garage or yard.
You'll feel joyful, knowing that your donation will greatly help needy breast cancer patients in your area.
Go Through a Fast and Worry-Free Donation Process
At Breast Cancer Car Donations, you'll get to enjoy a most satisfying giving experience with our quick and convenient donation process. It will only take you just a few minutes to make your donation. Just reach out to us and tell us that you'd love to take part in our Fox Valley, Illinois car donations program. Before you know it, your clunker will be on its way to making life better for breast cancer sufferers in your community!
Take a look at our simple three-step guide below to see how easy it is to team up with Breast Cancer Car Donations:
1. Reach out to us.
Fill out our online donation form or call us at 866-540-5069. Provide us basic information about yourself and the vehicle you're donating, such as its make, model, year, mileage, VIN, working condition, and title availability.
2. Schedule your vehicle pickup.
After we verify all the details you shared about your vehicle, we'll call you back to arrange a date, time, and place for its pickup. We'll let you set the schedule. To make it even better for you, our service is completely free of charge!
We coordinate with a licensed towing company in your area. Make sure that your vehicle, along with its title and keys, is ready for collection on the designated day. The tow truck driver will issue you a towing receipt. You'll need this to cancel your vehicle's DMV registration and insurance coverage.
3. You receive your tax-deductible sales receipt.
Once your vehicle is sold at auction, we'll send you your 100-percent tax-deductible sales receipt. Expect to receive that document in your mailbox within 30 days after the sale of your vehicle. With this receipt, you can claim your tax deduction when you file your federal income tax return in the next tax season.
There you have it! For more information, you can check out our FAQs page. If you have any questions, feel free to send us a message online. You may also talk to one of our donation specialists through our toll-free hotline 866-540-5069.
The Types of Vehicles You Can Donate
Whether you got an ancient truck or a car that's no longer running properly, we'd love to have it at Breast Cancer Car Donations. As a matter of fact, you can donate pretty much any type of vehicle you no longer need. Unlike other vehicle donation programs, we're not selective in accepting vehicle donations.
Here are the various types of vehicles we welcome in our Fox Valley, Illinois car donations program:
Cars: sedans, luxury cars, coupes, convertibles, hybrids, sports cars, wagons, hatchbacks
Vans: family minivans, camper vans, cargo vans, passenger vans
SUVs: compact, midsize, full-size or crossover versions
Motorcycles: touring bikes, cruisers, scooters, off-road bikes, mopeds, sports bikes, choppers
Trucks: box trucks, pickup trucks extended cab pickup, panel trucks, refrigerator trucks, tank trucks
Boats: fishing boats, sailboats, tugboats, speedboats, houseboats, cruise ships, catamarans, pontoon boats, yachts
Specialized vehicles: riding lawnmowers, motorized wheelchairs
Fleet vehicles: SUVs, pickups, trucks, buses, cars, passenger vans, cargo vans, limousines, ambulances, taxicabs
Work-related vehicles: construction vehicles, tractors and farm equipment, buses, large trucks, landscaping vehicles
Others: noncommercial planes; campers, travel trailers, snowmobiles, Jet Skis, RVs, motorhomes, pop-up trailers, ATVs
Help Save Lives Now!
Are you ready to make life better for breast cancer sufferers in your city? Call us at 866-540-5069 or fill out our online donation form and take part in our Fox Valley, Illinois car donations program now!
or Call Us Now at 866-540-5069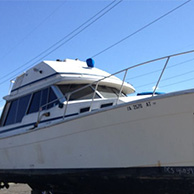 Excellent customer service!