Fayetteville, North Carolina Car Donations
Donate Your Vehicle and Save Lives!
Join the Fight against Breast Cancer Through Fayetteville, North Carolina Car Donations
When the time comes for you to decide on how best to dispose of your old car, consider turning it over to us at Breast Cancer Car Donations through our Fayetteville, North Carolina car donations program. Donating to charity is the perfect option for those who want to go for a fast, worry-free, and no-cost method of getting their hands off a no-longer-wanted vehicle while supporting a worthy cause.
The Problem with Breast Cancer
Breast cancer is characterized by the presence of a malignant tumor in the breast tissue. If this is left unchecked, the cancerous cells can spread beyond the original tumor to other parts of a person's body.
This deadly disease continues to claim countless lives around the world. In the United States alone, one in eight women is bound to develop invasive breast cancer within her lifetime. Breast cancer is considered the most common type of cancer diagnosed in American women, next to skin cancer.
About Fayetteville, North Carolina
The city of Fayetteville had an estimated total population of 209,468 as of July 2018, according to the United States Census Bureau. Furthermore, 49.6 percent of its residents comprised of women while 13.2 percent had no health insurance.
Why We Do What We Do
We at Breast Cancer Car Donations believe that every breast cancer patient – regardless of age, gender, race, ethnicity, educational attainment, and socio-economic background – deserves to receive full treatment to be able to beat the life-threatening disease. For this reason, we have teamed up with like-minded IRS-registered 501(C)3 nonprofit organizations that are working hard to serve uninsured and underserved Americans whose lives have been touched by breast cancer.
We auction off all vehicles donated to us so we can raise the money that's needed to cover the cost of operations of our charity partners. The funding they receive from us helps them provide their beneficiaries with services that are focused on breast cancer prevention, screening, diagnosis, treatment, and research.
Your clunker may seem worthless to you, but if you hand it over to us, we'll turn it into something that will give breast cancer patients in your city a fighting chance to overcome the disease.
How You Can Join Fayetteville, North Carolina Car Donations
You won't have any trouble joining our Fayetteville, North Carolina car donations program. To have a better idea of what we're talking about, check out our quick, straightforward, and convenient donation process:
1. Contact us.
Call us at 866-540-5069. Tell us your name, contact information, and a few details about your donated vehicle, including its year, make, model, and mileage. You can also donate your car through this website by filling out our secure donation form here. Expect someone from our team to call you on the same day as soon as we verify your information.
2. Schedule your FREE pickup.
We'll ask you for the convenient date, time, and place for you to turn over your vehicle to us. We'll then send a tow truck to collect your vehicle wherever it is located in the country.
3. Receive your tax receipt by mail.
Within 30 days after we auctioned off your vehicle, we'll send you your IRS tax-deductible sales receipt by mail. Be sure to keep this document if you intend to claim your tax deductions when you file your itemized federal income tax return in the coming tax season.
If you're curious to know more about us, our charity partners, and how you can help us save more lives, don't hesitate to give us a call at 866-540-5069. You can also send us a message online or visit our FAQs page.
Reasons Why Donating Your Clunker to Us Makes Sense
Taking part in our Fayetteville, North Carolina car donations program is a decision that you won't regret. Donating your no-longer-wanted vehicle to us will benefit not just the breast cancer community in your city but yourself as well! Here's how you can reap rewards from your own charitable contribution:
You'll qualify for a huge tax write-off.
Since we're working with IRS-certified 501(c)3 nonprofits, your donation will be tax-deductible. If your donated vehicle sells for more than $500, you can take a tax deduction that's equivalent to its exact selling price. In case your car sells for less than $500, you can claim as your tax deduction either the final sale price of your vehicle or its fair market value not exceeding $500, whichever is higher.
Aside from the savings that you'll get from your tax deduction, donating your vehicle to us means you no longer need to pay for the costly repairs and maintenance of your old clunker as well as its registration and insurance fees.
No repairs are necessary.
We won't require you to spend a single dime for the repair of your vehicle prior to donating it to us. We'll accept it as it is – even when it needs a new battery, a new set of tires, a paint job, etc. Although we'll always appreciate vehicle donations that are in good working condition, we can still manage to get some value out of old beaters.
Our donation process is quick and painless.
You can complete our donation process remotely and get it done in just a few minutes. Our team will handle everything else for you including all the paperwork and the free towing service.
As soon as you give us your preferred schedule for your vehicle's fast and FREE pickup, we'll set everything in order for you.
The Vehicles that Qualify in Our Program
You can donate to us nearly all types of vehicles regardless of their age or condition. We accept vehicles even if they're rusty and outdated. In most cases, we even accept vehicles that are no longer roadworthy.
Look over this list of the various types of vehicles that we welcome in our Fayetteville, North Carolina car donations program:
Cars: sedans, luxury cars, coupes, convertibles, hybrids, sports cars, wagons, hatchbacks
Vans: family minivans, camper vans, cargo vans, passenger vans
SUVs: compact, midsize, full-size or crossover versions
Motorcycles: touring bikes, cruisers, scooters, off-road bikes, mopeds, sports bikes, choppers
Trucks: box trucks, pickup trucks extended cab pickup, panel trucks, refrigerator trucks, tank trucks
Boats: fishing boats, sailboats, tugboats, speedboats, houseboats, cruise ships, catamarans, pontoon boats, yachts
Specialized vehicles: riding lawnmowers, motorized wheelchairs
Fleet vehicles: SUVs, pickups, trucks, buses, cars, passenger vans, cargo vans, limousines, ambulances, taxicabs
Recreational vehicles: noncommercial planes; campers, travel trailers, snowmobiles, Jet Skis, RVs, motorhomes, pop-up trailers, ATVs
Work-related vehicles: construction vehicles, tractors and farm equipment, buses, large trucks, landscaping vehicles
Choose Breast Cancer Car Donations Today!
You can become a hero to needy breast cancer patients in your city. Join the fight against breast cancer by taking part in our Fayetteville, North Carolina car donations program. Call us at 866-540-5069 or fill out our online donation form to get started.
or Call Us Now at 866-540-5069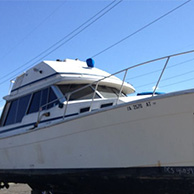 Excellent customer service!