Des Moines, Iowa Car Donations
Donate Your Vehicle and Save Lives!
Join Des Moines, Iowa Car Donations To Help Improve Breast Cancer Survival Rates
Teaming up with us at Breast Cancer Car Donations through our Des Moines, Iowa car donations program is a sure-fire way to help needy breast cancer patients in your city and dispose of an old vehicle at the same time. You'll not only get a chance to extend the lives of these patients, but you'll also experience a stress-free vehicle disposal process.
By donating to Breast Cancer Car Donations, you'll be helping fund our IRS-certified 501(c)3 nonprofit partners' programs that are focused on public education, prevention, and treatments for breast cancer. Your vehicle donation will be auctioned off to raise the money that our charity partners need to cover their operational expenses. This way, uninsured and underserved breast cancer patients in your local community can gain access to the comprehensive breast cancer prevention, education, and treatment services that our charity partners offer. These services include free access to early breast cancer screening, financial assistance, counseling, therapies, and treatment.
If you want to help those whose lives have been touched by breast cancer and thereby improve the breast cancer survival rates in your city, call 866-540-5069 to join our Des Moines, Iowa car donations program today.
Interesting Facts About Des Moines, Iowa
Aside from being the capital of Iowa, Des Moines is also the most populous city in the state. It was originally named Fort Des Moines, but it was eventually shortened to Des Moines in 1857.
What's probably the most interesting fact about Des Moines is that it's a city of technology. For instance, Facebook set up a 476,000-square foot data center that houses servers and hard drives in the city. Microsoft also built a $2-billion worth of data center in Des Moines. Interestingly, the founder of Pinterest, Ben Silbermann, was born here as well.
The United States Census Bureau reports that as of July 2018, Des Moines had an estimated population of 216,853, with females comprising 50.7 percent of this. Data shows that 9.2 percent of the people who live here have no health insurance. They include those who have been afflicted with life-threatening diseases such as breast cancer.
These Benefits Await You
Taking part in our Des Moines, Iowa car donations program will enable you to reap meaningful returns. Aside from the amazing feeling of being able to help needy breast cancer patients, here are other things you can enjoy:
Avoid going through the taxing process of advertising and negotiating for the sale of your car.
You don't have to pay any more for the costly insurance, repairs, and maintenance of your vehicle.
We'll handle all the paperwork needed.
Experience a hassle-free donation process.
Free the roads of an inefficient car.
Towing is free of charge.
Get a hefty tax deduction when you itemize your deductions on your federal tax return.
How to Join Des Moines, Iowa Car Donations
You can't even begin to imagine the lives you'll be able to touch once you decide to take part in our Des Moines, Iowa car donations program. The best part about it is that we make it incredibly easy for you to make a huge difference in the lives of breast cancer patients in your city. Here's how you can donate your vehicle to us.
You have the option to donate your car over the phone by calling us at 866-540-5069 or by filling out our donation form on this website. We'll ask for your contact information and a few details about your vehicle such as its year, make, model, mileage, availability of its title, and working condition.
STEP 2: Schedule your vehicle pickup.
We'll verify your given information before we call you to make arrangements for your vehicle's free pickup. We'll assign a licensed towing company to send their tow truck to pick up your vehicle. Once we get hold of your donation, we'll issue you a towing receipt. This releases you from all liabilities on your vehicle from that point onward. The receipt also allows you to cancel your vehicle's DMV registration and insurance coverage.
STEP 3: Receive your tax-deductible receipt.
We auction off your donated vehicle. Within 30 days following its sale, we'll mail your 100% tax-deductible sales receipt to your given address.
For more information about our donation process, tax deductions, and other related matters, feel free to visit our FAQs page. If you can't find there the answers to your questions, call us at 866-540-5069 or send us a message online. One of our donations specialists will be glad to answer all your queries.
What Vehicles Are Qualified for Donation?
If you want to donate your car but you're not sure whether we'll accept it or not, you'll be glad to know that Breast Cancer Car Donations accepts almost all types of vehicles. Running or not, as long as it's intact, we'll happily accept whatever you're offering for donation.
Here's a list of the most common types of vehicles we welcome in our Des Moines, Iowa car donations program:
Cars: hybrids, coupes, sedans, compact cars, luxury cars, convertibles, sports cars
SUVs: compact, mid-size, full-size, crossover versions
Vans: cargo vans, passenger vans, family vans, minivans
RVs: toy haulers, folding and tent trailers, campers, hybrid trailers, travel trailers, motorhomes
Motorcycles: scooters, sports bikes, dirt bikes, off-road bikes, cruisers, mopeds, choppers, touring bikes
Trucks: dump trucks, mobile cranes, garbage trucks, extended cabs, box trucks, refrigerator trucks, tank trucks
Fleet vehicles: limousines, ambulances, buses, minivans, vans, taxis
ATVs: three-wheelers, four-wheelers
Specialty vehicles: golf carts, snowmobiles, motorized wheelchairs, riding lawnmowers, ATVs
Work vehicles: landscaping vehicles, tractors, farm equipment, construction vehicles
Water vessels: cruise ships, yachts, sailboats, speedboats, fishing boats, motorboats, pontoon boats, catamarans, tugboats
Aircraft: gliders, noncommercial planes, helicopters
Do you have more than one vehicle to donate? Don't think twice before you give us a call because we'll be more than willing to accept multiple donations!
Help Save Lives with Your Vehicle Donation Now! 
Helping women with breast cancer is probably the best purpose your car will serve after its functioning years. Take part in our Des Moines, Iowa car donations program by reaching out to us at 866-540-5069 or filling out our online donation form now!
or Call Us Now at 866-540-5069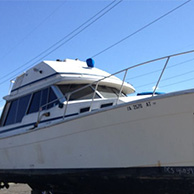 Excellent customer service!