Delaware Car Donations
Donate Your Vehicle and Save Lives!
Delaware Car Donations: Help Beat Breast Cancer in Delaware!
Have you ever thought of simply donating your car to support a charitable cause while you were busy thinking of ways to get that old beat-up Cadillac off your garage? If you haven't, then we at Breast Cancer Car Donations are here to show you how your donation to our Delaware car donations program would help save and uplift the lives of thousands of Americans who are struggling to survive breast cancer.
Breast cancer is a life-threatening disease characterized by an abnormal growth of cells in the breast tissues. It's caused by a mistake in a person's genetic material that's either inherited from a parent or developed through the normal process of aging.
According to U.S. breast cancer statistics, 12 percent of the whole female population in the United States would develop breast cancer at some point in their lifetimes. That's one in every eight American women! To give you a more graphic description, a woman is diagnosed with breast cancer once every two minutes while another dies from it every 13 minutes.
You don't have to be a rocket scientist to conclude that these numbers are alarming. We know that we couldn't help everyone who is affected by breast cancer. However, we know that you and everyone else can help bring these numbers down.
Breast Cancer in Delaware, the Diamond State
Although Delaware is the second smallest state in the country, it's the sixth most densely populated state in America. Thomas Jefferson once referred to it as a "jewel" because of its ideal location in the mid-Atlantic region. Thus, its nickname, the "Diamond State."
Breast cancer has been the second leading cause of cancer death in Delaware with 21.9 percent average annual rate per 100,000 adjusted to the U.S. standard population. These were all women mostly diagnosed through mammography results from ages 40 years old and older, earning the Diamond State the fifth highest ranked state with breast cancer cases in the United States.
Who We Are and What We Do
Breast Cancer Car Donations supports certified 501(c)3 nonprofit organizations by operating vehicle donations to raise funds for breast cancer programs on their behalf. We do this so that they could focus on their life-saving mission: to strengthen and improve methods for preventing, diagnosing, and treating breast cancer. We maintain a solid partnership with the following nonprofits:
American Breast Cancer Foundation (ABCF)
ABCF's mission is to reduce the disparity in access to breast cancer diagnosis and treatment among the poor. They give full emphasis on the importance of providing education, access and financial assistance to aid in the early detection, treatment, and survival of underserved and uninsured breast cancer patients in every state. Their link and referral systems allow free access to local resources, services, and information that are ethnically and linguistically appropriate to the needs of the individual.
Women Involved in Nurturing, Giving, Sharing, Inc. (WINGS) 
Seeking to bridge the gap between breast cancer diagnosis and treatment, the people behind wings work tirelessly to provide comprehensive breast cancer treatment including surgery, oncology services, hospital fees, outpatient medications and other services, as needed. Beyond treatment, WINGS is dedicated to raising breast cancer awareness and outreach.
Your Donation Perks
Joining our Delaware car donations program is like hitting two birds with a single stone. You'd get your hands off an unwanted vehicle while you help others find hope as they face a most dreaded disease, breast cancer. Whoever said that donating vehicles puts you in a one-sided situation when we're talking about benefits is grossly mistaken.
Brace yourself for these (and more) perks that you'd be entitled to as a car donor:
Get 100 percent FREE pickup and towing!
If you want to have that old clunker out of your property without breaking a sweat or spending some cash, then donate your car to our Delaware car donations program.
You can be sure that Breast Cancer Car Donations will work hard so you could enjoy maximum tax deductions allowed by law on your itemized federal tax return
We'll handle all the paperwork! 
Documentation can be stressful. That's why we assure you that our team would cover all required paperwork pertaining to title transfer, tax-deductible receipts, and other IRS documents.
No need to sell your unwanted vehicle!
Good news is, you'd get to avoid the hassle and stress of selling when you donate your car to our Delaware car donations program. Running ads, haggling with potential buyers, negotiating with strangers, waiting for decent offers – say goodbye to all these!
Costly maintenance and repairs – begone!
Just when you're driving to the dentist, your radiator overheats. The price of vehicle ownership skyrockets over time, especially when warranty and free maintenance periods are over. Save yourself the trouble of spending so much more than your car is actually worth.
Have extra space in your backyard!
You'll finally have room for a new SUV that you so rightfully deserve!
The Types of Vehicles You Could Donate
Breast Cancer Car Donations accepts almost every kind of vehicle in our Delaware car donations program. Here's a good list of vehicles that we commonly accept:
Cars: sedans, vans, SUVs, trucks, motorcycles
Boats and watercraft: sailboats, motorboats, fishing boats, yachts, pontoon boats, houseboats, personal watercraft (like jet skis)
RVs: recreational vehicles, motorhomes, campers, travel trailers, pop-up trailers, five-wheelers
Specialty Vehicles: ATVs, snowmobiles, motorized wheelchairs, riding lawn mowers, tractors, farm equipment
Fleet Vehicles: cars, passenger vans, cargo vans, SUVs, pickups, trucks, buses
We welcome multiple Delaware car donations just as long as they come with your proof of ownership because we need it to sell your vehicles at auction. We only say no to abandoned cars.
How to Donate Your Vehicle
Contributing to our Delaware car donations takes only a few minutes of your precious time. Just follow these three simple steps and you're all set:
Introduce yourself and your donated vehicle to us – we'd need your contact information (which we promise never to sell), your car's year, make, model, mileage, VIN and general condition.
Schedule your vehicle's pick-up.
You'll only need to disclose your vehicle's location and when you'd want us to schedule your free pickup and towing. Your presence won't be required when the local towing company we hired hauls your vehicle away.
Receive your tax-deductible receipt.
Your tax-deductible receipt will be mailed to your address after we sell your vehicle at auction. You'll need this when you itemize your deductions on your federal tax return.
The Difference That Your Donation Would Make
Facing breast cancer could be one of the worst things that any person could possibly come up against with; but with good people like you around, those who've been diagnosed won't have to face it alone.
Help beat breast cancer in the Diamond State! Contact us today at 866-540-5069 and get free towing services for your Delaware car donations!
or Call Us Now at 866-540-5069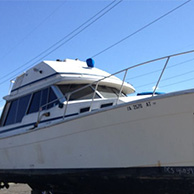 Excellent customer service!