Crofton, Maryland Car Donations
Donate Your Vehicle and Save Lives!
Crofton, Maryland Car Donations: Save Lives And Ease the Suffering of Breast Cancer Victims
Do you want to do your part in saving the lives and easing the suffering of your fellow citizens who are in the vise-like grip of breast cancer?
Hundreds of thousands of Americans are right now grappling with this vicious disease, enduring the pain and agony while living in great fear that they might not survive it.
In fact, the American Cancer Society estimates that this year, the United States will see 268,670 new cases of breast cancer, involving 266,120 women and 2,550 men. Sadly, death will be around the corner for many. For 2018, experts predict 41,400 total breast cancer deaths—40,920 for women and 480 for men.
The alarming numbers could still potentially go up if no action is made. However, it is not yet too late for you and other concerned citizens to do something about this. We can still help reduce these numbers.
You can play a significant role in keeping the numbers down by participating in our Crofton, Maryland car donations fundraiser. If you have an old car that means little to you now, you can donate it to Breast Cancer Car Donations. Your car may be of no use to you anymore, but to breast cancer patients, it's their hope of beating the disease and rebuilding their lives.
'Where Will the Funds from My Car Donation Go?'
When you take part in our Crofton, Maryland car donations program, we'll auction off your donated vehicle. The proceeds will go to our nonprofit organization partners, the American Breast Cancer Foundation (ABCF) and Women Involved In Nurturing, Giving, Sharing, Inc. (WINGS). They will use the funding to deliver vital breast health services to all individuals who need them, particularly to breast cancer patients who are short on finances. The services include:
Financial assistance for the treatment of uninsured breast cancer patients, covering their surgery, chemotherapy and radiation treatments, hospital fees, and outpatient medication;
Free physician consultations, labs, and mammogram for five years following remission;
Counseling for breast cancer patients and their families;
Educating the public on measures to prevent breast cancer as well as the importance of breast cancer screening to enable early detection and quick treatment;
Providing funds to boost breast cancer research aimed at finding more effective and quicker diagnosis and treatment methods and, ultimately, a cure for the disease.
'How Can I Join Crofton, Maryland Car Donations?'
We assure you of a most pleasant, convenient, and rewarding experience when you take part in our Crofton, Maryland car donations fundraiser. Here is our simple three-step car donation process:
You begin the process by either calling us directly at 866-540-5069 or filling out our online donation form. You will need to provide us your personal contact information and your car's details (year, make, model, if your car runs or not, and if the title is available or not).
Once we are clear, we'll arrange for a licensed towing company in your area to pick up your car. We'll ask for your preferred time, date, and location for the pickup. This service is absolutely free! When the tow truck arrives, we'll give you a tow receipt, a document that releases you from any liabilities on the car you donated. This gives you the right to cancel and stop paying for your car's registration and insurance coverage.
The tow truck will deliver your car to one of the city's top auction houses. We'll refurbish your car to make sure that it gets sold at a good price, so you can have a maximized tax deduction. Within 30 days after your car is sold, you'll receive via mail your 100-percent tax-deductible sales receipt, showing your donated vehicle's final selling price. This will serve as the basis of your tax deduction claim when you file your itemized federal tax return for the next tax-filing season. You will need this receipt to claim your tax deduction, so be sure to keep this.
'What Vehicles Do You Accept for Donation?'
We accept not just cars but nearly all other types of vehicles in our car donations in the area. This gives us the opportunity to accept more donations, which means more funds for the benefit of breast cancer patients.
You can donate any vehicle, either new or old or running or not running. However, we cannot process abandoned or stolen vehicles because they have no titles or proof of ownership. We also decline vehicles that are so badly damaged that they have little or no value anymore.
Here are the common vehicle types that we accept for donation:
General vehicles: cars, SUVs, vans, minivans
Motorcycles: cruisers, scooters, mopeds
Recreational vehicles: campers, popup trailers, hybrid trailers, travel trailers, motorhomes, toy haulers, 5th wheelers
Specialty vehicles: golf carts, motorized wheelchairs, riding lawn mowers, farm equipment, snowmobiles, ATVs
Boats and watercraft: fishing boats, sailboats, motorboats, pontoon boats, yachts, jet skis, wave runners
Aircraft: non-commercial airplanes and helicopters
Be a Hero!
Be a hero to our fellow citizens who are suffering from breast cancer. Help them win their battles against breast cancer. Contact us at 866-540-5069 and get started with your Crofton, Maryland car donations!
or Call Us Now at 866-540-5069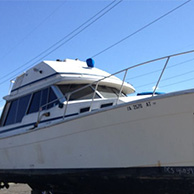 Excellent customer service!