Chevy Chase, Maryland Car Donations
Donate Your Vehicle and Save Lives!
Fight Breast Cancer with Your Chevy Chase, Maryland Car Donations
You've probably heard that taking part in our Chevy Chase, Maryland car donations would mean supporting us at Breast Cancer Car Donations in our mission to save the lives of individuals afflicted with breast cancer. We work in partnership with IRS-certified 501(c)3 charities that are likewise dedicated to fighting breast cancer. If you're one of those vehicle owners who'd want to get their clunkers off their properties, then donating your old and unwanted vehicles would be your smartest move yet.
Go for Chevy Chase, Maryland Car Donations!
Breast cancer remains one of the deadliest diseases in the world. According to U.S. Breast Cancer Statistics, one in eight women in America will develop invasive breast cancer at some point in her life. This year, 266,120 women and 2,550 men in the United States are expected to get hit with breast cancer. Incidence rates are said to be increasing for the past 20 years.
In response, Breast Cancer Car Donations has set up fundraising programs all over the country, including our Chevy Chase, Maryland car donations program, to support our charity partners in providing much-needed assistance to individuals who have been diagnosed with the disease. These comprehensive services include increasing public awareness on breast cancer prevention; financial assistance for breast cancer screening, diagnosis, and treatment; provision of resource tools that are linguistically and ethnically appropriate to patients; assigning Nurse Navigators to guide them to the best treatment facilities and health care workers; and follow-up care for five years following remission.
If you believe that this cause is worth fighting for, you can donate your unwanted vehicle by calling us at 866-540-5069 today. Through our car donations in this town, more and more breast cancer patients will experience an improved quality of life.
Who Says an Old Clunker Is a Junker?
Your vehicle may be in a non-running condition with a busted engine, some missing parts or physical impairments, but it doesn't mean it needs to go to the scrapyard. By donating it to our Chevy Chase, Maryland car donations program, you'll be surprised at how that old clunker of yours can go a long way in fighting breast cancer.
Just so you'll know, vehicle donations to us are not limited to cars alone. If you have an extra vehicle that you want to get rid of other than your car, feel free to give it away as well! Multiple donations sound good to us!
The usual types of vehicles we accept for donation include cars, vans, trucks, motorcycles, SUVs, RVs, campers, fleet vehicles, trailers, boats, airplanes, and specialty vehicles like ATVs, snowmobiles, tractors, motorized wheelchairs, riding lawn mowers, and farm equipment.
You're Not Forgotten!
Do you know that your donation would cause you to reap awesome rewards? Generosity always benefits the giver! Here are some of the good stuff you'll get to enjoy:
Help save lives without spending cash!
All you need is an old clunker which you probably have been itching to get rid of!
Experience a hassle-free process!
We believe that all our donors deserve a pleasant giving experience, that's why we narrowed down our donation process into three simple steps (which you'll learn about later). All you need is your phone or a decent internet connection to become someone's hero in less than a few minutes.
No need to sell your car by yourself!
Joining our Chevy Chase, Maryland car donations program can free you from all the inconvenience that selling could entail. You don't have to put up "For Sale" signs around the city to advertise your car, and you don't have to look for potential buyers who are willing to buy your vehicle as is.
You don't have to handle heaps of paperwork!
Our team of experts would see to it that every piece of required documentation pertaining to your donation is processed and accomplished efficiently. You won't have to worry about the paperwork involved in the transfer of ownership, the issuance of your IRS tax-deductible receipt and the statements verifying that you didn't receive any form of payment for your donation.
At last, you can rest easy knowing that you won't have to pay for pick up and towing services! You can give your clunker a quick goodbye kiss because before you know it, a professional towing company will haul it away at no cost to you!
Who doesn't need extra storage space? Start thinking about what you're going to do with yours the moment we pick your car up.
Eliminate extraneous expenses!
You don't want to go on spending for insurance and maintenance of a vehicle you don't use anymore, do you? You can finally save all your money up for a relaxing vacation or that giant flat screen TV that you've been planning to purchase!
You can trim your taxable income down if you donate your vehicle to us! Based on the IRS rules, the amount of deduction will be based on your vehicle's actual selling price or its fair market value, whichever is greater.
Save Lives Today!
You are one step closer to becoming a hero in your own way. As we mentioned earlier, the process for Chevy Chase, Maryland car donations is quick and painless! Let's take a closer look:
We'll need a few bits of information about you and your vehicle (year, make, model, its overall condition, mileage, and availability of title).
Schedule your vehicle's pickup.
A pickup schedule will be arranged with a licensed towing company at NO COST to you. The good thing is, you don't have to worry about being there during the process and rescheduling some of your other appointments. Your presence is absolutely not mandatory on the day of pick up.
Wait for your tax deduction paperwork. 
When your car is sold to the highest bidder, we'll mail you some pertinent IRS documents including your tax-deductible sales receipt so that you can use it in claiming tax deductions when you file your itemized federal income tax return for the next tax season.
Ready to save lives? Contact us at 866-540-5069 and get free towing services for your Chevy Chase, Maryland car donations!
or Call Us Now at 866-540-5069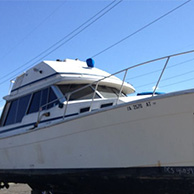 Excellent customer service!