Chattanooga, Tennessee Car Donations
Donate Your Vehicle and Save Lives!
Why Chattanooga, Tennessee Car Donations Make Sense
If you decide to take part in our Chattanooga, Tennessee car donations program, every person in your community whose life has been touched by breast cancer will thank you for doing so. You know why? Your clunker would give them a chance to live longer and better lives – maybe even survive breast cancer.
Would you rather have your car fossilize in your garage when you know that it could potentially save thousands of lives, not only in Chattanooga but in every place in the United States as well? Of course not!
How Common is Breast Cancer?
According to the National Breast Cancer Foundation, one out of eight women in the United States will be diagnosed with invasive breast cancer within the course of her lifetime. In fact, the same source estimates that 252,710 women will get breast cancer this 2018, and more than 40,500 individuals will lose their lives to it. To give you a clearer picture, a woman receives breast cancer diagnosis every two minutes while another woman dies from it every 13 minutes.
At present, there are more than 3.3 million individuals who have survived breast cancer in the United States. With your help, more individuals will have the opportunity to outlive the disease through early screenings, proper diagnostic procedures, and proper treatment. If you want to donate your clunker so that others may live, call us at 866-540-5069 today!
Why Chattanooga, Tennessee Car Donations Are Needed
Breast Cancer Car Donations operates vehicle donation programs such as our Chattanooga, Tennessee car donations on behalf of our IRS-certified nonprofit partners. These charities work tirelessly to provide comprehensive breast health services to every individual who needs them all over the country. The proceeds from the sale of the car donations we receive generate funding for the following programs:
Financial assistance for mammograms, ultrasound, and lab works;
Cost-free chemotherapy and radiation treatments, including surgical procedures;
Free physician consultations, labs, and mammogram for five years following remission;
Distribution of free educational resource tools such as Newly Diagnosed Patient Kits; and
Counseling for breast cancer patients and their families.
How You Can Join Our Chattanooga, Tennessee Car Donations
We want your car donation process to be as smooth as possible, that's why we made ours as simple as possible. If you have a decent internet connection or your trusty phone with you, then you're good to go. Just follow these three effortless steps:
If you want to reach us online, you could fill out our donation form and wait for our call to verify the information you've given us. If you want to speak to one of our donors' reception officers, you can call us at 866-540-5069 to give us your personal contact details and your vehicle's year, make, model, current mileage, general running condition, location, and availability of your car's title.
Schedule your fast and FREE pick-up.
You won't have to pay for your car's towing services because the towing is on us! You'll only need to give us your preferred time, date, and place of pickup for the job to get done. We'll send a professional towing crew to haul your car away at no cost to you!
Receive your tax-deductible receipt.
Within days after we auction off your vehicle, we'll send you your 100-percent tax-deductible sales receipt, indicating your donated vehicle's final selling price. This will serve as the basis of your tax deduction claim when you file your itemized federal tax return.
Your Donation Benefits
You won't regret giving your car away to our Chattanooga, Tennessee car donations program because you'll reap handsome returns for your act of kindness! Take a closer look at the rewards you'll get to enjoy:
100-percent FREE towing services.
Towing is on us and we'll have your car hauled away with your convenience in mind.
Skip the hassles of selling your own car.
You won't have to put up ads or "for sale" signs, negotiate with prospective buyers, and wait until a good offer comes up.
No stressful paperwork for you.
Our team of experts will handle all required documentation pertaining to your car donation. You can count on us to efficiently process the transfer of ownership, the issuance of your tax receipt, and whatnot.
No need to spend more cash on an unwanted vehicle.
Are you tired of paying for the general maintenance, repairs, insurance coverage, and registration of a vehicle that's become an eyesore in your garage? If you take part in Chattanooga, Tennessee car donations, you won't have to worry about burning cash on these expenses.
Enjoy a healthy tax write-off!
We work hand in hand with certified 501(c)3 nonprofit organizations, that's why your donation would qualify you for a maximum tax deduction in the next tax season. If your car sells for $500 or less, you can claim either the exact amount for which it was sold or its fair market value up to $500, whichever is higher. If it sells for more than $500, you can only claim its exact selling price regardless of its fair market value.
Want to Do Something Awesome for Someone Today?
You can be the reason behind so many smiles if you decide to donate your beater today. Are you ready to make a difference? Contact us at 866-540-5069 and get free towing services for your Chattanooga, Tennessee car donations!
or Call Us Now at 866-540-5069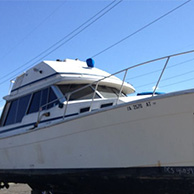 Excellent customer service!