Cary, North Carolina Car Donations
Donate Your Vehicle and Save Lives!
Cary, North Carolina Car Donations: Your Old Clunker Can Help Fight Cancer
 If you find yourself grimacing at the thought of getting stuck with your clapped-out car for another year, then our Cary, North Carolina car donations may just be the perfect solution to your problem! Nowadays, it is easier to apply for a car loan or instantly purchase one for yourself. As a result, a lot of old cars are often left neglected in the garage.
And for what? Additional maintenance and insurance expenses? Undue eternal occupancy of space? Well, Cary, North Carolina isn't just an amateur sports destination or a place of breathtaking suburban parks. It's also a peaceful town that's known for being active in helping breast cancer-stricken individuals get a second chance at life through easy car donations.
'How Can My Car Donation Help Beat Breast Cancer?'
Breast cancer is a life-threatening disease that's characterized by an uncontrolled growth of cells in the breast tissues. This is usually caused by an abnormality in a person's genetic material that's either inherited from a parent or developed as a result of the normal aging process. Statistics show that one in every eight women in the U.S. will be diagnosed with breast cancer at some point in her life.
Like any other form of cancer, breast cancer is most treatable when detected early. Unfortunately, not everybody could access the much-needed resources and reliable diagnostic tests that would supposedly increase their chances of survival. These people are the uninsured and the underserved in every community.
We at Breast Cancer Car Donations have partnered with registered 501(c)3 nonprofit organizations that work tirelessly to battle the dreaded disease. On their behalf, we operate vehicle donation programs so that they could focus on providing comprehensive breast health services across the country. We are proud partners of the following:
American Breast Cancer Foundation (ABCF)
ABCF focuses their efforts in the early detection and diagnosis of breast cancer. They provide available lifesaving tests to individuals who don't have access to reliable screening methods. In doing so, they will be able to rule out the chance of cancer or detect it at the early stage so that it may be treated immediately, thus increasing the survival rate of cancer patients.
Women Involved in Nurturing, Giving, Sharing, Inc. (WINGS)
WINGS was founded by two women in 1999 who share a vision to assist women suffering from breast cancer by bridging the gap between diagnosis and treatment. They provide breast cancer patients with a lifetime access to comprehensive treatments including surgery, radiotherapy, chemotherapy, lab tests, and physician visits. They also conduct education and outreach programs as part of their mission to provide quality care to women with breast cancer.
'How Do I Get Started?'
You can always visit our website and fill out our online donation form to give us a quick background about yourself and your car (year, make, model, mileage, general running condition, availability of title). You can also grab your phone and dial 866-540-5069.
Book your fast and FREE pickup.
We are affiliated with some of the best local towing companies in the country. Once we receive your request for pick-up, the local towing company will give you a call. Then you can arrange a schedule for the free pick-up. Make sure to choose the date and time that's most convenient for you.
After closing the sale on your donated car, a receipt for your IRS tax deduction will be mailed to you. The tax-deductible amount will be determined depending on the value of your car as per IRS rules.
All vehicles donated to Cary, North Carolina car donations through our service will be handled professionally and efficiently. Once your donation has been processed, it will be sold at one of the best auction houses within our network. All proceeds from that sale will then be forwarded to our affiliate non-profit organizations.
You see, that old thing of yours can be of great help to someone else, and it only takes you one quick phone call or website visit. Cary, North Carolina car donations make sure that every dime will be used to help save lives. On top of that, you get to enjoy your new vacant carport space and reap the tax-deductible benefits from the donation. Really, it's nothing but a win-win proposition!
'What are the Other Vehicle Types that I Can Donate?'
We accept almost all types of vehicles for car donations here in this town as long as they come with your proof of ownership. We need this document so that we could sell it at auction.
We think that multiple donations are awesome. So, if you have more than one clunker you'd want to get rid of, don't think twice about donating it to us!
In a nutshell, the most common types of vehicles that we acknowledge for Cary, North Carolina car donations are:
On a case-to-case basis, even if your car doesn't run anymore or its headlights aren't working, it can still be donated! The only instance wherein your donation cannot be processed is if the vehicle is stolen or abandoned.
Make Someone with Breast Cancer Smile Today!
When you donate your preloved vehicle, a person diagnosed with breast cancer doesn't have to face the future alone.
Contact us at 866-540-5069 and get free towing services for your Cary, North Carolina car donations!
or Call Us Now at 866-540-5069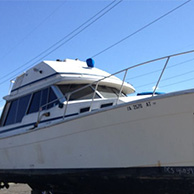 Excellent customer service!