Bristol, Maryland Car Donations
Donate Your Vehicle and Save Lives!
Help Save Lives of Breast Cancer Victims with Your Bristol, Maryland Car Donations
Is your old and non-running car still stuck in your garage or backyard? Have you always wanted to get rid of it but still can't do so?
Let Breast Cancer Car Donations assist you! You can easily get rid of your car with ease and comfort and at zero cost to you when you take part in our Bristol, Maryland car donations program. You will love our stress-free and hassle-free donation process.
We are going to make sure that your car donation will be put to good use and serve as an instrument to help transform and save the lives of breast cancer victims.
We will also make sure that you will be amply rewarded for your generous charitable donation including a hefty tax deduction that will considerably reduce your tax payment when you file your itemized federal income tax return.
What Will Happen to Your Car After You Donate It
Your car will be placed at an auction after you donate it to our Bristol, Maryland car donations program. We will do our best to sell your car at its highest possible price so that you'll have a maximized tax deduction.
After your car is purchased, the proceeds of its sale will be distributed to our nonprofit organization partners that have ongoing programs that provide breast health services to all individuals who need them. We are the partners of two IRS-certified 501(c)(3) nonprofit organizations — the American Breast Cancer Foundation (ABCF) and Women Involved In Nurturing, Giving, Sharing, Inc. (WINGS).
These nonprofits use the funds they received from us to provide the following services:
Financial assistance for mammograms, ultrasound, and lab works;
Free chemotherapy and radiation treatments, including surgical procedures;
Free physician consultations, labs, and mammogram for five years following remission;
Distribution of free educational resource tools such as Newly Diagnosed Patient Kits; and
Counseling for breast cancer patients and their families.
The Vehicle Types We Accept for Donation
If you are uncertain about the eligibility of your vehicle to our Bristol, Maryland car donations program, call us at 866-540-5069 to find out. There is strong likelihood that we will accept your donation since we seldom turn down a vehicle donation offer. You don't need to worry if your vehicle has dents and scratches or has not run for how many months.
We only say "no" to vehicles that are abandoned or stolen or those that are so badly damaged that they have very little cash value.
Breast Cancer Car Donations accepts nearly all types of vehicles. Here are some examples of vehicle types we accept for donations:
Common vehicles: cars, trucks, SUVs, vans, minivans, motorcycles
Watercraft: motorboats, sailboats, pontoon boats, jet skis, yachts, wave runners
Recreational vehicles: travel trailers, motorhomes, campers, popup campers, teardrop trailer, toy haulers, 5-wheelers
Aircraft: noncommercial airplanes and helicopters
Specialty vehicles: farm equipment, snowmobiles, riding lawn mowers, golf carts, ATVs
How to Make Bristol, Maryland Car Donations
Donating a car to our Bristol, Maryland car donations program is very simple, it will only take a few minutes of your time. We have simplified our donation process for the convenience of our donors. Here's our fast and easy three-step car donation process:
You have two options. You can either fill our online donation form or call us at 866-540-5069. In both options, we are going to require your contact information, car's year, make, model, and mileage, VIN, the condition of the car, and title availability.
We pick up your car at your convenience.
Upon verification of the information you relayed to us, we will make an arrangement with an affiliate licensed towing company in your area to collect your car according to your preferred date, time, and place of pickup. If you have to be somewhere else on your car pickup date, it's okay. You don't need to be there. Just let someone represent you and tell us where the keys and title are.
Before the truck leaves, the driver will give you or your representative a tow receipt that will release you from all liabilities on the car you're donating, allowing you to cancel your car registration and insurance coverage.
Get your tax-deductible sales receipt
The tow truck will deliver your car to an auction house that is part of our network. Once your car is sold, you will receive a 100-percent tax-deductible receipt from us by mail within 30 days after the date of purchase. The document will show the selling price of your car, which will be the basis of your tax deduction claim when you file your federal income tax return.
Let's Go Save Lives Now!
You can make things right and save the lives of fellow Americans suffering from breast cancer now! Contact us at 866-540-5069 and get your free towing service and maximized tax deductions with your Bristol, Maryland car donations. What are you waiting for? Donate now!
or Call Us Now at 866-540-5069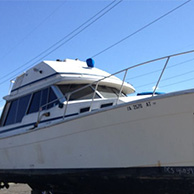 Excellent customer service!