Boulder, Colorado Car Donations
Donate Your Vehicle and Save Lives!
Go for Boulder, Colorado Car Donations Today!
When you donate to our Boulder, Colorado car donations program, you put yourself in a win-win situation. Not only would you finally get your hands off that eyesore of a clunker in your backyard, you also bring a great deal of hope to the people within your community who are battling breast cancer. We're here to tell you why donating your car to Breast Cancer Car Donations is the fastest, most beneficial, and most convenient way of parting ways with it.
Boulder: 'The Happiest City in U.S.'
Boulder is a city in Colorado that's also the county seat of Boulder County. You can find it right where the rolling plains kiss the Rocky Mountains.
A mecca for outdoor enthusiasts, this city boasts of 43,000 acres of open space and nature preserves – perfect for hiking, biking, and rock climbing. In fact, according to a survey conducted by Centers for Disease Control and Prevention, most of the locals here are physically fit because they exercise more than people from other states. Because Boulder was repeatedly rated as the nation's best city for well-being, it's been called the Happiest City in the United States.
Despite this good news, breast cancer still manages to rear its ugly head within the city. U.S. Breast Cancer statistics show that one in every eight women will develop breast cancer over the course of her lifetime. On average, a woman is diagnosed with breast cancer and every 13 minutes, another woman loses her life to it.
What is Breast Cancer?
Breast cancer is a deadly disease that's characterized by a malignant tumor in the breast tissues. It's either caused by a genetic abnormality that's inherited from a parent or a result of a person's normal aging process.
To keep breast cancer numbers down, barriers in disease awareness, prevention and diagnosis must be transcended and new treatment modalities must be unlocked. These won't be possible without adequate funding.
 Who We Are and the People We Work With
We at Breast Cancer Car Donations operate vehicle donations on behalf of our certified 501(c)3 nonprofit partners to generate funds for their programs that provide free and accessible comprehensive breast health services across the country. These services are geared towards breast cancer prevention, early detection, treatment and/or cure. We are proud partners of the following:
American Breast Cancer Foundation (ABCF)
ABCF seeks to make breast cancer diagnosis and treatment accessible and available among the uninsured and the underserved in every locality. ABCF directs its efforts in giving education, access and financial assistance to every person particularly among the poorest of the poor. Through its extensive link referral systems, people from various ethnic, socioeconomic and cultural backgrounds are connected to their local facilities that provide free and accessible resources, services and information that are linguistically customized according to their individual needs.
Women Involved in Nurturing, Giving, Sharing, Inc. (WINGS)
Since 1999, WINGS have been committed to giving financial assistance for breast cancer treatment including surgery, oncology services, hospital fees, outpatient medication, as needed. They are also actively involved in outreach and are advocates of raising public awareness for breast cancer prevention.
We pride ourselves on handling vehicle donations with the highest degree of professionalism and integrity. We'll make sure that the proceeds of Boulder, Colorado car donations will exclusively benefit the residents of the city. You can donate your preloved car today by calling 866-540-5069!
Other Types of Vehicle Donations are Welcome!
We accept almost all types of vehicles that you have in mind to get rid of. It doesn't even matter if you haven't used them for a long time. We only say no to abandoned cars since proof of ownership is a prerequisite for selling.
If you've lost your title, you have no reason to lose sleep over it. Our team of title clerks would help you get a replacement title as soon as possible. Just give them a call and they won't disappoint you.
We love multiple donations because more individuals would benefit from them. You may find this list of acceptable vehicles helpful:
Cars: sedans, vans, SUVs, trucks, motorcycles
Boats and watercraft: sailboats, motorboats, fishing boats, yachts, pontoon boats, houseboats, personal watercraft (like jet skis)
RVs: recreational vehicles, motorhomes, campers, travel trailers, pop-up trailers, 5-wheelers
Specialty vehicles: ATVs, snowmobiles, motorized wheelchairs, riding lawn mowers, tractors, farm equipment
Fleet vehicles: cars, passenger vans, cargo vans, SUVs, pickups, trucks, buses
Donating Your Car Is So Easy!
Boulder, Colorado car donations are so convenient! We at Breast Cancer Car Donations want you to have the best giving experience ever. That's why we came up with the easiest and most convenient donation process! Check out these three simple steps that you could do to set things up:
Let us know you want to donate.
You can fill out our online donation form found all over our website or you could call us at 866-540-5069 to fill us in with your contact details (which we promise never to sell), and a few bits of general information about your donated vehicle (year, make, model, mileage, vehicle identification number (VIN), availability of title, overall running condition).
Schedule your car's fast and FREE pick-up.
The towing company would show up at your doorstep to haul your car away once you've confirmed your preferred time, date and place of pickup. You don't even have to be there when they tow your car away!
We'll send you your tax-deductible receipt as soon as we get your donated vehicle sold at auction. You can use this receipt when you itemize your deductions on your federal tax return.
Your Top Benefits for Your Donation
Donating a run-down, junky old vehicle will undoubtedly make a positive impact on countless lives in Boulder – including yours! One good thing about giving is that both the giver and receiver always benefit from it. No one leaves empty-handed!
When you donate your old rusty Pontiac and your great-grand uncle's motorized wheelchair to our Boulder, Colorado car donations program, you not only clear out your garage space, you also get to enjoy the following:
Experience a donation process that's quick and painless!
Getting rid of an unwanted clunker has never been more convenient and a lot faster. Our donation process is so easy, you can expect a pleasant giving experience as our team processes your donation request. In less than five minutes, you're all set.
Take advantage of our FREE pickup!
We won't let you pay for towing! Plus, we won't require you to be present on the day of pickup! Just tell us where we could locate your vehicle's title and keys inside your car, and remember to remove all your personal belongings before the professional towing company gets there.
We won't let you handle the paperwork!
All required documentation will be handled by our experienced and service-oriented team who'll handle everything from title transfer to tax-deductible receipt issuance.
No more insurance liabilities from the day of pickup!
Once we pick up your vehicle, our insurance coverage applies to it. Therefore, you're released from any liability from that point onwards.
Since we work with registered 501(c)3 nonprofit organizations, you'll be entitled to a maximum tax deduction! We'll work hard to sell your preloved vehicle in one of the best auction houses where it would have the most value.
Quit paying for maintenance and repairs!
We all know that the cost of car ownership skyrockets over time, especially when the warranty and free maintenance period are through. You don't have to tie yourself down to a bottomless pit that's going to eat a huge chunk out of your savings if you decide to donate your car!
No need to sell your car by yourself!
Selling a car is stressful and time-consuming. You have to run ads, respond to inquiries, show your car to strangers, and haggle with potential buyers until you get a good offer. Give yourself a break by taking the fastest way to get your hands off your unwanted car by donating it to our Boulder, Colorado car donations program!
Don't Wait for Boulder, Colorado to be Better, Make it Better Today!
We challenge you to infuse your life with action now and not just passively wait for anything good to happen in your community. When you donate your car, you not only unload yourself from its burden, you also lighten the load of those whose lives are touched by breast cancer in Boulder.
There are over 3.3 million breast cancer survivors who are alive in the U.S. today. With our combined efforts, we can raise this number and give more people the chance to live longer and, if possible, not lose their lives to breast cancer.
Contact us at 866-540-5069 and get free towing services for your Boulder, Colorado car donations!
or Call Us Now at 866-540-5069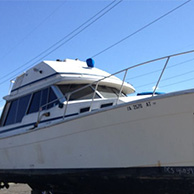 Excellent customer service!