Bel Air, Maryland Car Donations
Donate Your Vehicle and Save Lives!
Bel Air, Maryland Car Donations: How to Dispose of Your Old and Unwanted Car and Save Lives at the Same Time
Are you tired of sending your old car to the repair shop time and again? If you're looking for the best option to get rid of your car, we'd be glad to show you the way! Allow us to show you why donating your car to us at Breast Cancer Car Donations is the best way to dispose of your clunker.
When you take part in our Bel Air, Maryland car donations program, you will do something truly great: helping needy individuals who are suffering from breast cancer and potentially saving their lives.
We will convert your donated vehicle into a financial resource by selling it at auction. The funds arising from the sale will be used by our dependable nonprofit partners in funding their breast cancer support programs that cater to the needs of breast cancer patients. Specifically, the funds we generate from our vehicle donations program are used to provide free services to uninsured and underprivileged individuals, including:
Financial assistance for mammograms, ultrasound, and lab works;
Cost-free chemotherapy and radiation treatments, including surgical procedures;
Free physician consultations, labs, and mammogram for five years following remission;
Distribution of free educational resource tools such as Newly Diagnosed Patient Kits; and
Counseling for breast cancer patients and their families
 Breast Cancer Stats and Figures
Breast cancer is considered as the second most commonly diagnosed cancer and the second leading cause of cancer deaths among women in the United States.
According to American Cancer Society, 266,120 new cases of invasive breast cancer plus 63,960 new cases of non-invasive cancer or carcinoma in situ (CIS) in women are projected to occur this 2018. Though the disease is rare among men, experts estimate that 2,550 new breast cancer cases will involve male subjects. That makes a total of 268, 670 new breast cancer cases expected this year.
Of these figures, an estimated 40,920 women and 480 men, or a total of 41,400 breast cancer victims, are expected to succumb to the disease.
The numbers are alarming, to say the least. Clearly, many of our fellow Americans who will contract the disease will be in dire need of assistance. It is not too late for them. You can help in saving them by joining our Bel Air, Maryland car donations program.
How to Make Bel Air, Maryland Car Donations
With our Bel Air, Maryland car donations program, you're guaranteed to go through the quickest and absolutely hassle-free donation process. In less than five minutes, your old vehicle will be on its way to supporting breast cancer patients in the area. Here's how you can do it:
First, fill up our online donation form or give us a call at 866-540-5069, telling us your intent to donate your vehicle to Breast Cancer Car Donations. Tell us your personal contact information and your vehicle's basic details such as its year, make, model, mileage, and vehicle identification number. We will also ask about its condition (whether it is running or not) and if the title is with you.
After verifying the information you shared, we will make an arrangement for your car's pickup, taking into consideration your preferred time, date, and place. We will make an arrangement with a professional towing company to haul off your car.
If you have something to do on that day, it's okay not to be present during the pickup. Just give us a heads up and tell us where the keys and car title are. Before the tow truck leaves, the driver will hand you a tow receipt. This document will release you from all liabilities on your car henceforth, allowing you to cancel and stop paying for your car insurance and registration.
Your car will be taken to an auction house. We'll make sure that it will be sold at the highest price possible.
You will receive from us a tax receipt via mail within 30 days after the sale of your car. Please keep this document since you will need this to claim your tax deduction when you file your itemized federal income tax return.
The Vehicle Types That We Accept for Donation
The great thing about donating to our Bel Air, Maryland car donations program is that we accept a wide variety of vehicles. We also don't mind the condition of the vehicle that much. It's okay if it has dents and scratches or has not run for several years. We'll take care of refurbishing the car before it is sold. As long as there's a title that goes with it and it still has some good enough cash value, we'll take it.
Here are some common vehicle types we accept for donation:
Cars
Vans or minivans
Trucks
Motorcycles
SUVs
Boats
RVs
Farm equipment
Golf carts
Snowmobiles
Riding lawn mowers
Kindness Pays!
It's a noble act to help people in need. It gives you a good feeling inside knowing that you'll be impacting and transforming the lives of breast cancer victims with your Bel Air, Maryland car donations.
Let us know if you have made up your mind on donating your car to us. Contact us at 866-540-5069! Donate now!
or Call Us Now at 866-540-5069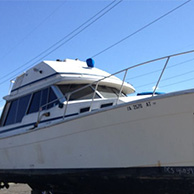 Excellent customer service!