Baltimore, Maryland Car Donations
Donate Your Vehicle and Save Lives!
Baltimore, Maryland Car Donations: Helping Breast Cancer Patients a Win-Win Situation
It's a classic win-win situation when you join the Baltimore, Maryland car donations program by donating your old car to help fight breast cancer. You will help save the lives of needy cancer patients without spending even a cent while at the same time giving yourself that priceless feeling of satisfaction in having done something good in your life that benefits others.
That's not all: You will also receive material gains! More on that later.
When you donate your car to Breast Cancer Car Donations in Baltimore, Maryland, you will be helping fund nonprofit organizations that are in the thick of the fight against cancer, particularly breast cancer.
After we sold your Baltimore, Maryland car donations through auction, we will send the proceeds directly to our two nonprofit partners — the Women Involved in Nurturing, Giving, Sharing, Incorporated (WINGS, Inc.) and the American Breast Cancer Foundation (ABCF). Through your donations, our organization, and our partners will be able to provide better healthcare services to breast cancer patients.
WINGS and ABCF are pursuing programs to assist underserved and uninsured cancer sufferers. They aim to:
Help in providing financial and medical support to breast cancer survivors, patients, and their families
Help in managing the unwanted side effects of breast cancer treatment
Provide funds for research on breast cancer cure
Raise public awareness about breast cancer prevention and signs of early breast cancer detection
Provide breast cancer patients access to screening and diagnostic facilities as well as effective treatment
ABCF advocates for a wider campaign to educate the public on how to prevent breast cancer. On the other hand, WINGS is dedicated to bridging the gap between breast cancer detection and treatment for uninsured women afflicted with the disease. It provides breast cancer patients access to reputed oncologists and treatment centers to give them a better chance of surviving the disease.
Breast cancer patients are not the only ones to benefit from the donations. As a donor, you will also have your own perks.
When you donate your vehicle to Breast Cancer Car Donations in Baltimore, Maryland, you stand to gain financial benefits in the form of tax deductions.
Donating your old car will also free up your garage space hassle-free. Don't regret parting away with your old clunker. Chances are, you could not sell it at a good price anyway. Since the buyer would most certainly require you to repair the car first, you could actually spend more money on repairs than the money you will get from the sale.
In selling your car, you will also have to do time-consuming paperwork. You cannot also keep your privacy since you would have to face prospective buyers and third-party agencies.
You avoid all these hassles by simply donating your car to Baltimore, Maryland car donations program.
Breast Cancer
The first recorded cases of breast cancer came as early as1500 BC in ancient Egypt, when the first case of breast tumors written in papyri, the ancient paper, was described in detail. This proves that breast cancer has been plaguing mankind for thousands of years.
The first effort made to save the lives of breast cancer patients when Dr. William Stewart Halsted, a surgeon at Johns Hopkins Hospital in Baltimore, Maryland, performed the first radical mastectomies during the late 1800s and early 1900s, which became the standard for treating breast cancer until the 1970s.
The second leading cause of cancer death among women next to lung cancer is breast cancer. Each year, more than 40,500 women die of breast cancer in the United States, according to the National Breast Cancer Foundation, Inc. One in every eight women in the United States has a chance of developing breast cancer in her lifetime.
Baltimore, Maryland: Attractions in Charm City
Baltimore, Maryland was given the nickname Charm City following a 1975 meeting of advertisers seeking to improve the city's reputation. Baltimore is the largest city in the state of Maryland.
Fort McHenry is one of the must-see sites in Baltimore. It is a historical American fort built during the 1700s and was used by the U.S. military during the two world wars.
Another place to add to your bucket list is B&O Railroad Museum. The museum exhibits the historic railroad equipment used in Baltimore, Maryland. The museum, opened to the public in 1953, has one of the most significant collections of railroad artifacts in the world and has the largest collection of 19th-century locomotives in the United States.
Kids in the 1990s are surely familiar with Riple
y's Believe It or Not. Fans may visit the museum devoted to this American franchise that deals with bizarre events and items on Light Street, Baltimore. The museum has an amusement park with an Odditorium and Moving Theater. You can take your family to enjoy adventures such as Mirror Maze, Ripley's Moving Theater, Shrunken Heads, and a whole lot more.
Car Donations Process in Baltimore, Maryland
You can easily join the Baltimore, Maryland car donations program by following these three easy steps:
Step 1:
Visit our website and fill out our online vehicle donation form. You can also call Breast Cancer Car Donations at 866-540- 5069. One of our friendly representatives will provide you more details about the program and answer all your questions.
You may need to prepare and provide our phone representative with these details:
Your preferred time and date for pick-up and tow
Your car's make and model
Your vehicle's location for pick-up
Step 2:
We will check and verify the details you provided in your Baltimore, Maryland car donations. After this, we will make arrangements with a local tow company for your free pick-up and tow.
Step 3:
Your vehicle will be picked up and towed. The local tow company will then hand you a receipt to release you from liability. You may use the receipt to file your top tax deduction.
Save lives today by donating to Baltimore, Maryland car donations. Call us now at 866-540- 5069 to donate.
or Call Us Now at 866-540-5069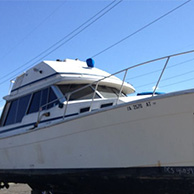 Excellent customer service!