Apex, North Carolina Car Donations
Donate Your Vehicle and Save Lives!
Apex, North Carolina Car Donations: Be Our Partner in Saving Lives of Breast Cancer Patients
Our advocacy of saving and transforming the lives of breast cancer patients has prompted us to come up with our Apex, North Carolina car donations fund-generating program. We at Breast Cancer Car Donations are inviting you to donate your car and be our partner in helping our fellow Americans, including those in Apex, North Carolina, who have been diagnosed with breast cancer.
When you donate your vehicle to Breast Cancer Car Donations, you will be helping our leading breast cancer non-profit organization partners in their mission of saving lives. We will forward the proceeds of your car donations in the area to these two non-profit organizations:
American Breast Cancer Foundation – This organization helps in financing the screening and diagnostic tests for uninsured and underserved individuals who show early signs of breast cancer. It also connects breast cancer patients to local facilities, helping them get support and services as well as resources they needed.
Women Involved in Nurturing, Giving, Sharing, Inc. – This organization provides assistance to uninsured breast cancer patients, covering the gap between diagnosis and treatment.
Your donations will also be used to support other programs such as those directed at:
Empowering individuals with breast cancer, providing them the encouragement, the knowledge, and the inspiration to be able to help themselves
Promoting public education on how to prevent the deadly disease and how to detect it early
Providing funds for research on breast cancer cure
Providing financial assistance to breast cancer patients for diagnosis and treatment
Breast Cancer in Our Country
It is estimated that one in every eight female Americans has a chance of developing breast cancer during her lifetime. Roughly 30 percent of cancers in women are caused by breast cancer. And about 85 percent of diagnoses occur in women with no family history of breast cancer.
Breast cancer in the United States is the second leading cause of cancer deaths among female Americans. Roughly 30,000 to 40,000 individuals die each year because of breast cancer.
An estimated 98 percent of women could have survived breast cancer if they had access to medical assistance earlier and if cancer was detected earlier. Today, 75 percent of women who are over 50 have access to regular mammograms.  And there are more than 2.8 million breast cancer survivors in the United States.
Breast cancer was first recorded on papyrus in ancient Egypt in 1600 BC when eight cases of women having breast tumors were recorded and described in detail. In 1700, French surgeon Jean Louis Petit performed the first radical mastectomy, removing breast tissue, lymph nodes, and underlying chest muscles. And in 1926, the first breast cancer clinical study was led by Janet Lane-Claypon.
Lots of Benefits for Car Donors
Donating your vehicle to help our advocacy in fighting breast cancer makes you eligible for a lot of benefits including tax deductions, which can grant you more or less $500 depending on your vehicle's fair market value or final selling price, whichever is higher. You can have this amount deducted from your taxable income when you itemize the filing of your tax return.
You also get free pick-up and tow of the vehicle you're donating to Apex, North Carolina car donations. You also don't have to worry about paperwork since Breast Cancer Car Donations will process everything for you, including making arrangements with a professional tow company for your free pick-up and tow. For more information, click here.
Our Simple Car Donation Process
Donating your vehicle to Breast Cancer Donations in Apex, NC won't take up much of your time and effort. All you have to do is visit our website, navigate to our Donation Page, and just fill out the online vehicle donation form. You may also give us a call at 866-540- 5069. Our car donations specialists will assist you and answer all your questions.
Before you make the call, you will need to prepare some information about your vehicle such as your vehicle's make and model, your preferred time and date for pick-up and towing, and your vehicle's location for pick-up.
After we verify the information you shared, we will make arrangements with a tow company for your free pick-up and tow. The tow company will then pick up your vehicle on the date, time, and place you specified. The company will give you a tow receipt that releases you from all liability. You can now terminate your car's insurance and registration, saving you money.
With your donated vehicle now in our possession, we will put it on the auction block and will try to get the highest selling price for it.  Once sold, we will send you a letter acknowledging your donation to our Apex, North Carolina car donations, informing you about your vehicle's final selling price and attaching your sales receipt or IRS form, which you will use when you file your taxes. You may use the receipt to claim your tax deduction.
Help us in our advocacy in saving the lives of breast cancer patients. Donate your vehicle to Apex, North Carolina car donations. You may reach us at 866-540- 5069.
or Call Us Now at 866-540-5069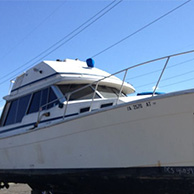 Excellent customer service!