Albuquerque, New Mexico Car Donations
Donate Your Vehicle and Save Lives!
Albuquerque, New Mexico Car Donations: Donate Your Car So Others Can Live
If you're one of the thousands of others who are stuck with unwanted vehicles and you're thinking about taking part in our Albuquerque, New Mexico car donations, then today's your lucky day! We're here to tell you that you don't have to let that rusty old clunker of yours that you hardly even use, turn into a historical artifact in your backyard. You can donate it through Breast Cancer Car Donations to help fight breast cancer in the city!
We Love Albuquerque!
What's not to love about Albuquerque? This ultimate American destination is the very center of authentic Southwestern culture and the home of the world's largest gathering of hot air balloons from around the globe! There's another thing we love about this place: The people here are willing to extend a helping hand to those afflicted with breast cancer in their own city through our Albuquerque, New Mexico car donations program.
What Is Breast Cancer and What You Can Do to Help Fight It?
 Breast cancer is the uncontrolled growth of breast cells caused by genetic abnormalities that were inherited from a person's parents, or genetic abnormalities that result from the normal aging process. In the United States, it's the most commonly diagnosed cancer in women and the second leading cause of death among them. It's said that in every year, the estimated number who would be diagnosed with this disease is 252,710 and more than 40,500 will die.
We at Breast Cancer Car Donations support certified 501(c)3 non-profit organizations in their vision to help individuals who are affected by breast cancer to live better, to live longer and if possible, to not die from the disease. We show our support by operating car donation programs on their behalf so that they can give more of themselves to their life-saving missions. It's an honor for us to work in partnership with:
American Breast Cancer Foundation (ABCF)
Its mission is to reduce disparities in access to breast cancer diagnosis and treatment, particularly among the poor. It does this by maintaining programs that provide education, access and financial assistance to the uninsured and underserved individuals in every community. Its link and referral systems have been very instrumental in allowing free access to local resources, services, and information that are ethnically and linguistically customized according to the needs of a person.
Women Involved in Nurturing, Giving, Sharing, Inc. (WINGS)
Seeking to fill the vacuum that exists between detection and treatment, this organization provides comprehensive breast cancer treatment, including surgery, oncology services, hospital fees, outpatient medications and other services, as needed. It is also involved in raising public awareness on breast cancer and outreach.
The proceeds from the sale of every car donation made through our Albuquerque, New Mexico car donations program will be used to fund the breast cancer programs of our charity partners for the benefit of your local community. In other words, when you donate your vehicle, you help increase the breast cancer survival rates in Albuquerque. Your shabby old car may be worthless to you, but to folks who've been fighting breast cancer tirelessly for a long time, it's a treasure.
Donation is the Fastest Way to Get Rid of Your Car
You can be sure that with Breast Cancer Car Donations, you'll be free from the car that you've been itching to part ways with, in less than 15 minutes. Our Albuquerque, New Mexico car donations process is so simple and easy! Here's how it works:
You can start by filling out our online donation form or by calling us at 866-540-5069. Just give us a few important details like your contact information, the year, make and model of the vehicle you're donating, and you're all set.
Schedule your fast and FREE pickup!
There's no need for you to call the local towing company for your vehicle's pickup – we'll do it for you! You won't even have to pay us for towing services! We will also hand over your donation receipt that will enable you to legally cancel your car registration and insurance.
Days after we auction off your car, we will send you by mail your tax-deductible sales receipt. The amount indicated there will serve as the basis for claiming your top tax deduction when you file your itemized federal tax return.
You Can Donate Other Types of Vehicles!
 Now that we've captured your interest, let's move on to the types of vehicles that Breast Cancer Car Donations would gladly accept in our Albuquerque, New Mexico car donations program. We take almost anything – we even accept non-running vehicles on a case by case basis!
The only vehicles that we don't accept are abandoned ones because we require proof of ownership for us to sell them. However, if you have any title concerns, our title clerks are able and ready to assist you.
Check out the list of vehicles that we commonly accept:
Cars: cars, vans, SUVs, trucks, motorcycles
Boats: sailboats, motorboats, fishing boats, yachts, pontoon boats, houseboats, personal watercraft (like jet skis)
RVs: recreational vehicles, motorhomes, campers, travel trailers, pop-up trailers, five-wheelers
Specialty vehicles: ATVs, snowmobiles, motorized wheelchairs, riding lawn mowers, tractors, farm equipment
Fleet vehicles: cars, passenger vans, cargo vans, SUVs, pickups, trucks, buses
Multiple Albuquerque, New Mexico car donations don't faze us! You don't have to worry about donating more than one vehicle because we'd be more than happy to take them all!
Your Car Gives Others a Fighting Chance to Survive Breast Cancer
With 252,710 estimated new cases in the United States this year and this number rising by the minute, it's about time for you to join the fight against breast cancer. Show Albuquerque some love – donate your car and help save lives today!
Contact us at 866-540-5069 and get free towing services for you Albuquerque, New Mexico car donations!
or Call Us Now at 866-540-5069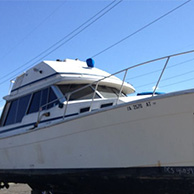 Excellent customer service!