Alaska Car Donations
Donate Your Vehicle and Save Lives!
Alaska Car Donations: Help Fellow Americans Fighting for Their Lives to Survive Breast Cancer
Breast cancer is among the top three cases of cancer in Alaska. In its latest report on the subject, the Alaska Department of Health and Social Services states that in 2014, it was estimated that 40,000 women would die from breast cancer, adding that the chance of dying from breast cancer is one in 36 or 3 percent.
Breast cancer usually yields no indications when the tumor is treatable. Thus, it is essential for women to keep an eye on suggested screening recommendations for breast cancer detection at an early period before the symptoms occur.
For most women, predicting breast cancer threat on the basis of potential risk elements is generally difficult to rely on. About 70 percent of women found to have breast cancer lacked any recognized danger before the period of prognosis.
There are a number of factors that result in the ongoing progression of breast cancer such as female gender, developing age, early menstrual period, the difference in breast cancer genetics, inactive lifestyle, as well as individual or family history of breast cancer.
Donating a car through our Alaska car donations program is one of the ways to support humanitarian work to help uninsured and underserved breast cancer patients while obtaining a substantial tax deduction at the same time. By donating a vehicle to Breast Cancer Car Donations, you do not just clear space in your garage or backyard. You are likewise supporting a valuable cause.
For those with an old car or truck that you do not want anymore, consider giving it away it to our Alaska car donations program if you are concerned with preserving the lives of women fighting breast cancer. Thousands have died of breast cancer. Nevertheless, the illness can be avoided by means of greater awareness. Moreover, breast cancer can still be treated with the right method of treatment and if the cancer is detected early enough. Thousands have survived the disease.
Alaska: The Last Frontier
A former Russian colony, Alaska was bought by the United States government from Russia for $7.2 million in 1867. The land situated at the extreme northwest of the Northern U.S. continent became America's 49th state in January 1959. Alaska is the biggest state in America by area.
In a data reported by the United States Census Bureau, as of 2016, there are around 741,894 people living in Alaska. Of this number, roughly 47.7 percent are women.
The state is the home of essentially the most beautiful geography in the U.S., claiming 17 of the nation's 20 highest peaks, along with the Tongass National Forest, which is the biggest in the country. Alaska has more undeveloped land compared to other states in the U.S.
The cost of living in Alaska is not substantially costlier than in other areas; however, too little accessibility to rural places may severely impact the expense of living there.
Why Donate a Car in Alaska
Whether it is an old pickup or SUV that you want to get rid of, when you participate in our Alaska car donations program, you also perform a critical role in increasing breast cancer awareness.
The car donation process is fast and easy, and it creates a significant impact. Listed below are some of the benefits that you could gain by joining our Alaska car donations program.
All logistics are handled by us at Breast Cancer Car Donations.
We pick up your vehicle at no charge.
We mail you the tax invoice for tax deduction uses.
You are clear of any responsibility related to routine maintenance, storage, and car insurance.
You help save and uplift the lives of women afflicted with breast cancer.
Vehicles You Can Donate in Alaska
If you are not sure whether your vehicle is eligible for our Alaska car donations program, we would like to assure you that we take in nearly all models and makes. And because we take your car or truck as soon as you opt to donate it, you do not have to be worried whether it is in working condition or not. Every donation is a great help.
The types of vehicles accepted for donations include cars, trucks, sports cars, SUVs, vans, motorcycles, jet skis, riding lawn mowers, and other types of vehicles.
How the Alaska Car Donations Process Works
We at Breast Cancer Car Donations work together with various other nonprofit institutions to help disadvantaged people struggling with breast cancer. We also support research on breast cancer treatment and campaigns to promote breast cancer awareness. Should you be thinking about donating your car or any other vehicle to our Alaska car donations program, we have made the whole thing easy for you.
Contact us by calling or completing our online donation form, giving us all the vital details with regards to the vehicle you're donating.
Let us pick up your car. We will be planning a time to come and haul away your car, and we will never charge you anything. We will give you your donation receipt that will enable you to terminate your car's registration with the Department of Motor Vehicles as well as your car's insurance coverage.
We sell your car through auction, and we mail to you your 100-percent tax-deductible sales receipt.
You can be certain that all the proceeds from the sale of the vehicle you donated to our Alaska car donations program will be used to support the diverse projects we have to fight breast cancer.
A Practical Approach to Help Breast Cancer Sufferers
Donating a vehicle to our Alaska car donations program is a practical approach to help your fellow Americans who are fighting for their lives to survive breast cancer. Have you thought of giving your old car to lend a hand to them?
Contact us at 866-540-5069 and take pleasure in a well-structured donation experience from start to finish. Donate today!
or Call Us Now at 866-540-5069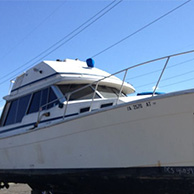 Excellent customer service!