Aberdeen, Maryland Car Donations
Donate Your Vehicle and Save Lives!
Aberdeen, Maryland Car Donations: Don't Allow Victims of Breast Cancer to Suffer Anymore
Did you know that your old unwanted car can still serve a purpose when you donate it to Breast Cancer Car Donations?
Yes! When you participate in our Aberdeen, Maryland car donations program, you will be helping needy breast cancer patients in their struggle to free themselves from the grip of this killer disease.
We exist to help lessen the alarming numbers of cases and deaths caused by breast cancer not only in Aberdeen, Maryland but in other parts of the country as well.
In fact, according to a 2018 report by the American Cancer Society, experts have projected that there will be 266,120 new cases of invasive breast cancer among women this year along with 63,960 new cases of non-invasive cancer or carcinoma in situ (CIS), resulting in the estimated deaths of 40,920 women.
Although it is rare for men to get this disease, experts estimate that 2,550 new cases of breast cancer will hit male subjects this 2018 with 480 deaths expected.
Such high numbers should ring alarm bells. Certainly, we cannot just sit around and do nothing about it. Many of our fellow Americans are suffering!
If you want to join the fight against breast cancer and to lend a helping hand to its victims, consider taking part in our Aberdeen, Maryland car donations program. The proceeds of your car donation will be used to finance the programs of our nonprofit charity partners that cater to the needs of individuals fighting breast cancer.
The Benefits You Will Receive
The great thing about donating to Breast Cancer Car Donations is that while you help people with breast cancer, you are also going to get rewarded for your charitable act. Here are the rewards that you'll get when you take part in our Aberdeen, Maryland car donations program.
You will be eligible for a substantial tax deduction since we are in partnership with certified 501(c)(3) nonprofit organizations.
You will be able to easily get rid of your old car that you have always wanted to dispose of.
You will free up space in your garage.
You will not be spending a dime because everything is free, including the pickup and towing of your car.
You can save money because you will no longer have to pay for any expensive repairs, insurance, and registration of your car.
Donating to us is very easy and quick because we will handle everything for you, including paperwork.
The Easy Steps in Donating a Car
Our Aberdeen, Maryland car donations process is designed specifically to provide comfort and convenience to our donors. Here are the three quick and simple steps in the process:
You can do it by either filling up our online donation form or giving us a call at 866-540-5069. We'll ask you to give your contact details and your car's year, make, model, current mileage and general condition (running or non-running). We then verify all the details you have given before proceeding.
Wait for your car to be towed for free.
Once you complete the first step, a schedule for the pickup of your vehicle will be arranged according to your preferred time, date, and location. A licensed towing company will pick up and tow your car at no cost to you since we'll be the done to pay for this service. Before we take away your vehicle, we'll give you a towing receipt that releases you from any liabilities from then on. You can use this receipt to cancel your vehicle's registration and insurance.
Get your tax deduction receipt.
Once your vehicle has been auctioned off, you'll receive the 100-percent tax-deductible sales receipt of your donated vehicle via mail. Keep this document because you'll use this to support your tax deduction claims when you file your itemized federal income tax return.
We Accept Other Vehicles
What's great about our Aberdeen, Maryland car donations program is that you can donate nearly all kinds of vehicles, even those that have scratches and dents or have not run for years.
However, we cannot process stolen and abandoned vehicles for donation since these vehicles have no titles or proof of ownership, which is a requirement for car donation. We also cannot accept heavily damaged vehicles that have little cash value.
Here is a partial list of the vehicle types we accept in the area:
Cars
Vans or minivans
SUVs
Trucks
Motorcycles
Trailers
Campers
Boats
Yachts
Golf carts
Riding lawn mowers
Farm equipment
If you have a vehicle you want to donate but it's not on this list, please give us a call at 866-540-5069 to check. There is a big chance we will accept it as long as you have the title to the vehicle. If you've lost the title, we'll help you secure a replacement title so you can proceed with your vehicle donation.
We Are All In This Together!
With togetherness, anything is possible! We can join forces in the fight against breast cancer! Join our Aberdeen, Maryland car donations program now! Contact us at 866-540-5069! Donate now!
or Call Us Now at 866-540-5069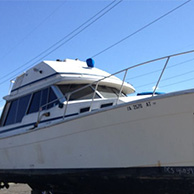 Excellent customer service!