Truck Camper Donations
Donate Your Vehicle and Save Lives!
Truck Camper Donations: We'll Turn Your RV into a Powerful Life-Saving Tool
Do you have an old truck camper that has become a sitting dinosaur on your property? Since you may no longer have any interest in using it, you're probably thinking of getting rid of it in the best way possible. If your truck camper needs a lot of work, it might be difficult to sell or trade it in.
If this is the case, your best option is to donate it to a charity that supports a cause close to your heart. When you make a truck camper donation to us at Breast Cancer Car Donations, we'll transform it into a powerful tool designed to save the lives of the struggling breast cancer patients in your local area.
How do we do that? We'll auction off your recreational vehicle and use the proceeds to support our IRS-certified 501(c)3 charity partners in their mission to provide uninsured and underserved breast cancer patients with financial assistance, counseling, therapies, and treatment. These nonprofits also make use of the funds they get from us to provide early breast cancer screening and other breast cancer prevention and education services to their beneficiaries.
Why We Need Your Help
Next to skin cancer, breast cancer is still the most common cancer among American women. The risk of breast cancer diagnosis tends to go higher as women age, although there are some other factors that can contribute.
The good news is that with early detection and today's advanced treatment options, more and more breast cancer patients are able to survive and beat the disease.
Even then, thousands of these patients face the likelihood of succumbing to the disease for lack of financial resources to pay for the high cost of treatment, medicines, and hospital services. That is why Breast Cancer Car Donations is here to seek help from donors. With your truck camper donation, you can provide life-saving assistance to needy breast cancer patients and their families in your own community.
Our Quick and Hassle-Free Donation Process
Not a fan of doing paperwork? Don't want to shell out cash for the towing of your vehicle? If that's the case, Breast Cancer Car Donations is definitely your perfect choice!
We have a team of donation experts who will process all the paperwork on your behalf. As for vehicle pickup and towing, we offer this for free wherever you are located in the United States.
To get a better idea of our convenient and straightforward donation process, here is our simple three-step guide:
1. Reach out to us.
There are two ways to reach out to us once you're ready to make a truck camper donation: You either call us at our hotline 866-540-5069 or you fill out our online donation form. Provide us a few basic details about your truck camper. After verifying the information you shared with us, we'll call you back to arrange your preferred schedule for the pickup of your RV.
2. We collect your truck camper.
We'll assign a licensed towing company to pick up your RV. The tow truck driver will issue you a towing receipt. This document will release you from any liability on your donated vehicle from that point forward.
3.  You receive your tax-deductible receipt.
Once we get hold of your truck camper, we'll promptly send it one of the best auction houses in our nationwide network. Within 30 days following its sale, we'll send you by mail your 100-percent tax-deductible sales receipt. You will need to present this receipt to your local IRS when claiming your tax deduction in the upcoming tax-filing season.
Just like that, you're done! You no longer own a dinosaur that's has become an eyesore on your property. If you want to know more about our vehicle donation process and other related matters, check out our FAQs page. For any questions or concerns that you may still have, call us at 866-540-5069 or send us a message online.
Why Donating a Truck Camper to Us is a Great Idea
Did you know that when you make a truck camper donation to us, you'll not only be helping the destitute breast cancer sufferers in your community, but you'll also be giving yourself huge rewards? By deciding to collaborate with us, you'd do yourself a huge favor! Expect these perks to come your way:
Get the maximum tax deduction for your gift.
Benefit from our free vehicle towing at a date and place of your preference.
Save money since you no longer have to pay for your RV's repairs and maintenance.
Get rid of an unneeded vehicle at no cost.
Free up space in your yard, garage, or driveway.
Skip the hassles associated with selling a used vehicle yourself.
Avoid dealing with loads of paperwork.
Feel satisfied knowing that your donation can help save the lives of individuals in your local area who are afflicted with breast cancer.
You Can Donate Other Types of Vehicles
Unlike other vehicle donation platforms, Breast Cancer Car Donations is willing to accept not just standard cars and RVs but nearly all other types of vehicles as well, whether in good running condition or not.
Have a look at the other types of vehicles that you can hand over to us:
Cars: sedans, compact cars, coupes, luxury cars, convertibles, hybrids, sports cars
SUVs: compact, mid-size, full-size, crossover versions
Vans: cargo vans, passenger vans, family vans, minivans
Trucks: mobile cranes, garbage trucks, refrigerator trucks, tank trucks, dump trucks, extended cabs, box trucks
RVs: toy haulers, folding and tent trailers, hybrid trailers, travel trailers, motorhomes, campers
Fleet vehicles: limousines, buses, minivans, vans, taxis, ambulances
ATVs: three-wheelers, four-wheelers
Motorcycles: scooters, mopeds, choppers, touring bikes, sports bikes, dirt bikes, off-road bikes, cruisers
Specialty vehicles: motorized wheelchairs, ATVs, golf carts, snowmobiles, riding lawnmowers
Work vehicles: landscaping vehicles, tractors, farm equipment, construction vehicles
Aircraft: gliders, non-commercial planes, helicopters
Water vessels: cruise ships, yachts, pontoon boats, catamarans, tugboats, sailboats, speedboats, fishing boats, motorboats
Start Saving Lives Today!
By teaming up with us at Breast Cancer Car Donations, you can be a hero to the needy breast cancer patients in your community. Your truck camper donation can help save their lives. Call us at 866-540-5069 or fill out our online donation form to get started with your truck camper donation now!
or Call Us Now at 866-540-5069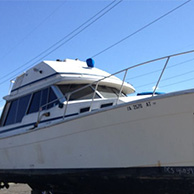 Excellent customer service!