Travel Trailer Donations
Donate Your Vehicle and Save Lives!
Travel Trailer Donations: Raise Hopes of Breast Cancer Sufferers
Do you have a worn-out travel trailer that you no longer use and is just collecting rust and dust in your backyard? Are you looking for the best way to dispose of it? Here's one sure-fire solution: Donate it to us at Breast Cancer Car Donations!
Whatever travel trailer model you have – whether the jellybean-shaped one with a chuckwagon kitchen in the rear or the massive house-on-wheels type with picture windows and a sliding glass patio door –we can pick it up and get it off your property with just one phone call from you.
Once you decide to donate your travel trailer to us, we'll have it auctioned off, with the proceeds going straight to our IRS-certified 501(c)3 charity partners. These charities are at the forefront in the war against breast cancer, providing comprehensive breast health services to the needy victims of the deadly disease and contributing other resources to combat the affliction on various fronts.
Your travel trailer donation can help these nonprofits deliver the following services:
Financial assistance to uninsured and underprivileged women (covering expenses including oncology consultation and services, outpatient medication, surgery, and hospital bills);
Linking patients to facilities that provide accessible resources and a wide range of breast health services;
Funding ongoing research on breast cancer prevention, screening, diagnosis, and treatment;
Organizing fundraisers and outreach events for the benefit of patients;
Promoting public awareness on the importance of early screening and diagnostic tests.
Breast Cancer in the U.S. Today
In the United States, roughly 30,000 to 40,000 women die of breast cancer each year. While the numbers have drastically dropped over the years, many breast cancer patients are still in dire need of assistance. Most of them are uninsured and underprivileged women who have no access to facilities that provide screening services for early breast cancer detection, which is the most effective phase in eradicating the disease.
Having little money to pay for their medical expenses and healthcare services, they are left helpless. That's the reason why we at Breast Cancer Car Donations are here: We help in providing life-saving assistance to needy breast cancer patients through our travel trailer donations program and similar others.
Our Hassle-Free Donation Process
We make life easier not only for breast cancer patients but for our generous donors as well! When you choose us as your partner in charity, we'll repay your generosity by having you go through our ridiculously quick and simple donation process. For instance, it will only take you 2 to 3 minutes to make your travel trailer donation. We're not kidding!
Reaching out to us is the only task we've got for you. Our team will manage all your paperwork. We'll also be the ones to haul your vehicle away. All these won't cost you a single penny.
To get a clearer idea of our donation process, here is a simple step-by-step guide:
1. Contact us.
Once you decide to donate to us your travel trailer, call us at 866-540-5069 or fill out our online donation form. Tell us a bit about your travel trailer and your personal contact information.
2. Schedule your travel trailer's free towing.
After we verify the information you shared with us, we'll call you back to schedule the pickup and towing of your travel trailer. Tell us your preferred date and time for turning over your vehicle to us and where we can pick it up. We'll then assign an affiliate licensed towing company to haul off your travel trailer. The tow truck driver will issue you a towing or donation receipt. This document releases you from any liability on your trailer from that point forward.
3. Receive your tax-deductible receipt.
We'll place your travel trailer up for auction. In less than 30 days after it is sold, we'll send you your 100-percent tax-deductible sales receipt via mail. You'll need this document to claim your tax incentives from the IRS when you file your itemized federal income tax return in the next tax season.
If you have questions about tax deductions or our donation process, feel free to call us anytime at 866-540-5069. You can also send us a message online. For more information, check out our FAQs page.
We've Got Plenty of Perks for You!
Consider yourself lucky when you take part in our travel trailer donations program! Although the fact that you get to make a difference in the lives of breast cancer patients can already be a proud moment for you, there are tons of other reasons to get you excited! By picking Breast Cancer Car Donations as your charity partner, get ready to be rewarded with these awesome benefits:
Get the highest possible tax deduction.
We'll send your travel trailer to one of the best auction houses in our nationwide network where it will be sold at its highest possible price to maximize the amount of tax deduction you can get from it.
Experience a donation process that's quick and painless.
Just tell us that you want to make a travel trailer donation – and that's it for you!
Get free towing service anywhere in the United States.
Since we operate in all 50 states, we can pick up your travel trailer wherever it is parked.
No need to deal with paperwork.
It's our job to save you from stressful tasks such as preparing tax documents.
You can finally heave a huge sigh of relief now that you no longer have to pay for your trailer's maintenance, storage, and repair!
Skip the hassles of selling.
Selling a second-hand trailer may take several months before somebody buys it – especially if it's already in poor condition. Why bother going through all the trouble when you can easily get rid of it instantly with just one phone call to us?
You Can Donate Various Types of Vehicles, Too!
Aside from our travel trailer donations program, Breast Cancer Car Donations also has its doors wide open for donations of various types of vehicles. You can get rid of nearly all types of unwanted vehicles that you might have on your property by simply telling us about them.
Check out this list of the various vehicle types that you can donate to us:
Cars: luxury cars, sports cars, wagons, hybrids, hatchbacks, sedans, coupes, convertibles
Trucks: extended cab pickup, panel trucks, box trucks, pickup trucks
SUVs: compact, midsize, full-size or crossover versions
Vans: camper vans, cargo vans, passenger vans, family minivans
Motorcycles: scooters, touring bikes, off-road bikes, cruisers, sports bikes,
Recreational vehicles: motorhomes, snowmobiles, Jet Skis
Aircraft: gliders, helicopters, private noncommercial planes
Boats: fishing boats, tugboats, speedboats, pontoon boats, yachts, cruise ships, catamaran boats, sailboats
Specialty vehicles: ATVs, golf carts, riding lawnmowers, motorized wheelchairs
Work-related vehicles: buses, construction vehicles, large trucks, farm equipment, landscaping vehicles
Make Your Move Now!
It only takes a simple act of charity to raise the hopes of breast cancer sufferers and eventually save their lives. Make a travel trailer donation with us today! Call us at 866-540-5069 or fill out our online donation form now!
or Call Us Now at 866-540-5069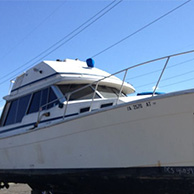 Excellent customer service!