Tractor Donations
Donate Your Vehicle and Save Lives!
Help Us Fight Breast Cancer with a Tractor Donation
Got a dusty tractor that you've long wanted to remove from your backyard? Been thinking of selling it? Here's a better idea: Donate it to Breast Cancer Car Donations!
With your tractor donation, you'll help us fund leading nonprofit organizations that are working hard to provide life-saving assistance to breast cancer patients throughout the United States.
We'll have your tractor auctioned off, with the proceeds going to our IRS-certified 501(c)3 nonprofit partners. These charities provide uninsured and underserved breast cancer patients with easy access to medical facilities so they can undergo full treatment. They also offer free breast cancer screening as well as other breast cancer prevention and education services for all individuals who need them.
In other words, your tractor donation will help breast cancer patients get the assistance they badly need to survive the life-threatening disease. Your donation will also fund research on the disease, furthering the odds of discovering a cure.
Whether you're planning to give us an old garden tractor, a utility tractor that's in poor shape, or a perfectly-running industrial tractor, it will surely make a difference in the lives of breast cancer patients and their families in your local area.
How to Make a Tractor Donation
Donating a tractor to Breast Cancer Car Donations only takes a few minutes to complete. As a matter of fact, contacting us is the only task you need to do. Once you've provided us everything we need to know about your tractor, we'll take over and finish the rest of the donation process.
Here's our quick and convenient three-step guide to our tractor donation process:
1. Talk to us.
You can reach us by either calling us at 866-540-5069 or by filling out our donation form on this website. We'll ask for your tractor's basic details and your personal contact information, after which we'll set a date, time, and place for its free towing based on your preferences.
2. We pick up your tractor.
We'll assign a licensed towing company to send their tow truck to pick up your tractor. Once we get hold of your donation, we'll issue you a towing receipt. This releases you from all liabilities on your tractor from that point onward.
3. Receive your tax-deductible receipt.
We'll coordinate with one of our vehicle liquidation vendors so that we can auction off your donated tractor. Within a few days following its sale, we'll mail to you your 100% tax-deductible sales receipt to your given address. You'll need this receipt to claim your tax deduction when you file your itemized federal income tax return in the next tax season.
For more information about our donation process, tax deductions, and other related matters, feel free to visit our FAQs page. If you can't find there the answers to your questions, call us at 866-540-5069 or send us a message online. One of our donations specialists will be glad to answer all your questions.
Why Donate Your Tractor to Breast Cancer Car Donations?
Out of the many vehicle donation platforms all over the country, why should you pick us? Well, that's a question we'd love to answer!
If the sound of a hefty tax write-off makes you smile, that's one reason to hand your old tractor to us. Being able to help breast cancer patients in your community is another! Here are the rest of the benefits that await you:
Dispose of an unwanted tractor without spending a dime.
We'll gladly haul your tractor away for free!
You're free to pick a date, time, and place for the free towing of your tractor.
Our pickup and towing services are available in all 50 states. Just provide us the location of your tractor and we'll quickly send a tow truck to pick up your tractor.
No paperwork for you to handle.
You can count on our team to process and manage all the necessary documents.
Skip the headaches of selling a used tractor yourself.
Looking for a potential buyer of an old tractor is not only time-consuming but costly as well when there are necessary repairs that need to be done. Instead of worrying about ways to advertise, get rid of it easily with a simple phone call to us!
Stop paying for your tractor's maintenance.
What's the point of spending huge bucks for the maintenance of a tractor that you don't even use anymore?
Other Types of Vehicles You Can Donate
Besides tractors, we at Breast Cancer Car Donations are open to many other kinds of vehicle donations. Regardless of their age or working condition, we take cars, trucks, vans, SUVs, motorcycles, RVs, trailers. We also accept Jet Skis, various types of boats, ships, and non-commercial aircraft You can also give us unique vehicles such as motorized wheelchairs, riding lawnmowers, golf carts, snowmobiles, and ATVs!
For a detailed list of the vehicles that we normally accept as donations, make your way to this page.
Transform Your Tractor Into a Cancer-Fighting Weapon Now! 
Are you ready to join us in the fight against breast cancer? Make a tractor donation with us now! Call us at 866-540-5069 or fill out our online donation form now to begin!
or Call Us Now at 866-540-5069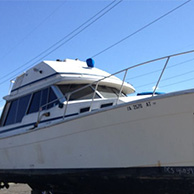 Excellent customer service!