Toy Hauler Donations
Donate Your Vehicle and Save Lives!
Toy Hauler Donations: Use Your Old RV to Help Breast Cancer Victims
Do you think the time has come to say goodbye to your family's toy hauler? Here's an idea you might want to consider: Turn it over to us at Breast Cancer Car Donations for the benefit of needy breast cancer patients in your community! Your donation can help them beat the devastating disease.
By donating your unwanted toy hauler to us, you'll make it possible for our IRS-certified 501(c)3 nonprofit partners to provide vital assistance to breast cancer patients who are fighting for their lives.
We'll auction off your toy hauler and use the proceeds to help finance the programs of our charity partners. Thanks to your donation, these charities will have more beneficiaries who'll be able to receive:
Comprehensive breast health services;
Financial assistance, education, and access to medical facilities to aid in the early detection, treatment, and survival of breast cancer patients;
Linkages with local facilities to help patients get the services, support, and resources they need; and
Specialized healthcare service to guide breast cancer patients to their best choices of facilities and care providers.
Donating to Us Only Takes a Few Minutes
At Breast Cancer Car Donations, we offer a donation process that's incredibly convenient for our donors. With us, you wouldn't find yourself breaking a sweat!
Our team of donation experts will manage all your documents. You can also count on us to haul off your toy hauler at no cost to you. We have an extensive nationwide network of auto auction and tow vendors, allowing us to collect your donation wherever you are located in the United States.
Contacting us is the only thing you'll need to do in making a toy hauler donation to us. To get a clearer idea of this, here's a simple three-step guide to our donation process:
1. Contact us.
Once you're ready to donate, just call us at 866-540-5069 or fill out our online donation form. We'll ask you certain details about your RV, including its make and model, as well as your personal contact information.
After we're done confirming the details that you've provided, one of our staff will call you back to arrange the schedule for the towing of your toy hauler. Give us your preferred time, date, and place for this.
2. We collect your toy hauler.
We'll ask an affiliate towing company to haul off your RV right on schedule. You don't have to be present when our driver comes for your vehicle. We'll issue you a towing receipt before we collect your donation. This receipt will release you from any liability on your vehicle. It will also give you the right to cancel your vehicle's registration and insurance coverage.
3. You get your tax-deductible receipt.
Now that we have your toy hauler, we'll promptly put it on the auction block. Within 30 days following the sale of your vehicle, we'll deliver to you your 100-percent tax-deductible sales receipt. You can use this receipt to claim your tax deduction when you file your itemized tax return in the next tax-filing season.
That's it! For more information, head over to our FAQs page. You can also contact us at 866-540-5069 or leave us a message here. We'll respond to you as soon as we can!
The Benefits You'll Enjoy from Your Toy Hauler Donation
At Breast Cancer Car Donations, good deeds are compensated with great rewards. For supporting our life-saving mission, we'll repay you with a number of perks that will surely bring you joy. Here are some of them:
We'll have your toy hauler sold at its highest possible price. This way, you'll be able to claim the highest possible tax deduction for your donation.
Free vehicle removal anytime and anywhere you prefer.
Just tell where your toy hauler is located – whether inside your property or somewhere else – and we'll pick it up and tow it away for free at a date and time of your own choosing.
We handle all the paperwork.
We won't require you to process even one single piece of document. Our team of donation experts will do all the paperwork on your behalf.
No more hassles of selling a used vehicle yourself.
Forget ad placements, costly vehicle repairs, and negotiating with prospective buyers. Do yourself a big favor by donating your toy hauler to us instead!
With your toy hauler out of your hands, you no longer have to spend money on its insurance, storage, and maintenance.
Free up space in your garage.
No one likes the sight of a dusty vehicle occupying more than half your garage space. We'll gladly remove that eyesore from your property.
We Accept Other Vehicle Donations
Besides toy haulers and standard cars, we at Breast Cancer Car Donations are open to many other kinds of vehicles. You can donate even vehicles that are no longer running. Trust us – we're not picky when it comes to vehicle donations!
Other vehicle types we normally take are motorcycles, scooters, boats, jet skis, campers, golf carts, snowmobiles, and even planes. We also take fleet vehicles that are no longer needed by companies. Go ahead and tell your employer if they'd like to boost the company image by donating company vehicles for the benefit of destitute breast cancer patients.
Breast Cancer Patients Need Your Help!
The breast cancer victims in your local area are suffering great physical and emotional pain. With your toy hauler donation, you'll give them the assurance that they will soon be able to beat the devastating disease. Call us at 866-540-5069 or fill out our secure online donation form to get started with your donation now!
or Call Us Now at 866-540-5069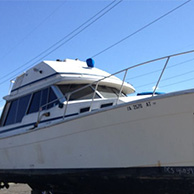 Excellent customer service!