Teardrop Camper Donations
Donate Your Vehicle and Save Lives!
Teardrop Camper Donations: Dispose of an Unwanted Vehicle for a Worthy Cause
What's a simple way to help beat breast cancer if you got this particular type of trailer that you no longer need? Three words: teardrop camper donations.
When you hand over an unwanted trailer to Breast Cancer Car Donations, you'll give hope to individuals who are struggling with the deadly disease. We will sell your donation through auction and use the proceeds to help fund the programs of our IRS-certified 501(c)3 nonprofit organization partners. These charities are dedicated to providing uninsured and underprivileged individuals with free and easy access to critical breast health services, including treatment such as surgery, chemotherapy, and radiation treatment. As such, your teardrop camper donation will boost breast cancer patients' chances of surviving the disease.
Our Donation Procedure in 3 Easy Steps
If you're worried about the donation process taking too long, you'll be pleased to learn that that's never the case with Breast Cancer Car Donations. In fact, it will take just a few minutes of your time to make your teardrop camper donation in the comforts of your home. All you got to do is reach out to us, tell us that you'd like to donate, and just like that, you're done!
Our competent team of donation specialists will handle everything for you, including all the paperwork. The hauling of your trailer will be done by a licensed towing company and – guess what – you won't have to shell out even a dime for it!
Here's a quick guide to show you what it's like to make a teardrop camper donation to us:
1. Pick up your phone or fill out our donation form.
Share with us a few basic details about your teardrop camper as well as your personal contact information. We'll call you back to schedule your trailer's free pickup. You'll be the one to set a time, date, and location for it.
2. We collect your donation.
A tow truck from a licensed towing company affiliated with us will collect your trailer on the appointed day. Before the tow truck driver leaves with your donation, he will hand you a towing receipt, releasing you from any liability on your camper from that day forward.
3. Get your tax-deductible receipt.
We'll sell your teardrop camper through auction. Within 30 days after your trailer is sold, we'll send you by mail your 100-percent tax-deductible sales receipt. You'll need this receipt to claim your tax deduction when you file your itemized federal income tax return in the next tax season.
You can make your teardrop camper donation wherever you are in the United States since we have vehicle donation programs in all 50 states. If you want to find out more information about Breast Cancer Car Donations and our donation process, check out our FAQs page. Have certain questions in mind? Call us at 866-540-5069 or send us a message online.
The Perks You'll Get from Your Teardrop Camper Donation
When you donate a teardrop camper to Breast Cancer Car Donations, you'll give yourself tons of reasons to be happy about. Get ready to receive the following benefits:
Enjoy a thumping tax deduction.
Remove an old and unneeded trailer without spending a dollar.
Get rid of your unwanted camper at your own convenience.
Get free pickup and towing services.
All paperwork is processed by our staff.
Team up with top-notch breast cancer nonprofits.
Skip the hassles and costs associated with selling an old trailer yourself.
Feel great knowing that your teardrop camper will benefit breast cancer patients in your own community.
You Can Make More Donations
Aside from your teardrop camper, you can donate to us almost all types of vehicles that you no longer need. In most cases, we accept even those that are no longer in good shape. The only donation offers we cannot accept are those involving vehicles that have been abandoned or stolen.
Check out the usual vehicles that we accept at Breast Cancer Car Donations:
Cars: luxury cars, sports cars, wagons, hybrids, hatchbacks, sedans, coupes, convertibles
Trucks: extended cab pickup, panel trucks, box trucks, pickup trucks
SUVs: compact, midsize, full-size or crossover versions
Vans: camper vans, cargo vans, passenger vans, family minivans
Motorcycles: scooters, touring bikes, off-road bikes, cruisers, sports bikes,
Recreational vehicles: motorhomes, snowmobiles, Jet Skis
Aircraft: gliders, helicopters, private non-commercial planes
Boats: fishing boats, tugboats, speedboats, pontoon boats, yachts, cruise ships, catamaran boats, sailboats
Specialty vehicles: ATVs, golf carts, riding lawnmowers, motorized wheelchairs
Work-related vehicles: buses, construction vehicles, large trucks, farm equipment, landscaping vehicles
Start Saving Lives with Us Today!
Thousands of breast cancer patients are in desperate need of assistance. They include those in your own community. Your teardrop camper donation will surely be a big help to them. Call us at 866-540-5069 or fill out our online donation form and start saving lives now!
or Call Us Now at 866-540-5069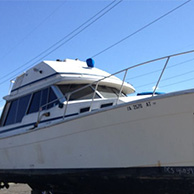 Excellent customer service!