Pop-up Camper Donations
Donate Your Vehicle and Save Lives!
Use Your Worn-Out Vehicle to Help Save Lives through Pop-Up Camper Donations
What may look like a complete junk to you can be extremely valuable to another person. For instance, your old pop-up camper that's just rotting away in your backyard can be used to help save the lives of breast cancer patients in your community. That scenario will unfold once you decide to take part in the Breast Cancer Car Donations' pop-up camper donations program.
Your pop-up camper must have allowed you to enjoy plenty of unforgettable fun moments with your kids and spouse back when you were all still young and carefree. But now that you've all grown up and have become busy with your life and less enamored with countryside camping trips and adventures, the thrill of using your pop-up camper must have dissipated. This is especially the case when your camper has suffered damages in its frames, floor, roof, canvas, and other parts due to wear and tear. Having these parts repaired would not be cheap. Selling a second-hand and damaged RV would not be easy either.
That leaves you with the only good option you've got: Donate your pop-up camper to charity. When you turn over that vehicle to us at Breast Cancer Car Donations, we'll fix it before sending it to one of the best auction houses in our network where it will be sold at its highest possible price. Once it is sold, you'll get back the value of your vehicle in the form of tax deduction. We'll send you your 100-percent tax-deductible sales receipt, which you can use to claim your tax write-off in the next tax season.
Moreover, you will be doing the breast cancer patients in your area a huge favor since the proceeds from the sale of your donation will be used for their benefit. We'll transfer the generated funds to our nonprofit partners that are devoted to providing comprehensive breast health services to uninsured and underprivileged individuals in the country. These IRS-certified 501(c)3 nonprofit organizations provide needy breast cancer patients with easy access to medical facilities so they can undergo full treatment, including surgery, chemotherapy, and radiation treatment. They also offer their beneficiaries with free breast cancer screening, follow-up care for breast cancer survivors, such as laboratory work, annual mammograms, and physician visits five years after remission, as well as breast cancer prevention and education services.
Indeed, your participation in our pop-up camper donations program will not only help save lives but will also ensure the well-being of everyone who has been touched by this devastating disease.
Here's Why You'll Love Our Donation Process
To make things easier for our donors, we at Breast Cancer Car Donations have designed a quick and hassle-free donation process. As a matter of fact, informing us of your decision to donate is the only task you'll be doing during the entire process. Our team will take care of everything else, including the processing of all your documents and the free towing of your vehicle.
Here's the simple three-step process we follow in our pop-up camper donations program:
1. Reach out to us.
Once you've made up your mind to donate to Breast Cancer Car Donations, just contact us. You may either give us a call at 866-540-5069 or fill out our online donation form, whichever is more convenient for you. Be ready to provide us a few details about your pop-up camper as well as your personal contact information.
2. We pick up your pop-up camper.
Since we offer free pickup and towing service in all parts of the country, there's no need for you to waste your time looking for a professional towing company anymore. You also have the option to schedule the free towing of your camper at a date, time, and place convenient for you.
Before we tow your RV, we'll issue you a towing receipt. This will allow you to cancel your vehicle's DMV registration and insurance coverage.
3. You receive your tax-deductible receipt.
Once your donation has entered our program, we'll auction it off to generate funds for our charity partners. Within 30 days after the sale of your donated pop-up camper, we'll mail to you your tax-deductible sales receipt.
For more information regarding tax deductions, our donation process, and other relevant matters, navigate your way to our FAQs page. You may also want to talk to us at 866-540-5069 or send us a message online.
The Benefits You'll Enjoy When You Make a Pop-Up Camper Donation
Teaming up with Breast Cancer Car Donations is definitely a decision you'll forever be grateful for. Not only will you play the part of a hero to breast cancer sufferers and their families, but you'll also be giving yourself tons of amazing perks. These include:
A maximum tax deduction;
Zero paperwork;
Fast and effortless way to get rid of an unwanted vehicle;
Free vehicle removal;
No need to waste your effort and money in trying to sell a run-down second-hand vehicle yourself;
No more costly repair, storage, and upkeep fees to worry about;
Gain extra space on your driveway or yard;
Feeling of joy knowing that your pop-up camper donation will help needy cancer-stricken women get life-saving treatment and other services.
Want to Know What Else We Accept as Donations?
Aside from pop-up campers and standard cars, we also accept other types of vehicles. We accept all offered donations whether they are perfectly running or badly damaged vehicles. As long as we see some value in those vehicles and there's a title to prove ownership, we'll take them in an instant!
Here is a list of the various types of vehicles we welcome at Breast Cancer Car Donations:
Cars: sedans, luxury cars, coupes, convertibles, hybrids, sports cars, wagons, hatchbacks
Vans: family minivans, camper vans, cargo vans, passenger vans
SUVs: compact, midsize, full-size or crossover versions
Motorcycles: touring bikes, cruisers, scooters, off-road bikes, mopeds, sports bikes, choppers
Trucks: box trucks, pickup trucks extended cab pickup, panel trucks, refrigerator trucks, tank trucks
Boats: fishing boats, sailboats, tugboats, speedboats, houseboats, cruise ships, catamarans, pontoon boats, yachts
Specialized vehicles: riding lawnmowers, motorized wheelchairs
Fleet vehicles: SUVs, pickups, trucks, buses, cars, passenger vans, cargo vans, limousines, ambulances, taxicabs
Recreational vehicles: noncommercial planes; campers, travel trailers, snowmobiles, Jet Skis, RVs, motorhomes, pop-up trailers, ATVs
Work-related vehicles: construction vehicles, tractors and farm equipment, buses, large trucks, landscaping vehicles
Help Save Lives Today!
There's no nobler act than extending a helping hand to those who are suffering. Taking part in our pop-up camper donations program is all it would take for you to touch the lives of the hurting breast cancer patients in your area. Call us at 866-540-5069 or fill out our online donation form to join our advocacy now!
or Call Us Now at 866-540-5069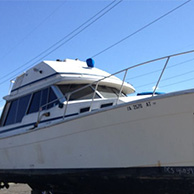 Excellent customer service!