New Jersey RV Donations
Donate Your Vehicle and Save Lives!
Join Our Mission to Save Lives with Your New Jersey RV Donations
Is keeping an RV, camper, or trailer starting to get you tired? Are you paying more than what you are supposed to? Do you want to sell your vehicle but wants to avoid the hassle of selling? 
Why not donate it to Breast Cancer Donations through our New Jersey RV donations program? We have partnered with two of the country's leading nonprofit and breast cancer-focused organizations: American Breast Cancer Foundation (ABCF) and Women Involved in Nurturing, Giving, Sharing, Inc. (WINGS). These two nonprofits are tirelessly delivering essential breast health services to all individuals needing them. They also support efforts to find new and more effective ways to prevent, diagnose, treat and possibly find a cure for breast cancer.
After we sell your vehicle through auction, the proceeds from your donation will be used to fund breast health programs and services that provide vital assistance to needy breast cancer patients and support the battle against the terrible disease. To top it off, you'll get back your RV's cash value in the form of the 100-percent tax-deductible sales receipt you'll get from us!
All about the Garden State
New Jersey, also known as the Garden State, is known for its tomatoes, corns, and blueberries.
Did you know that you can find the most number of diners in New Jersey? The state has the most numbers of diners, and the around-the-clock dining options in its numerous restaurants will give you more food to choose from than elsewhere! No wonder New Jersey is sometimes called the "diner capital of the world."
Thanks to a New Jerseyite, we never had to deal with the darkness in our houses and on our streets. Thomas Edison, also known as the "Wizard of Menlo Park," invented the light bulbs. He also invented the motion picture projector and phonograph or record player.
Many famous celebrities and artists came from New Jersey, including such artists as Whitney Houston, Frank Sinatra, Paul Simon, and Jon Bon Jovi as well as such actors as John Travolta and Bruce Willis too. The great scientist Albert Einstein is a New Jerseyite, too!
How to Make New Jersey RV Donations
We at Breast Cancer Car Donations offer the most convenient way of donating your RV to charity! Our New Jersey RV donations process is so quick and easy that you'd be surprised how fast it is.
You start out by filling out our online donation form or you can just give us a call at 866-540-5069. Tell us a little about yourself and your vehicle. Then we'll arrange a convenient time and place for the pickup.
Next, we show up at the scheduled time and place to tow away your RV for free! You don't even need to be there during the pickup. We'll give you a donation receipt that allows you to cancel and stop paying for your RV's insurance coverage and registration.
After your vehicle is sold at an auction, you'll get a tax receipt in the mail. You can use this to claim your top tax deduction.
The Types of RVs and Other Vehicles We Accept for Donation
Even if the RV you're donating is not in running condition, we'd still gladly accept it. We welcome many types of RVs or campers or nearly all types of vehicles for that matter.
Here's a list of RVs we accept:
Campers
Motorhomes
Travel trailers
Pop-up trailers
Recreational vehicles
5-wheelers
We love multiple donations because more vehicles auctioned off means more funding for our charity partners' programs. This translates to more benefits for breast cancer patients. That's why if you have other vehicles that you no longer need and want to dispose of, donate them to us as well. This way you'll be playing an even bigger role in saving people's lives. You can donate cars, vans, SUVs, trucks, motorcycles, ATVs, snowmobiles, motorized wheelchairs, riding lawn mowers, tractors, farm equipment, pickups, buses, boats, jet skis, and even non-commercial airplanes.
The Rewards You'll Get from Your RV Donation
You'll get plenty of rewards when you join our New Jersey RV donations program. Here are some of them:
We'll refurbish your RV and sell it at the best auction house in our network so it can be sold at its highest possible price level, which means a bigger tax cut for you.
Avoid the hassle of selling.
By donating your old and unwanted RV to us, you no longer need to suffer the hassles inherent in selling a used vehicle where you need to advertise, give out personal information, phone calls, and more. We'll be the one to do the selling for you, taking care of everything, and it's absolutely free!
Owning an RV is quite expensive as you have to pay for campground fees, gas, insurance, registration and more. You don't have to do that anymore with your RV safely in our hands. You don't have to pay for vehicle repairs anymore.
Bring out the best in you.
Donating your car for a truly worthy cause, one that saves lives, will give you a deep sense of personal satisfaction.
Let's Fight Breast Cancer Together!
Let us work together to fight the scourge of breast cancer. Together, we are strong. Join our New Jersey RV donations program, and take part in our mission to save lives. Contact us at 866-540-5069 to get started with your RV donation.
or Call Us Now at 866-540-5069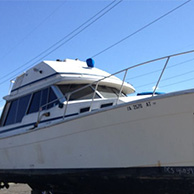 Excellent customer service!