Maryland Motorcycle Donations
Donate Your Vehicle and Save Lives!
Feel the Joy of Helping Others With Your Maryland Motorcycle Donations
Show your genuine love and care for those afflicted with breast cancer by taking part in our Maryland motorcycle donations program.
Giving to charities is now more convenient than ever. Moreover, you no longer need to use the money from your own savings or pocket just to help others. You can donate your old motorcycle that you no longer need and is just clogging your driveway or garage to Breast Cancer Car Donations. This way, you'll be helping save the lives of breast cancer patients.
When you donate your motorcycle to us, we'll sell it through auction the proceeds of which will be used to sustain and expand the various breast health services being provided by our reputable nonprofit organization partners, the American Breast Cancer Foundation (ABCF) and Women Involved In Nurturing, Giving, Sharing, Inc. (WINGS). These services include:
Financial assistance to uninsured and underserved Americans undergoing treatment for breast cancer;
Effective treatment and rehabilitation of breast cancer patients;
Support for breast cancer patients' families;
Funding research on advanced methods of breast cancer prevention, screening, diagnosis, and treatment;
Enhancing campaigns for public awareness of the causes, symptoms, prevention, and detection of breast cancer.
Your Share of Benefits
Donating your motorcycle to us at Breast Cancer Car Donations doesn't only benefit breast cancer patients because you'll also have your own share of benefits! Here are some of the perks you'll get to enjoy when you decide to join our Maryland motorcycle donations program:
Free and fast pickup and towing.
You get free and prompt pickup and towing of your motorbike on the date, time, and place most convenient to you.
Get maximum tax deduction.
We will send your unwanted motorbike to the best auction house where we'll try to sell it at its highest possible price mark. This means a maximized tax deduction when you file your itemized IRS income tax return for the next tax-filing season.
Avoid the hassle of selling.
Selling an old motorbike can be irritating, time-consuming, and expensive as well. If you simply donate your motorbike to us, you won't have to run ads, deal with phone calls or emails, and haggle over the sales price.
No need to bother with the paperwork.
When you donate your motorbike to us, we'll handle all the required paperwork.
Save money on repairs, other payments.
Your motorbike may cost more to repair than its actual worth. Don't burden yourself with registration and insurance payments by simply donating your motorcycle to us.
Support a worthy cause that will make you feel great.
Donating your motorcycle for a worthy cause will give you a deep sense of personal satisfaction.
How to Donate a Motorcycle
In just three easy steps, you can dispose of your unwanted motorcycle while donating for a good cause and getting benefits to boot! Here's how to do that with your participation in our Maryland motorcycle donations program:
Call us at 866-540-5069 or fill out our online donation form. Tell us your motorcycle's make and model, year, and other basic details. This will takes less than 10 minutes of your time.
We tow away your motorcycle for free.
Once we process your donation request, we'll get back to you to ask you your preferred date, time, and place for us to pick up your motorcycle. We'll then assign a professional towing company affiliated with us to do the job. We'll give you a tow receipt that releases you from all liabilities on your motorbike, giving you the right to cancel and stop paying for its insurance and registration.
Receive your tax-deductible receipt.
Within 30 days after your motorcycle is sold, we'll send you your 100-percent IRS tax-deductible sales receipt in the mail. You'll need this in claiming your tax deduction when you file your itemized federal income tax return for the next tax-filing season.
That's all there is to complete your motorcycle donation process.
The Types of Motorcycles and Other Vehicles You Can Donate
We at Breast Cancer Car Donations accept all types of motorcycles for donation to our Maryland motorcycle donations program. We'll gladly welcome your chopper, hog, Goldwing cruiser, crotch rocket or street bike. You can also donate your Yamaha motorcycle, scooter, Suzuki motorcycle, Honda moped, Harley Davidson, Kawasaki motorcycle or any other motorcycle makes or models.
We'll be delighted to accept multiple donations of various vehicle types. If you have other vehicles that you don't need any more, you may also donate them to us. You can donate a car, van, SUV, truck, RV, motorhome, camper, travel trailer, pop-up trailer, 5-wheeler, ATV, snowmobile, motorized wheelchair, riding lawn mower, tractor, farm equipment, boat and jet ski among many others.
Give New Hope With Your Old Motorbike
When you donate your old motorcycle to Breast Cancer Car Donations, you'll be giving new hope to breast cancer sufferers. Just imagine how grateful one breast cancer patient will be when she finds out that your motorcycle donation contributed to her recovery. Contact us at 866-540-5069 and feel the joy of helping needy people with your Maryland motorcycle donations!
or Call Us Now at 866-540-5069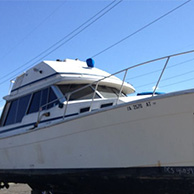 Excellent customer service!