Horse Trailer Donations
Donate Your Vehicle and Save Lives!
Horse Trailer Donations: Touch the Hearts of Breast Cancer Sufferers in Your Area
Do you have a horse trailer that you no longer use? Instead of letting it rot in your backyard, why not just give it away to us at Breast Cancer Car Donations?
By participating in our horse trailer donations program, you'll be teaming up with us in the fight against breast cancer. We will repurpose your old and unneeded horse trailer and turn it into a powerful anti-cancer tool that can help save the lives of breast cancer patients in your local area.
How do we do that? We'll sell your horse trailer through auction and then use the proceeds to support the programs of our IRS-certified 501(c)3 nonprofit partners. These nonprofits are dedicated to providing comprehensive breast health services to all individuals in the country who need them. particularly those who do not have the financial resources to pay for the high cost of treatment and hospitalization.
Using the generated funds made possible by the vehicle donations we receive, we are able to help these charities in providing life-saving services to their beneficiaries. These services include:
Financial assistance to those who can't afford screening, diagnosis, and treatment;
Raise public awareness about the importance of breast cancer prevention and early detection;
Organize various fundraisers for the benefit of patients and their families; and
Link uninsured and underserved women to local facilities that offer comprehensive breast health services.
While the number of breast cancer deaths has decreased over the years, there are still thousands of breast cancer victims in the United States who are in dire need of assistance. With the still prohibitive costs of treatments, medicines, and hospitalization, their only hope is for kind-hearted Samaritans to help them in their hour of need.
This is why we at Breast Cancer Car Donations are encouraging you to participate in our mission to support indigent breast cancer patients through a simple horse trailer donation.
What to Expect from Our Donation Process
At Breast Cancer Car Donations, we always prioritize the needs of our donors. This is the reason why we've made our donation process as quick and convenient as possible. In fact, it will take you just a couple of minutes to get things done. Just inform us of your decision to donate a horse trailer and our team of donation experts will take care of the rest.
Here is a brief guide to our horse trailer donations process:
1. Get in touch with us.
There are two options for you to reach us: Either you call us at our hotline 866-540-5069 or fill out our online donation form. Provide us basic details about your trailer and tell us its working condition. We'll then arrange your preferred schedule for the towing of your horse trailer.
2. We collect your horse trailer.
We'll assign a licensed towing company to collect your trailer on the designated day of its pickup. Don't worry about the towing fee. You won't pay any since the towing fee is on us.
The tow truck driver will issue you a towing receipt before he leaves with your donation. The receipt releases you from any liabilities on your trailer from that point on.
3. You receive your tax-deductible receipt.
We'll promptly auction off your horse trailer. Since our charity partners are IRS-approved 501(c)3 nonprofits, your donation to us is 100-percent tax-deductible. Within 30 days following the sale of your trailer, we will send you by mail your tax-deductible sales receipt. This receipt will entitle you to claim a tax deduction when you file your itemized federal income tax return in the next tax season.
If you seek clarification about our vehicle donation process and some other related matters, feel free to call us at 866-540-5069 or send us a message online. For more information, check out our FAQs page.
The Many Satisfying Perks You'll Get from Your Horse Trailer Donation 
Many satisfying rewards await you when you make a horse trailer donation to us at Breast Cancer Car Donations. Here are some of them:
Get a maximized tax deduction.
We'll exert our best effort to sell your horse trailer at its highest possible price. This way, you can claim the maximum tax deduction from your donation.
Take advantage of our free towing and pickup service.
Take note that we operate in all parts of the United States, which means that you can donate wherever you are in the country and wherever your horse trailer is located.
Count on us to process all the necessary documents on your behalf. From preparing your title transfer document to your tax receipt issuance, we got you fully covered!
Skip the troubles of selling a used vehicle yourself.
Save yourself from stress by avoiding the complicated steps in the process of selling a pre-owned vehicle. No need to run ads and deal with hard-to-please prospective buyers!
Stop paying big bucks for unnecessary vehicle expenses.
With your horse trailer no longer in your possession, you can finally bid goodbye to the financial woes it is bringing you.
Free up space on your property.
Have you been thinking of de-cluttering your property for a long time now? Consider your wish granted!
Help save lives with reputable organizations.
Collaborating with us means collaborating with our well-respected nonprofit partners. This is something you can be proud of.
The Many Other Types of Vehicles You Can Donate
We at Breast Cancer Car Donations are pleased to let you know that we accept not just horse trailers but pretty much all other kinds of vehicles regardless of their age or physical state. If you have some doubts about your vehicle's eligibility for our donation program, don't hesitate to call us. Don't worry; we seldom turn down donation offers.
Meantime, here's a list of the other vehicle types that you can donate to us:
Cars: sedans, compact cars, coupes, luxury cars, convertibles, hybrids, sports cars
SUVs: compact, mid-size, full-size, crossover versions
Vans: cargo vans, passenger vans, family vans, minivans
Trucks: mobile cranes, garbage trucks, refrigerator trucks, tank trucks, dump trucks, extended cabs, box trucks
RVs: toy haulers, folding and tent trailers, hybrid trailers, travel trailers, motorhomes, campers
Fleet vehicles: limousines, buses, minivans, vans, taxis, ambulances
ATVs: three-wheelers, four-wheelers
Motorcycles: scooters, mopeds, choppers, touring bikes, sports bikes, dirt bikes, off-road bikes, cruisers
Specialty vehicles: motorized wheelchairs, ATVs, golf carts, snowmobiles, riding lawnmowers
Work vehicles: landscaping vehicles, tractors, farm equipment, construction vehicles
Aircraft: gliders, non-commercial planes, helicopters
Water vessels: cruise ships, yachts, pontoon boats, catamarans, tugboats, sailboats, speedboats, fishing boats, motorboats
Help Save Lives with Your Horse Trailer Donation Now!
Are you ready to let go of your ancient horse trailer and give it a more meaningful purpose? Hand it over to Breast Cancer Car Donations today! Give us a call at 866-540-6069 or fill out our online donation form to start saving lives now!
or Call Us Now at 866-540-5069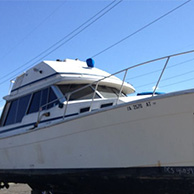 Excellent customer service!