Diesel Motorhome Donations
Donate Your Vehicle and Save Lives!
Make a Big Difference with a Little Act of Charity through Diesel Motorhome Donations
Did you know that your ancient diesel motorhome can be turned into a life-saving instrument for individuals afflicted with breast cancer? When you take part in Breast Cancer Car Donations' diesel motorhome donations program, you'll make it possible for these patients to receive quality health care, treatment, and other vital services.
At the same time, you'll get to receive a set of outstanding rewards including a hefty tax deduction after we auction off your donation.
What Happens to Your Donation?
We work in close partnership with IRS-certified 501(c)3 nonprofit organizations, providing them the funds we derive from our vehicle donation programs to support their programs and services. These nonprofits cater to all individuals needing breast health services in various communities throughout the country. They provide uninsured and underserved breast cancer patients with easy access to medical facilities where they can undergo full treatment, which includes surgery, chemotherapy, and radiation treatment. They also provide breast cancer survivors with follow-up care such as laboratory work, annual mammograms, and physician visits five years after remission. Other beneficiaries receive free breast cancer screening and prevention and education services.
Indeed, your diesel motorhome donation will go a long way in extending the lives of breast cancer sufferers and giving them hope of a much better future. This will certainly make you feel good, knowing that you'd be doing a great humanitarian act with only your old, battered, and no-longer-used RV to lose.
Here's How You'll Go through Our Donation Process
If you're looking for a diesel motorhome donations program that offers top quality service, you've definitely come to the right place. At Breast Cancer Car Donations, we always put the needs of our donors as our top priority. From start to finish, we got you all covered!
Count on us to handle all your paperwork, and that includes the processing of all the pertinent documents related to your donation. We will also tow away your RV without charging you a single dime. You can make your donation wherever you are in the United States since we have car donation programs in all 50 states.
Whenever you're ready to participate in our diesel motorhome donations program, just follow these three easy steps:
1. Contact us.
You may call us at 866-540-5069 or fill out our online donation form. We'll be asking you to share some basic details about your RV, as well as your personal contact information.
2. Schedule your free vehicle pickup and towing.
After verifying all the information you've provided us, we'll contact you to set a schedule and location for picking up and towing your vehicle. Tell us the most convenient date, time, and place for you to hand over your RV to us.
We'll assign a licensed towing company to collect your diesel motorhome. Before we take it, we'll issue you a towing receipt, which will release you from any liability on your vehicle from that point forward. The receipt also allows you to cancel your vehicle's DMV registration and insurance coverage.
3. You receive your tax-deductible sales receipt.
We'll have your diesel motorhome fixed and polished before sending it to one of the best auction houses in our network. This way, we'll be able to maximize your RV's selling price so you can claim the highest possible tax deduction from it.
Within 30 days following the sale of your RV, we'll send you by mail your 100-percent tax-deductible sales receipt.
Do you have questions regarding tax deductions, our donation process, and other related matters? Feel free to call us at 866-540-5069 or send us a message online. For more information, check out our FAQs page.
The Benefits You'll Get from Your Diesel Motorhome Donation
Donating to Breast Cancer Car Donations will not only give you the chance to support breast cancer patients in your hometown because it will also provide you with numerous benefits that you'll surely enjoy. Expect these perks to come your way once you join our diesel motorhome donations program:
Get a top tax deduction.
Have your vehicle removed from your property at zero cost to you.
We accept even defective vehicles.
No headaches of paperwork.
No need to spend money on your diesel motorhome's costly repair, maintenance, and insurance fees.
No need to waste your time and money in selling a second-hand motorhome.
Get more space in your driveway, garage, or backyard.
You Can Donate Other Types of Vehicles
At Breast Cancer Car Donations, you can donate not just your decrepit diesel motorhome but other types of unwanted vehicles that you may have. Regardless of their age or condition, we'll accept them all. Anything that has an engine is acceptable to us. Here are the various types of vehicles we accept from our donors:
Cars: sedans, luxury cars, coupes, convertibles, hybrids, sports cars, wagons, hatchbacks
Vans: family minivans, camper vans, cargo vans, passenger vans
SUVs: compact, midsize, full-size or crossover versions
Motorcycles: touring bikes, cruisers, scooters, off-road bikes, mopeds, sports bikes, choppers
Trucks: box trucks, pickup trucks extended cab pickup, panel trucks, refrigerator trucks, tank trucks
Boats: fishing boats, sailboats, tugboats, speedboats, houseboats, cruise ships, catamarans, pontoon boats, yachts
Specialized vehicles: riding lawnmowers, motorized wheelchairs
Fleet vehicles: SUVs, pickups, trucks, buses, cars, passenger vans, cargo vans, limousines, ambulances, taxicabs
Recreational vehicles: noncommercial planes; campers, travel trailers, snowmobiles, Jet Skis, other types of RVs and motorhomes, pop-up trailers, ATVs
Work-related vehicles: construction vehicles, tractors and farm equipment, buses, large trucks, landscaping vehicles
Ready to Repurpose Your Beat-Up Motorhome?
How incredibly wonderful would it be if your diesel motorhome could be the reason behind the survival of a breast cancer patient? Call us at 866-540-5069 or fill out our online donation form to turn your beat-up diesel motorhome into a lifesaver now!
or Call Us Now at 866-540-5069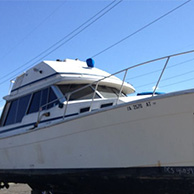 Excellent customer service!