Class B Motorhome Donations
Donate Your Vehicle and Save Lives!
Fight Breast Cancer with Class B Motorhome Donations!
Perhaps you've decided that your camping days are over. As proof of that, your trusty old Class B motorhome is now gathering dust in your garage. The question is: what's the point in letting that large vehicle rot away when you can put it to good use by donating it to Breast Cancer Car Donations?
It might interest you to know that taking part in our Class B motorhome donations program is the easiest and most convenient way to dispose of an unneeded vehicle. More importantly, it's also an effective way to provide life-saving assistance to breast cancer patients in your local area.
While your motorhome had served you well during your trips and adventures in the past, it may be time for it to fulfill another mission: to save the lives of breast cancer patients who do not have the financial resources to pay for their costly treatment.
How Does Breast Cancer Affect Women in the United States?
It's estimated that one in eight women in the country is going to develop invasive breast cancer over the course of her lifetime. This gives each woman in America a 12-percent chance of contracting the devastating disease. In fact, as of January 2019, an estimated 3.1 million women living in the United States had a history of breast cancer. They included those who were receiving treatment and those who had finished their treatment.
Furthermore, in 2019, experts estimated that about 268,600 women would be diagnosed with invasive breast cancer while 62,930 others would be diagnosed with non-invasive breast cancer. Although breast cancer's mortality rates have been on a steady decline since 1989, more than 41,760 women are still expected to lose their lives to this pernicious disease this year.
However, we can still do something to bring these numbers down through increased awareness, early detection via screening, and modern treatment methods. For this reason, we at Breast Cancer Car Donations have teamed up with like-minded IRS-certified 501(c)3 nonprofit organizations. These nonprofits are working hard to provide comprehensive breast health services to uninsured and underserved individuals in various communities throughout the country. When you take part in our Class B motorhome donations program, you'll be helping us raise the money that our charity partners need to sustain their operations. We will auction off your RV and transfer the generated funds to our charity partners. The support we provide these charities helps them in providing needy patients with financial assistance, counseling, therapies, and treatment. Other beneficiaries receive free access to early breast cancer screening and other breast cancer prevention and education services.
What Are Class B Motorhomes?
With so many RVs out there, it can be a bit overwhelming to determine which class your motorhome belongs to. Essentially, Class B motorhomes are smaller and more compact compared to Class A motorhomes. Each one looks like a van but only bigger and spacious enough to accommodate living amenities such as a kitchen, restroom, and beds.
Most campers prefer Class B motorhomes more than the others because they have the advantage of being easily maneuvered. They're also more fuel-efficient. If you're not sure whether yours is under this classification or otherwise, here are three of the most popular Class B motorhomes:
Airstream Interstate
Winnebago Revel
RoadTrek CS Adventurous
How Do You Donate Your Motorhome?
We can guarantee you a smooth donation process when you take part in our Class B motorhome donations program. With just one phone call that will take you just a few minutes, you can get your hands off your unwanted vehicle, extending life-saving assistance to breast cancer patients in the process. Our three-step donation process goes as follows:
1. Get in touch with us.
Give us a call at 866-540-5069 or fill out the donation form that you can find on this website. Provide us with information about yourself as well as the vehicle you want to donate.
2. Have your motorhome towed away for free.
Schedule a time, date, and place for the pickup of your vehicle. We'll then send a professional towing crew to haul your RV away. Towing is always free with Breast Cancer Car Donations.
3. Receive your tax-deductible receipt by mail.
After your motorhome gets auctioned off, we will have your 100-percent tax-deductible sales receipt mailed to your address within 30 days. You can use this to claim your tax deduction in the tax season the following year.
For more information on our Class B motorhome donations program, check out our FAQs page. For inquiries, you may call us anytime at 866-540-5069 or send us a message online.
What You'll Get from Your Class B Motorhome Donation
What's amazing about donating a vehicle to charity is that you don't only get to help people in dire need of assistance since you get to help yourself as well. Take a close look at some of the many things you'll get to enjoy when you participate in our Class B motorhome donations program:
Straightforward donation process
Paperwork-free transaction
Keep the money that was meant to pay for your motorhome's repair, maintenance, storage, registration, and insurance
Free towing service
A healthy tax write-off
Other Types of Vehicles You Can Donate
If you have other types of vehicles that you no longer need, you can also donate them to us at Breast Cancer Car Donations. The more vehicles you donate, the more lives we can help save and the more tax deductions you can claim.
Aside from motorhomes and other kinds of recreational vehicles, we welcome these other types of vehicles:
Cars: luxury cars, sports cars, wagons, hybrids, hatchbacks, sedans, coupes, convertibles
Trucks: extended cab pickup, panel trucks, box trucks, pickup trucks
SUVs: compact, midsize, full-size or crossover versions
Vans: camper vans, cargo vans, passenger vans, family minivans
Motorcycles: scooters, touring bikes, off-road bikes, cruisers, sports bikes,
Recreational vehicles: snowmobiles, jet skis
Aircraft: gliders, helicopters, private noncommercial planes
Boats: fishing boats, tugboats, speedboats, pontoon boats, yachts, cruise ships, catamaran boats, sailboats
Specialty vehicles: ATVs, golf carts, riding lawnmowers, motorized wheelchairs
Work-related vehicles: buses, construction vehicles, large trucks, farm equipment, landscaping vehicles
We accept vehicles being offered for donation regardless of their age and condition. We also accept vehicle donations anywhere in the United States since we have car donation programs in all 50 states.
Help Breast Cancer Patients Beat the Disease!
Taking part in our Class B motorhome car donations program makes perfect sense. It will not only allow you to get rid of an eyesore but also gives you a chance to touch the lives of individuals diagnosed with breast cancer. Call us at 866-540-5069 or fill out our online donation form to get started with your Class B motorhome donation now!
or Call Us Now at 866-540-5069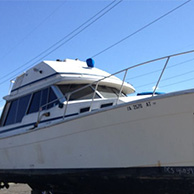 Excellent customer service!