Class A Motorhome Donations
Donate Your Vehicle and Save Lives!
Team Up with Us in Saving Lives through Class A Motorhome Donations
Don't you just find it upsetting to hear news about breast cancer claiming countless lives every single day? We're pretty sure that like many concerned folks out there, you'd love to extend your helping hand to these breast cancer-stricken individuals in any way you can. That said, we at Breast Cancer Car Donations are inviting you to take part in our Class A motorhome donations program.
If you are no longer using your large recreational vehicle owing to the fact that you and your family are no longer the freewheeling individuals who loved to explore the countryside, if that hunk of junk is just wasting away in your backyard, then how about donating it to a charity that will use it to help save the lives of breast cancer sufferers?
When you turn over that vehicle to us, we'll auction it off and use the proceeds to support the programs and services of our charity partners that are devoted to providing comprehensive breast health services to all individuals throughout the country who need them. Thanks to the vehicle donations we've been receiving, these IRS-certified 501(c)3 nonprofit organizations are able to provide countless uninsured and underserved breast cancer patients with easy access to medical facilities where they undergo full treatment, which includes surgery, chemotherapy, and radiation treatment. They have also been providing breast cancer survivors with follow-up care such as laboratory work, annual mammograms, and physician visits five years after remission. Other beneficiaries receive free breast cancer screening and prevention and education services.
Our Quick 3-Step Donation Process
Participating in our Class A motorhome donations program is quick and hassle-free. It will require just a few minutes of your time. That's the time you'll use to contact us.
Here's our easy three-step guide to our donation process:
1. Reach out to us.
You have the option to donate your car over the phone by calling us at 866-540-5069 or by filling out our online donation form. We'll ask for your contact information and a few details about your RV such as its year, make, model, mileage, availability of its title, and working condition.
2. Schedule your vehicle pickup.
After verifying your given information, we'll call you back to make arrangements for your vehicle's free pickup. We'll assign a licensed towing company to send their tow truck to pick up your vehicle. Once we get hold of your donation, we'll issue you a towing receipt. This releases you from all liability on your vehicle from that point forward. The receipt also allows you to cancel your vehicle's DMV registration and insurance coverage.
3. Receive your tax-deductible receipt.
We'll fix and polish your donated motorhome before taking it to one of the best auction houses in our network. It will be sold there at its highest possible price so you can maximize the tax deduction you can get from your charitable contribution. Within 30 days following its sale, we'll mail your 100-percent tax-deductible sales receipt to your given address. With this receipt, you can claim your tax deduction when you file your itemized federal income tax return in the next tax season.
That's how easy it is to donate your Class A motorhome to us. For more information about our donation process, tax deductions, and other related matters, feel free to visit our FAQs page. If you can't find there the answers to your questions, call us at 866-540-5069 or send us a message online and one of our donations specialists will be glad to answer all your queries.
Plenty of Perks Await You
Choosing Breast Cancer Car Donations as your charity partner is a decision you will never regret. Ever since we started operating, we've always shown our gratitude and appreciation to our donors by ensuring that they get to receive the following rewards.
Top tax deduction;
An effortless way to dispose of an unwanted vehicle;
Free vehicle removal at a time, date, and place of your convenience;
No need for paperwork;
Avoid the headaches and costs of selling a used or damaged vehicle yourself;
Save money on repairs, maintenance, registration, and insurance fees;
More room in your garage or driveway;
An opportunity to collaborate with reputable nonprofits;
A sense of fulfillment knowing that your Class A motorhome donation will be used to help save the lives of breast cancer patients in your community.
Other Types of Vehicles You Can Donate
Aside from your Class A motorhome, you can also donate to us other types of unneeded vehicles that you have – whether they're still in good running condition or not.
Here is a comprehensive list of the various types of vehicles we welcome at Breast Cancer Car Donations:
Cars: sedans, luxury cars, coupes, convertibles, hybrids, sports cars, wagons, hatchbacks
Vans: family minivans, camper vans, cargo vans, passenger vans
SUVs: compact, midsize, full-size or crossover versions
Motorcycles: touring bikes, cruisers, scooters, off-road bikes, mopeds, sports bikes, choppers
Trucks: box trucks, pickup trucks extended cab pickup, panel trucks, refrigerator trucks, tank trucks
Boats: fishing boats, sailboats, tugboats, speedboats, houseboats, cruise ships, catamarans, pontoon boats, yachts
Specialized vehicles: riding lawnmowers, motorized wheelchairs
Fleet vehicles: SUVs, pickups, trucks, buses, cars, passenger vans, cargo vans, limousines, ambulances, taxicabs
Work-related vehicles: construction vehicles, tractors and farm equipment, buses, large trucks, landscaping vehicles
Others: noncommercial planes; campers, travel trailers, snowmobiles, Jet Skis, pop-up trailers, ATVs
Donate to Make a Difference Now!
You don't need to shell out a fortune to help save lives. Your old and idle Class A motorhome is certainly good enough to achieve the same purpose. Call us at 866-540-5069 or fill out our online donation form to give hope and a new lease on life to the hurting breast cancer patients in your local area now!
or Call Us Now at 866-540-5069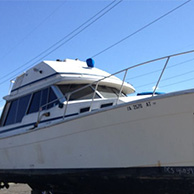 Excellent customer service!