Bring Much-Needed Hope and Relief to Breast Cancer Patients in Your Area
Do you have an all-terrain vehicle (ATV) that you no longer use and want to dispose of? Whether your ATV model is for use by a single operator or by an operator and one passenger, whether it has three or four or six wheels, and whatever its brand and engine size, we at Breast Cancer Car Donations will gladly accept it when you donate it to us.
Making an ATV donation to us is more than just getting your hands off an already unwanted vehicle in the quickest and most convenient way possible and at no cost to you. More importantly, it's a move that can help save the lives of needy breast cancer patients in your community.
Breast Cancer Car Donations has been around for many years, raising funds for our nonprofit partners that are fully committed to helping breast cancer patients in various communities throughout the country. We collect second-hand ATVs, as well as other types of vehicles, and auction them off. We then use the proceeds to support the life-saving programs of our charity partners.
These programs enable their beneficiaries to obtain the following services:
Free access to screening, diagnosis, and treatments such as chemo and radiotherapy;
Free oncology appointments, lab tests, and mammograms for five years following remission;
Financial assistance for medical expenses and medication;
Distribution of educational resource tools;
Individual and group counseling;
Outreach programs for the benefit of patients, survivors, and their loved ones.
A Donation Process Designed for Your Convenience
Taking part in our ATV donations program is a breeze. A single phone call to us lasting just a few minutes is all it takes to donate your vehicle to Breast Cancer Car Donations. You don't need to process any paperwork with us. Moreover, you can donate wherever you are since we operate in all 50 states.
Our guide below will give you an idea of how incredibly easy it is to make an ATV donation to us.
Either give us a call at 866-540-5069 or fill out our online donation form. Provide us a few details about your ATV and your personal contact information. Expect a call from us a few hours later to arrange a convenient schedule for your ATV's free towing.
A tow truck collects your ATV.
A licensed towing company affiliated with us will send their driver over to your place to haul off your ATV at your preferred time and date. In return for your donation, the driver will issue you a towing receipt. You'll need this receipt to cancel your vehicle's registration and insurance coverage.
We mail you a 100% tax-deductible sales receipt.
Within 30 days after we auction off your ATV, we will send you by mail or email your sold vehicle's fully tax-deductible sales receipt. Using this document, you can claim your tax deduction when you file your itemized federal tax return in the next tax season.
There you have it! If you have any questions or concerns about us, our donation process, and other related matters, feel free to contact us anytime at 866-540-5069. You may also send us a message here. You'll also find more information about Breast Cancer Car Donations on our FAQs page.
The Benefits of Making an ATV Donation to Us
At Breast Cancer Car Donations, everybody ends up with huge smiles on their faces. Here's why:
You get a hefty tax deduction. We'll help you get the maximum amount for this by making sure that your ATV is sold at its highest possible price.
You won't spend a single penny. You need not get money or your credit card from your wallet since the towing fee is on us.
You skip the headaches of paperwork. We have our efficient staff to handle all your documents.
You don't have to experience the hassles of selling. When you simply donate your ATV to us, there's no need for you to run ads, fix your vehicle to make it sellable, or deal with hagglers.
You stop wasting money. Say goodbye to costly repairs, maintenance, and insurance fees!
We Take All Types of ATVs and Other Vehicles
As we mentioned earlier, we accept all kinds of ATVs, including those that are no longer in good working condition. Whether your vehicle is designed for work or recreation, we'll be more than happy to have it. Side-by-side ATVs, sport ATVs, youth ATVs, and utility ATVs — you name it, we'll get it!
If you have other unwanted vehicles that you'd love to dispose of, feel free to hand them over to us. We accept the following types of vehicles:
Standard cars: coupes, sedans, hatchbacks, convertibles, sports cars
RVs: motorhomes, campers, trailers, Skoolies
Motorcycles: off-road bikes, sports bikes, power cruisers, scooters, mopeds
Specialty vehicles: snowmobiles, golf carts, motorized wheelchairs, farm equipment
Fleet vehicles: trucks, vans, minivans, buses, minibuses
Watercraft: catamarans, sailboats, pontoon boats, yachts, dinghies, jet skis
Aircraft: planes, gliders, helicopters
Be a Lifesaver Today!
That ATV that has no more use to you can provide a lifeline to a breast cancer patient who badly needs treatment but who doesn't have the money to pay for it. Be a lifesaver. Call Breast Cancer Car Donations at 866-540-5069 or fill out our online donation form now!
or Call Us Now at 866-540-5069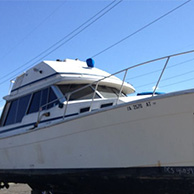 Excellent customer service!