5th Wheel Camper Donations
Donate Your Vehicle and Save Lives!
Donate an Unneeded Mobile Home and Help Save Lives through 5th Wheel Camper Donations
Do you have an ancient 5th wheel camper that you don't intend to use any more? Perhaps, you and your family no longer have the inclination to go on countryside camping trips since your children are all grown up and busy with their own lives now. Moreover, that hunk of junk most likely needs a lot of costly repairs, and you don't want to waste your money on something that no longer matters to you.
If the thought of selling your mobile home has crossed your mind, it might disappoint you to know that it's difficult to sell such a vehicle, especially one that needs a lot of work.
So now, you're probably wondering what could be your best option. Breast Cancer Car Donations is here to offer you a win-win solution: Contact us and take part in our 5th wheel camper donations program and we'll quickly relieve you of the trouble of keeping an unwanted vehicle.
We'll pick up and tow that vehicle for free and then fix and polish it before sending it to one of the best auction houses in our network. There it will be sold at its highest possible price so you can maximize the tax deduction you can get from it. Once it's sold, we'll mail you your tax-deductible receipt, which you can then use to claim your tax write-off in the next tax season.
At the same time, your donation will make you a hero to the needy breast cancer patients in your community. We'll use the proceeds from the sale of your vehicle to help fund the programs and services of our breast cancer-focused charity partners. These IRS-certified 501(c)3 nonprofit organizations provide uninsured and underprivileged breast cancer patients with easy access to medical facilities so they can undergo full treatment. They also offer free breast cancer screening as well as other breast cancer prevention and education services. In other words, your donation will enable you to help save lives!
The Perks You'll Receive As Our Donor
While your donation will provide breast cancer patients and their families in your community with the resources they need to fight the life-threatening disease, you, too, will benefit from your charitable contribution.
Get ready to be rewarded with these delightful treats once you join our 5th wheel camper donations program:
You'll get a maximized tax deduction.
Donating to us will take just a few minutes of your time in the comforts of your home.
You won't do any paperwork since we'll be the ones to process all your documents.
Vehicle removal is totally free of charge.
We tow your camper at a date, time, and place of your convenience.
You no longer have to experience the hassles of selling a hard-to-sell vehicle.
You'll stop spending loads of cash for your camper's storage and maintenance fees.
You'll free up a large chunk of space on your property.
You'll experience a deep sense of satisfaction and fulfillment knowing that your donation will help save lives.
Our Quick and Convenient Donation Process
Complicated and stressful are two words you wouldn't hear from our donors if you were to ask them about our donation process. To give you an idea of how easy, quick, and hassle-free it is, here's our three-step guide to participating in our 5th wheel camper donations program:
Step 1: Tell us that you're interested to donate.
You can reach us in two ways: Either give us a call at 866-540-5069 or fill out our online donation form. Give us certain details about your camper, such as its year, make, model, mileage, working condition, and title availability. Expect a call from us a couple of hours later to arrange a schedule for the pickup of your 5th wheel camper. You can tell us when, at what time, and where you want us to collect your vehicle. Take note that the towing service we'll provide you is free of charge.
Step 2: Say goodbye to your 5th wheel camper.
A licensed towing company affiliated with us will haul off your vehicle. Before the driver leaves, he will hand you a towing receipt. With this document, you can now cancel your camper's DMV registration and insurance coverage.
Step 3: Say hello to a 100-percent tax-deductible sales receipt.
We'll deliver to you by mail your 100-percent tax-deductible sales receipt following the sale of your donation.
For more information regarding our donation process, tax deductions, or anything else related to vehicle donations, feel free to visit our FAQs page. If you have unanswered questions, call us at 866-540-5069 or send us a message online.
Feel Free to Donate Other Types of Vehicles, Too
Aside from our 5th wheel camper donations program, Breast Cancer Car Donations also accepts other types of vehicles for donation. We take these vehicles regardless of their age or condition. This means you can donate even vehicles that have dents and scratches or those with damaged or malfunctioning parts.
Here's a list of the other vehicles we accept for donation:
Cars: sedans, luxury cars, coupes, convertibles, hybrids, sports cars, wagons, hatchbacks
Vans: family minivans, camper vans, cargo vans, passenger vans
SUVs: compact, midsize, full-size or crossover versions
Motorcycles: touring bikes, cruisers, scooters, off-road bikes, mopeds, sports bikes, choppers
Trucks: box trucks, pickup trucks extended cab pickup, panel trucks, refrigerator trucks, tank trucks
Boats: fishing boats, sailboats, tugboats, speedboats, houseboats, cruise ships, catamarans, pontoon boats, yachts
Specialized vehicles: riding lawnmowers, motorized wheelchairs
Fleet vehicles: SUVs, pickups, trucks, buses, cars, passenger vans, cargo vans, limousines, ambulances, taxicabs
Recreational vehicles: noncommercial planes; campers, travel trailers, snowmobiles, Jet Skis, RVs, motorhomes, pop-up trailers, ATVs
Work-related vehicles: construction vehicles, tractors and farm equipment, buses, large trucks, landscaping vehicles
Get in Touch with Breast Cancer Car Donations Today!
There's no perfect time than now to make a difference in the lives of the struggling breast cancer patients in your community. If you have a 5th wheel camper just gathering dust in your garage, donate it to us today! Pick up your phone and call us at 866-540-5069 or fill out our online donation form to take part in our 5th wheel camper donations program now!
or Call Us Now at 866-540-5069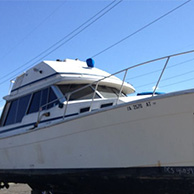 Excellent customer service!