Virtual New Year's Eve Celebration Ideas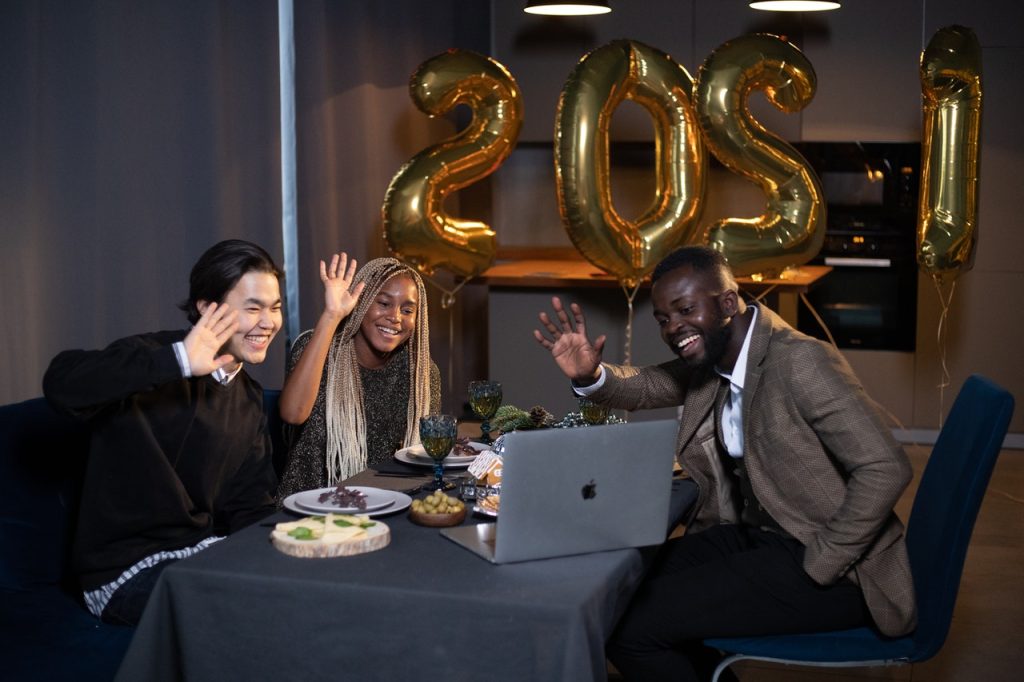 6 Things You Can Do to Make Your Virtual Party a Huge Success
New Year's Eve celebrations are typically big events where huge crowds of people get together to welcome the start of the New Year. From witnessing the ball drop in Times Square to enjoying year-end parties, people want to send off the old year in style and celebrate the start of the new one together with their families and friends.
This year, however, such festive celebrations are unlikely to happen because of the continued health threat posed by the COVID-19 pandemic. Attending social gatherings is still considered a health risk as large crowds can easily spread the deadly virus.
However, this doesn't mean that your New Year's Eve celebration this year is canceled. You just have to get creative and explore alternative ways to safely celebrate the event.
Virtual tools provide a wealth of options. If you've set your heart on hosting a virtual New Year's Eve party, here are 6 things you can do to make it a huge success.
1. Hold a themed virtual celebration.
A recent survey showed that many people are seeking escapism and a sense of community for their New Year's Eve celebration. If your guests fit the bill, you can plan your activities around this general theme. You can go for a vacation-themed virtual holiday party and get your guests to dress up for their dream destination.
2. Get loud.
New Year's Eve parties are about loud crowds so the key point is "the more the merrier." You can host a virtual dance party where guests can gather and tune in for the fun. In addition to your typical Zoom, Facetime, Facebook Rooms, and Google Meet, you can also explore apps like Houseparty, TwoSeven, and Squad. These apps can serve as platforms for different activities you can do together.
3. Get physical.
The Strava app can connect you to people who can exercise with you if you want to welcome the New Year with a fitness theme. You can get your fellow health enthusiasts to join you at a Zumba party at midnight as you show off your best powerhouse moves.
4. Play games.
The Tabletop Simulator app challenges your brain as you play your favorite board games with your friends virtually. You can also play popular games on Zoom like Cards Against Humanity, 20 Questions, Most Likely To, Trivia Games, and other fun alternatives.
5. Get creative.
Think about activities that you can do together as part of your bonding experience with your family and friends. Plan a central theme that your guests can enjoy. Line up activities that would connect you to your family and friends despite the distance. Get your guests on board to cast away the negativity of the old year and welcome the New Year with joy.
6. Make it look like a typical party.
List down the things you need for your virtual party with your family and friends. Make sure to plan and coordinate schedules with your guests. Create the virtual invites and send the link and the reminders ahead of time.
Here's One Meaningful Way of Celebrating the New Year
You can meaningfully celebrate the dawning of the New Year by sharing the hope that it brings to the destitute breast cancer patients in your local area. You can do this by simply donating an old vehicle that you no longer need to us at Breast Cancer Car Donations. We will use your donation to help save the lives of financially struggling breast cancer patients in your hometown.
Once we receive your auto donation, we'll sell it through an auction and use the proceeds to support the life-saving programs and services of our breast cancer-focused nonprofit partners. These IRS-certified 501(c)(3) nonprofit organizations use the funding that we provide them to sustain their delivery of comprehensive breast health services to their beneficiaries.
Thus, thanks to your donation, more uninsured and underserved breast cancer patients will be able to gain easy access to medical facilities where they can undergo full treatment. Our charity partners also offer free breast cancer screening, follow-up care after treatment, and other breast cancer prevention and education services.
In exchange for your vehicle donation, we'll send you the 100% tax-deductible sales receipt of your car within days following its sale. This receipt will enable you to claim the maximum tax deduction for your donation in the next tax season.
We'll also tow your car away for free wherever you are in the country.
On top of these material perks, your act of charity will allow you to experience the joy and satisfaction of doing something that can help save precious lives.
We accept nearly all types of vehicles, including those that are no longer in good condition.
Want to know about our car donation process? Not sure if we'll take your run-down car? Feel free to reach us anytime at 866-540-5069 or you may leave us a message here.
Help Them Beat Breast Cancer in 2021!

Begin the New Year by spreading hope and positivity to the suffering breast cancer patients in your community. Help us turn them into survivors with your car donation. Call Breast Cancer Car Donations at 866-540-5069 or fill out our online donation form now!