National Crafting Month: 5 Ways to Turn Your Craft into a Profitable Business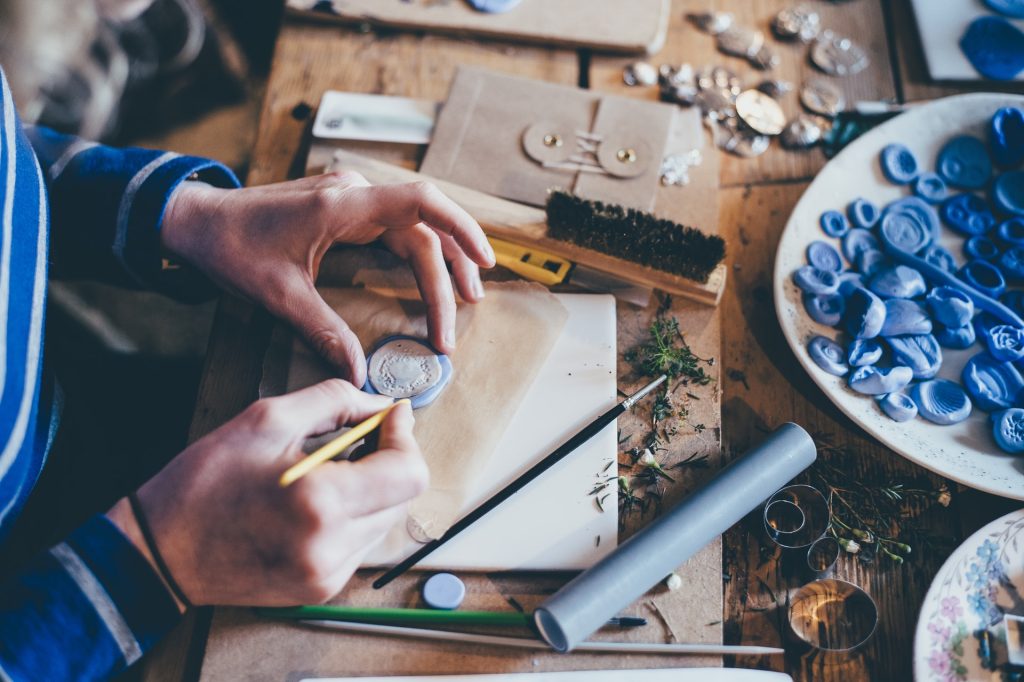 Start Earning Income from Your Hobby This March!
Crafting saw a boom in the United States with the onset of the coronavirus pandemic. With stay-at-home orders issued in several states during the height of the contagion, many people were drawn to creatively express themselves through art while cooped up at home.
Mental health professionals say crafting is highly helpful to people who are suffering from anxiety and depression as it creates a situation that's similar to meditation. It gives them a peaceful avenue to express themselves.
As people engage in crafts, the activity bolsters their mood, improves their self-confidence, and reduces their stress. Crafting also improves their mental agility, gross and motor skills, and reduces cognitive decline.
We celebrate National Crafting Month in March to encourage more Americans to explore their creativity and learn new skills that they have always been curious about.
During the pandemic, many Americans even found opportunities to turn their hobby into enterprises. In 2020, a study showed an increase in the demand for arts and crafts products when people went into isolation. The demand was attributed to parents looking for productive ways to entertain their kids while staying at home. The study also showed that arts and crafts retailers found increased demands for their products from people who wanted to start a new activity to reduce their stress.
Even before the pandemic, the demand for handmade products has been on the uptrend, leading major platforms such as Amazon and Etsy to showcase these products on their sites. Thus, many Americans found it easy to turn to entrepreneurship and venture into selling their products to meet the growing market demands.
How to Turn Your Craft into a Money-Earning Venture
If you want to start your own crafting business to earn extra income or become a full-time entrepreneur, here are a few basic tips to take note of:
1. Know your market.
Ask yourself what product you want to deliver and who your target demographic is. Learn about the competition, existing products, and how you can deliver added value to your consumers. Get feedback from your potential market to understand the viability of your product and if there is a demand for it. You can do this by posting on e-commerce platforms or social media for starters.
2. Develop your product.
Create a unique and original craft that stands out from the rest. Ensure the quality of your product and make sure that the product will be easy to replicate in case you decide to scale your business.
3. Choose a business structure.
Do you want to sell direct to consumers through your website or do you want to sell your products in brick and mortar locations? Choosing the right business model will help you keep your business on track and concentrate on a clear path to grow your enterprise.
4. Understand the technicalities.
Enroll in a full-time or crash course about product marketing, read books about start-up businesses, or try to get an entrepreneur to mentor you on your transition to making your hobby a business. This will help you navigate through the acquisition of license permits, filing taxes, profit pricing, and other requirements. It might also help you avoid common pitfalls that new entrepreneurs experience.
5. Establish good relationships.
Whether it is with your customers, business partners, or suppliers, it is important to be a person that they can trust and communicate with. For customers, build good relationships by listening to feedback and addressing issues. Start by providing a safe and simple transaction method. Make it easy for them to reach you. For your business partners, maintain transparency and open lines of communication to promote trust and confidence. If your business has grown to the point that you now have to deal with suppliers, negotiate fairly and build a sense of partnership with them.
You Can Turn Your Old Ride Into a Life-Saving Tool

As you try to pivot your newfound love for crafting into a sustainable business, how about supporting a worthy cause by transforming your unwanted car into a powerful life-saving tool? You can easily do that by donating that vehicle to us at Breast Cancer Car Donations.
We'll sell your vehicle through an auction and use the proceeds to support the critical breast health services being provided by our charity partners. These IRS-certified 501(c)(3) nonprofit organizations use the funding we give to provide uninsured or indigent breast cancer patients with easy access to top medical facilities as well as financial assistance to defray the costs of their treatments, doctor consultations, medications, and other essential health care services. Other beneficiaries get to receive free breast cancer screening, diagnosis, and cancer prevention and education services.
Your charitable contribution will also benefit you immensely. It will entitle you to receive the maximum tax deduction in the next tax season.
Moreover, we'll provide you with our free pickup and towing service wherever you are in the United States.
The most satisfying reward you'll get, however, is the awesome experience of doing an act of charity that will help save lives.
We accept almost all types of vehicles in our donation program. They don't even have to be in good condition. We'd be happy to take in damaged and even non-running vehicles.
To get to know our quick and painless donation program, check out our FAQs page. You can also call Breast Cancer Car Donations anytime through our toll-free hotline at 866-540-5069 or write to us here if you have certain concerns or inquiries that you want us to address.
Bring Hope to Breast Cancer Sufferers in Your Community Today!
Turn your old ride into a powerful tool for saving lives. Join the fight against breast cancer by donating your unneeded vehicle to Breast Cancer Car Donations. Call us at 866-540-5069 or fill out our secure online donation form now!