Most Popular Types of Tea Around The World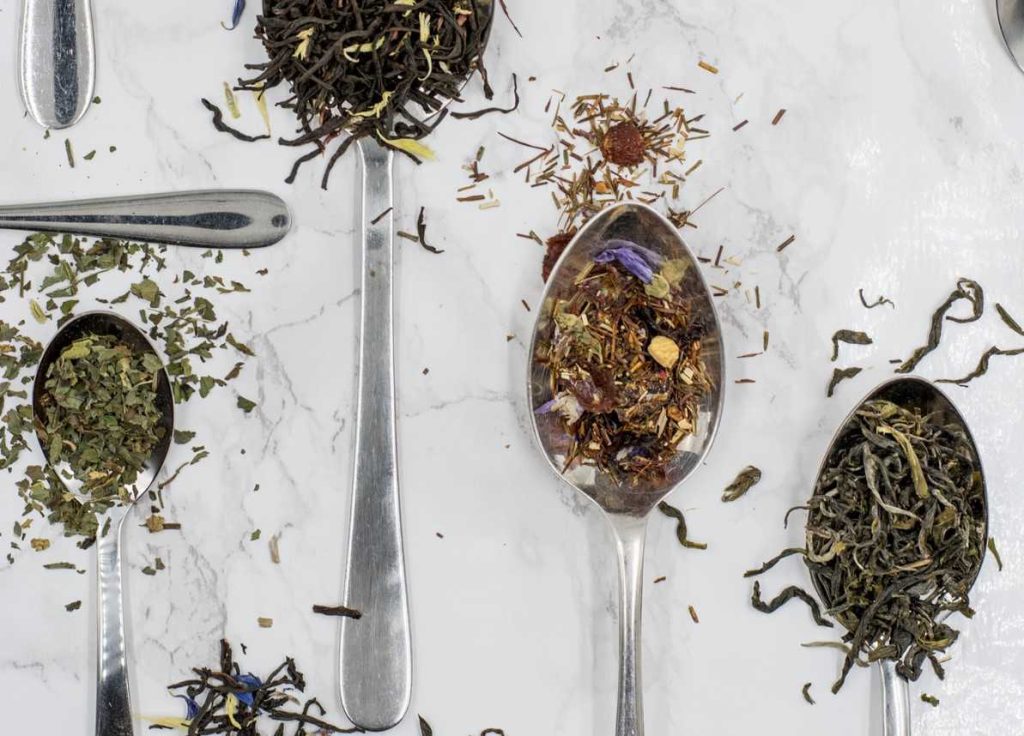 The 5 Most Popular Types of Teas Around the World
Without a shadow of a doubt, Americans love their tea. In 2018, records show that 159 million Americans consumed an average of 3.8 billion gallons of tea.
Tea provides us a calming antidote to a stressful day and also health benefits that minimize our risks of contracting diseases such as heart disease and diabetes. Some studies even suggest that tea helps minimize the risks of certain types of cancer.
Tea is lovely because it comforts you and helps you relax. It also comes in different varieties, with each one delivering a special benefit. So if you have only one variant stocked up in your kitchen cupboard, you may be missing out.
Here are five of the most popular teas in the world:
1. Green tea
Green tea is a fan favorite not only because of its flavor but also because it is rich in vitamins and minerals. Typically sourced from the Camellia sinensis plant that grows in the mountainous regions of China, green tea is full of enzymes, amino acids, and dietary minerals. It is packed with antioxidants to help your body fight off diseases and is also known to improve your memory. Because it is rich in an element called polyphenols, green tea may help limit the spread of cancer cells in the body. If you want to lose weight, green tea is very helpful in boosting your metabolism.
2. White tea
Like green tea, white tea is also sourced from the Camellia sinensis plant but is processed differently, giving it a unique flavor and aroma. White tea is rich in antioxidants and is known for reducing the risk of heart disease. It is also rich in polyphenols, which can reduce the risk of certain cancers. In addition to these, white tea can also lower the risk of insulin resistance. This tea is also rich in catechins, which can protect you from osteoporosis.
3. Oolong tea
Oolong tea is a traditional Chinese tea that's rich in vitamins and minerals like fluoride, manganese, potassium, sodium, magnesium, niacin, and caffeine. It is also sourced from the Camellia sinensis plant but is allowed to oxidize until it turns black before it is processed. It is rich in antioxidants like polyphenols, theaflavins, thearubigins, and EGCG. It also contains theanine, which are amino acids that give the tea a relaxing effect. Apart from its health benefits such as lowered risks for heart problems, cancer, and diabetes, oolong tea also promotes tooth and bone health and helps relieve eczema.
4. Black tea
While oolong and black tea are of the same color, they have different flavors and functions. Black tea also turns red when it is brewed. Black tea contains antimicrobial properties that kill harmful substances and improve gut health by helping repair the lining of the digestive tract. It also helps reduce blood pressure, the risk of stroke, as well as certain cancers. It helps lower blood sugar and cholesterol and improves alertness and focus because of the combination of caffeine and L-carnitine found in the tea.
5. Pu-erh tea
This is a fermented tea that comes from the Chinese province of Yunnan. It is one of the most popular types of tea in the world because of its robust and earthy taste. It is rich in antioxidants, aids in digestion, reduces stress, helps improve sleep, has antibacterial and anti-inflammatory properties, and can also help protect the skin from photoaging. However, the rich content of this type of tea can clash with some medications, so you need to consult with your doctor first before enjoying this drink.
You Can Help Save Lives of Breast Cancer Patients

While certain tea varieties are said to reduce the risks of cancer, medical treatment is the only proven way of fighting this life-threatening disease. However, not many cancer patients can afford the sky-high cost of treatment. That's one of the biggest problems facing many breast cancer patients throughout the country.
The good news is that you can do something to extend life-saving assistance to destitute breast cancer patients in your area. All you have to do is donate your old and unwanted car to us at Breast Cancer Car Donations.
We'll sell your gift through an auction and use the proceeds to support the critical programs and services of our nonprofit partners. These IRS-certified 501(c)3 nonprofit organizations provide comprehensive breast health services, with uninsured and underserved breast cancer patients as their primary beneficiaries.
These patients are given easy access to medical facilities where they can undergo full treatment, including surgery, chemotherapy, and radiation treatment.
These charities also provide breast cancer survivors with follow-up care, including laboratory work, annual mammograms, and physician visits five years after remission. Other beneficiaries get to receive free breast cancer screening and prevention and education services.
You'll also benefit from your charitable contribution since it will entitle you to receive a maximized tax deduction in the next tax season. Moreover, we'll provide you with our free pick-up and towing services.
You can donate not just cars but nearly any other types of vehicles regardless of their condition. We can collect your donation wherever you are located in the country since our vehicle donation program covers all 50 states.
For more information, feel free to check out our FAQs page. If you have questions, call us at 866-540-5069 or leave us a message here.
Extend Them Your Helping Hand Today!
There are needy breast cancer patients in your community who are in dire need of support in their battle for survival. You have the power to help save their lives. Call us at 866-540-5069 or fill out our online donation form to make your car donation now!