For the Love of Pumpkins, It's National Pumpkin Day!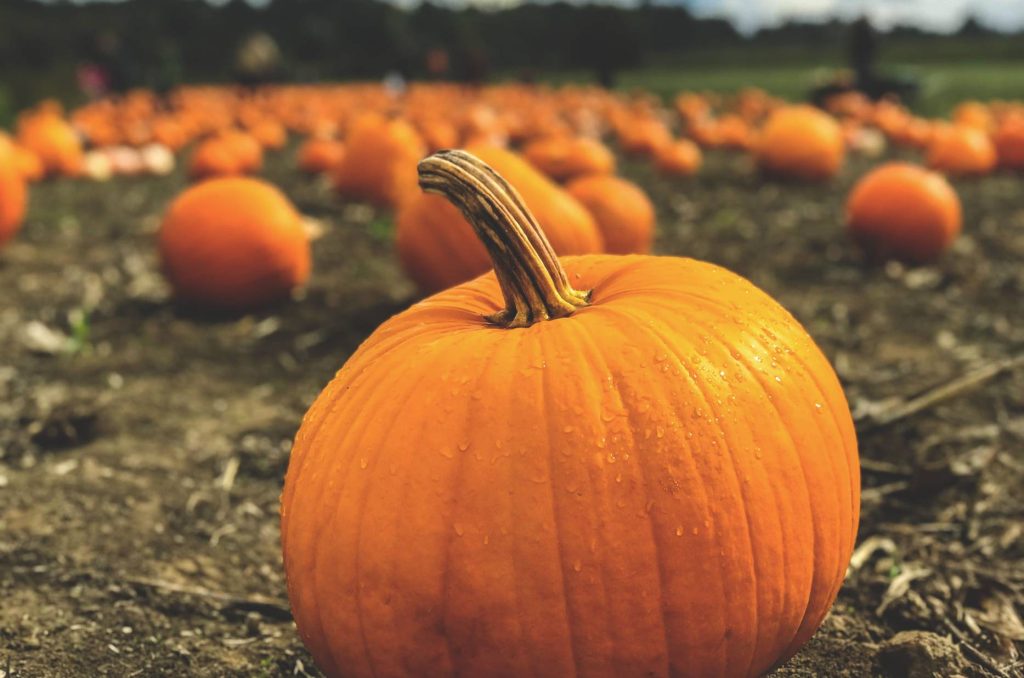 It's Time to Visit the Pumpkin Patch on October 26th!
You'll probably agree that it isn't October without pumpkin pies and jack-o'-lanterns displayed in front porches. With pumpkins in full bloom during this time of the year, it makes perfect sense that National Pumpkin Day was designated to fall on the 26th of October, Yep, Americans love this gourd (or squash or fruit, whichever you prefer to classify it) so much that they dedicated an entire day for it!
There are plenty of reasons that make pumpkins a favorite for folks across the country. Besides the fact that they're extremely versatile and can be used in just about any dish, did you know that pumpkins are a rich source of potassium, fiber, magnesium, and vitamin C? Incorporating them into your diet can help lower your risk of stroke, reduce kidney stone formation, and prevent eye damage among many other health benefits.
If that's not enough, pumpkins make such lovely adornments in homes, particularly on Halloween. No matter how young or old one is, there's no denying that carving pumpkins is a pleasurable activity. Plus, it's a great way to bring out their artistic side.
On National Pumpkin Day, parents usually take their kids to pumpkin farms where they can handpick the freshest pumpkins. Aspiring bakers showcase their skills in pumpkin bake-offs; grannies invite their brood over to enjoy their special pumpkin soup, while other folks spend the day trying new recipes.
Need Help in Picking the Best Pumpkins? We Got You!
Always had bad luck when it comes to pumpkin picking? Feel like it's just not for you? Don't give up just yet, we're here for you!
Whether you're getting these pumpkins for dinner or you're looking for a couple to decorate your porch with, our tips will certainly give you nothing but the best batch of pumpkins you can stumble on.
1. Choose firm.
Soft spots on a pumpkin mean a short lifespan, so be sure to pick those that have none of those soft spots. Simply use your fingers to check the surface for these spots. Also, watch out for soft stems, as they're also indicative of a bad pumpkin.
2. Consider the color.
You can easily tell a crop's status from its color. The darker pumpkins are, the more ideal they are for harvest. Go for ones that are purely orange and disregard those that have green shades.
3. Carefully examine the pumpkins for damage.
As with any fruits and veggies, never pick a pumpkin that comes with damages. The moment you notice a crack, hole, or split, put it back. Not only do they rot easily, but these pumpkins are also hard to carve.
4. Knock on the shell.
A general rule of thumb in pumpkin picking is to knock on its shell to hear an echoing sound. You'd know a pumpkin is edible when the sound it produces is loud and hollow.
5. Bring your tools.
Don't forget to pack your essential tools before driving off to the farm or orchard. These are your pruners, small knives, and maybe even a small wagon for your tots.
Spend National Pumpkin Day Saving Lives

Before making your way to a pumpkin-filled patch, or perhaps while you're enjoying a plate of homemade pumpkin pie, think about the breast cancer patients in your area who are unable to enjoy this fun holiday because of their sickness. If you want to extend them a helping hand, all you have to do is donate any unwanted vehicle you have to us at Breast Cancer Car Donations.
We'll convert your donated automobile into a powerful life-saving tool by placing it up for auction. All proceeds will go to our nonprofit partners, enabling them to sustain their delivery of critical breast health services to needy individuals in your area who need those services.
Thanks to your donation, these charities will be able to provide more uninsured and destitute breast cancer patients with easy access to top medical facilities and financial assistance to cover the cost of their treatments, physician visits, medications, and follow-up care. Other beneficiaries get to receive free breast cancer screening and prevention and education services.
Within 30 days after the sale of your vehicle, expect to receive the 100% tax-deductible sales receipt of your vehicle in your mailbox. With this receipt, you can claim your top tax deduction in the next tax season.
Since we offer free towing services in all parts of the country, there's no need for you to look and pay for a licensed towing company in your city anymore. Also, we accept nearly all types of vehicles, including hardly running ones or those that come with defective parts.
If you're interested to learn more about our vehicle donation program, you may head over to our FAQs page. For inquiries, reach us anytime at our toll-free hotline 866-540-5069 or leave us a message here.
Join the Fight against Breast Cancer Today!
Are you ready to make a difference in the lives of breast cancer-afflicted individuals in your area? We sure hope so! Donate a vehicle to Breast Cancer Car Donations by calling 866-540-6069 or filling out our online donation form now!