7 Common Winter Illnesses to Watch Out For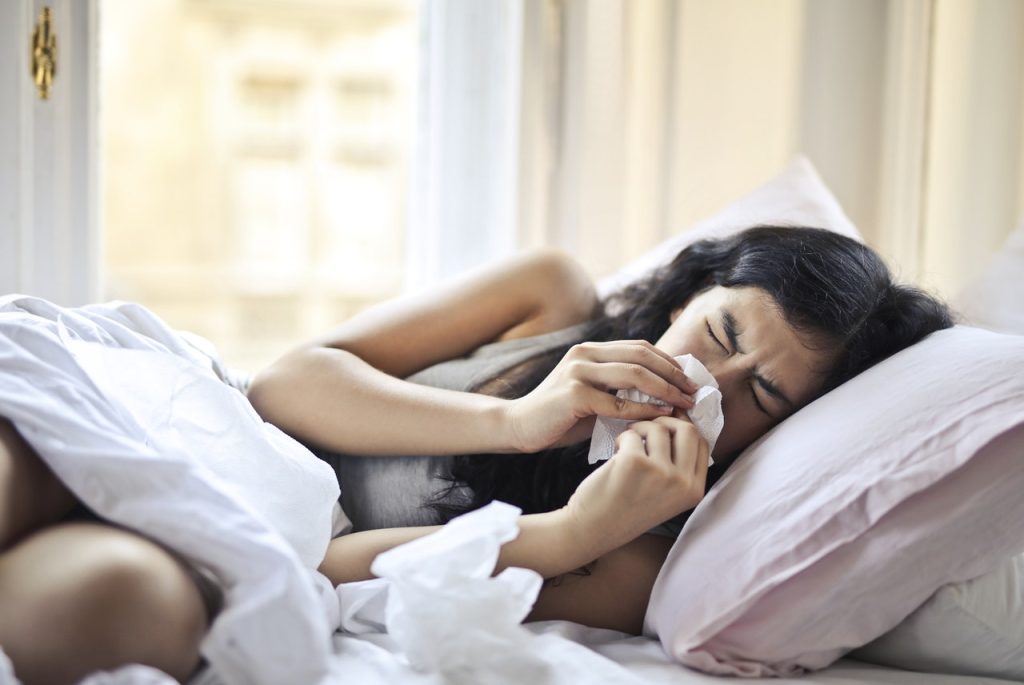 Learn How to Deal with Each One of Them
Cold weather and snow aren't the only things winter brings us. We can also expect a slew of illnesses at this time of the year. Certain health problems like sore throat and asthma are triggered or worsened by the cold. No wonder staying healthy during the winter season is a challenge for many of us.
Below are seven of the most common winter illnesses to watch out for and how to deal with each of them:
1. Common cold
Everybody's familiar with the common cold. Did you know that more than 200 viruses can cause colds? That's why many often fall prey to the illness, which is highly contagious. Getting in contact or close to someone who's sneezing or coughing, or touching a contaminated surface, puts you at great risk of getting it yourself. Before you know it, your nose will be stuffy and runny, your throat sore, and you'll be coughing like crazy.
What you can do:
While there's no cure for the common cold, you can treat its symptoms with cough drops, antihistamines, and decongestants. It also helps to take plenty of rest and keep hydrated. Don't forget to switch your fabric handkerchiefs to disposable tissues so you won't constantly reinfect your hands.
2. Flu
Also known as influenza, the flu is a respiratory illness that infects people beginning in the fall season until May. Affecting the nose, throat, and lungs, it can spread easily from person to person through coughs, sneezing, and even talking.
Anyone with the flu will feel more exhausted than usual. Besides coughing and sneezing, they might find themselves having a fever and headaches.
What you can do:
Minor symptoms can be relieved with rest, fluids, and medications. In severe cases, however, doctors usually prescribe antiviral medications like Relenza or Tamiflu to reduce the flu's duration, severity, and risk of complications.
3. Cold sores
Cold sores typically occur when a person is under stress. With wintertime bringing extreme temperatures, it's not surprising that many of us feel stressed out, eventually causing these unpleasant, painful sores.
What you can do:
Since there's no medical remedy for cold sores, your best bet is to drink lots of water and do things that can ease your stress levels. Have a warm bath, exercise, read a good book, or go for a walk outside.
4. Norovirus
Norovirus, or the winter vomiting bug, is an extremely infectious stomach disease. Though it can strike all year round, this pesky illness, which originates from contaminated food or water, is more common in winter. That's because winter is the time when large crowds of people gather around to celebrate the holidays.
What you can do:
Keeping your hands clean and being vigilant of what you eat are the easiest ways to protect yourself from norovirus. Be sure to stay hydrated as well.
5. Cold hands and feet
If you notice your fingers and toes changing colors, from white to blue to red, then you most likely have Raynaud's phenomenon. This happens due to the spasm of blood vessels into those areas, temporarily reducing blood flow.
What you can do:
The best you can do is to wear gloves, socks, and hats whenever you're going out. Avoid smoking and drinking caffeine as much as you can.
6. Bronchitis
People with bronchitis normally have trouble breathing, mostly because of the painful coughs that come along. In most cases, it starts with a dry cough that becomes mucus-producing in a few days. Sore throat, runny nose, shortness of breath, chills, wheezing, and watery eyes are several other symptoms.
What you can do:
Unless it progresses to pneumonia, there's nothing much you can do since bronchitis will clear up on its own. You can eliminate the symptoms though with cough medicine, pain relievers, and a humidifier.
7. Painful joints
Since sudden cold temperatures can cause changes in barometric pressure, winter can be a difficult time for those who suffer from arthritis or joint injuries. Their joints become painful and stiff during cooler months.
What you can do:
Combating joint pain is as simple as taking hot baths and wearing heating pads. Daily exercise also works as long as it's not strenuous.
Warm the Hearts of Breast Cancer Patients This Winter
Common winter illnesses can make life uneasy and uncomfortable for those who catch them. However, they're nothing compared to the pain and anxiety felt by people suffering from life-threatening diseases, such as breast cancer. The situation is at its worst for breast cancer sufferers who lack access to proper treatment and hospitalization due to poverty.
If you happen to own a vehicle that you no longer need, you can use it to extend a helping hand to the struggling breast cancer patients in your community. All you have to do is donate that car to us at Breast Cancer Car Donations. We'll gladly turn it into a lifesaving instrument for the uninsured and cash-strapped breast cancer sufferers in your area.
We will auction off your donated vehicle and use the proceeds to support the life-saving mission of our breast cancer-focused charity partners. These IRS-certified 501(c)(3) nonprofit organizations use the funding we give them to provide indigent breast cancer patients with financial assistance to cover the costs of their hospital fees, medications, and follow-up care. These patients are also given easy access to medical centers where they can undergo surgery, chemotherapy, radiation, and other types of treatment they need to overcome their affliction.
As our donor, expect to receive valuable rewards, including getting entitled to receive the maximum tax deduction in the next tax season.
You will also benefit from our free pickup and towing service.
Above all, you'll have the ultimate pleasure and satisfaction of doing something extraordinary that can help save lives.
We are affiliated with several licensed towing companies all over the country, so if your car isn't parked in your driveway or garage, we can still collect it from any location within the country.
We welcome almost all types of vehicles, even damaged ones that are hardly running.
Donating to us is quick and easy. Check out this page to see how convenient it is to donate your unneeded vehicle to Breast Cancer Car Donations.
For more information, head over to our FAQs page. If you have any questions or concerns, feel free to call us anytime through our hotline at 866-540-5069. You may also write to us here.
Be a Bearer of Hope Today!

This winter is the perfect time to reach out to the destitute breast cancer patients in your community. Your car donation can give them hope of beating the disease. Call Breast Cancer Car Donations at 866-540-5069 or fill out our online donation form now!