5 Reasons Why You Should Start Hiking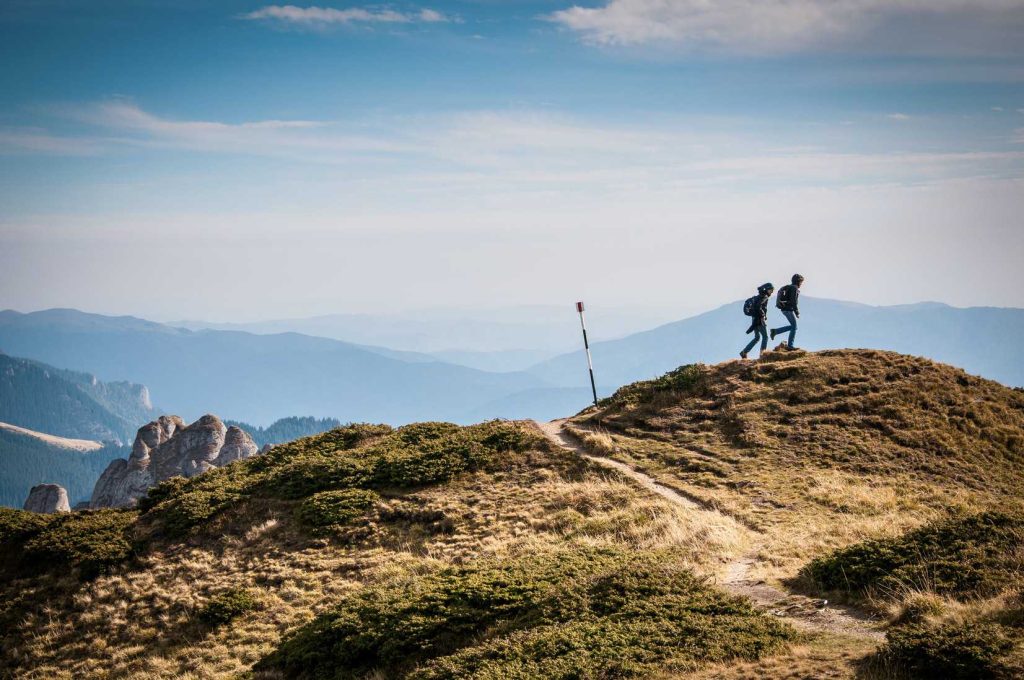 Hit the Trails on National Take a Hike Day this November 17th
On November 17th, grab a water bottle, backpack, and your best pal and tackle the trail that you've always wanted to conquer. It's National Take a Hike Day!
Did you know that the United States has over 60,000 miles of trails that are waiting to be discovered? Don't deprive yourself of the wonder and the beauty that Mother Nature has to offer.
What Are the 5 Reasons Why You Should Start Hiking?
Each hiking experience is unique in itself. Once you strap on your pack and head out to lose yourself in nature, you won't be sorry. It doesn't just get your heart pumping as you breathe in fresh and clean air, but it also boosts your health, including your mental well-being.
On November 17th, choose to take your outdoor challenge. If you're still on the fence, here are the top reasons why you should start hiking.
1. Almost anyone can go hiking.
Even older people or those who have physical limitations can safely go hiking without worrying about the risk of getting injured. They'll have their fill of fun, exercise, and thrill just like others who engage in more adventurous outdoor activities such as mountain biking, mountaineering, rock climbing, kayaking, and skiing. One of the best things about hiking is that you don't have to be in your 20's or 30's to tackle an easy trail because it's easy on your joints, back, and bones.
2. It sharpens your mind.
When you take a hike, you get your heart pumping and your lungs working out. This allows your brain to get the extra oxygenation that it needs to stay sharp. This activity will also improve your focus, enhance your memory, and prevent age-related cognitive decline.
3. It calms you down.
What sets hiking apart from other physical activities is that it allows you to immerse yourself in a natural setting. If you're not so keen on the idea of heading out to the wilderness, you can still enjoy your daily stress-busting dose with nature by simply hiking in the nearest public garden or city park.
Research shows that those who regularly take a leisurely walk in the park amid the beauty of nature experience refreshing recovery from information overload coming from computers and smartphones. Walking amid green spaces can reduce anxiety, prevent depression, cultivate a sense of awe, and improve your mood.
4. It's not expensive.
Unlike other outdoor sports, hiking only requires minimal upfront spending for your bare essentials. These include a good pair of boots, a backpack, and appropriate clothing. You won't have to spend much time or money to take a hike.
5. It boosts creativity.
If you're looking for an outdoor activity that can get your creative juices flowing, try hiking. Moving your body and taking in the breathtaking scenery will trigger the growth of new brain cells in a region of your brain called the hippocampus. This part of the brain is closely linked to long-term memory, imagination, and creativity.
Do Something Awesome on National Take a Hike Day

Aside from hitting the trails, you can do another awesome thing on National Take a Hike Day this November 17th: Extend a helping hand to the breast cancer patients in your local area who are fighting for their lives. You can do this by simply donating your old and unwanted vehicle to us at Breast Cancer Car Donations. We will auction off your donated vehicle to raise money for our nonprofit charity partners that are out there helping destitute breast cancer patients get the treatment and medication they need to beat the disease. These IRS-certified 501(c)3 nonprofits use the funding they get from us to provide their beneficiaries with easy access to top medical facilities where they can undergo all types of treatment, including surgery, chemotherapy, and radiation treatment.
These nonprofits also provide breast cancer survivors with follow-up care. Other beneficiaries get to receive free breast cancer screening, biopsy, and diagnosis as well as cancer prevention and education services.
In exchange for your charitable contribution, you'll get free towing service from us and a top tax deduction in the next tax season. The best reward you'll get, however, is the joy and satisfaction you'll feel for giving something that will help save people's lives.
We're willing to accept almost any type of vehicle, regardless of its condition, from any point in the United States.
Visit our FAQs page to learn more about us and our vehicle donation program. If you have any questions, call us at 866-540-5069 or write to us here.
Reach Out to Breast Cancer Victims Today
Before you head down to tackle the trails on November 17th, National Take a Hike Day, reach out to the breast cancer sufferers in your community. Contact Breast Cancer Car Donations to donate your unwanted vehicle. Fill out our online donation form or ring us up at 866-540-5069 to get started today!