Wyoming Car Donations
Donate Your Vehicle and Save Lives!
Wyoming Car Donations: Help Beat Breast Cancer
You may want to ponder on Wyoming car donations before selling your vehicle. Breast cancer is one of the leading causes of deaths in America. Its effects can be terrible to the patients and their family as well..
Breast cancer patients are devastated physically and emotionally upon being told of their illness. Most patients become mentally distressed right after diagnosis. Combined with physical pain, this puts more pressure on the patients.
Family members also suffer on the sidelines. These people often become desperate in seeking a cure for their loved one. The stress level rises when funds are not sufficient.
Breast cancer treatments are expensive. Constant treatment is often needed when one is diagnosed with cancer. This sometimes impedes patients from accessing much-needed healthcare.
A Convenient Way to Help Cancer Sufferers in Your Own Community
But there is a way for you to help people in your own community in Wyoming who are fighting this disease. You may opt to donate your vehicle to service this breast cancer community. Wyoming car donations help fight breast cancer one car at a time.
Breast Cancer Car Donations helps small communities come together. We provide you a convenient platform to practice charity in your own community. And more importantly, we connect donors to patients conveniently.
You can think of a million reasons why you should sell your vehicle. However, the combination of those reasons will still pale in comparison to the invaluable help you will be giving if you simply donate your car to a nonprofit organization like Breast Cancer Car Donations that directly helps needy cancer patients.
You may also be surprised to know that you stand to gain much — materially and otherwise — from giving.
Ridding Yourself of an Unwanted Vehicle
Wyoming car donations are a convenient way for you to get rid of an unnecessary vehicle. With our help, you can do this for free. Your dusty old pal in the garage can still have a great purpose through car donations.
Wyoming car donations are free of charge. You enjoy free pick up and towing. Such is a pleasure that cannot be enjoyed when you are selling your vehicle.
Apart from this, you also save yourself a lot of money. Say goodbye to ad placement fees, maintenance, repairs, and insurance payment. Upon pick up, you are no longer responsible for your vehicle.
Donating a car for breast cancer patients in Wyoming gives you the satisfaction of helping people in need. You are given the chance to save the lives of people. This could add immense meaning to your life.
Convenient Donation Process
The easy and convenient donation process makes Wyoming car donations even more appealing. Donating to breast cancer patients is as simple as 1, 2, 3. All you have to do is call and we'll do the rest for you.
The best part of car donations is enjoying tax deductions. You can enjoy at least a $500-dollar tax deduction, or even more if your vehicle sells for more than that amount. This way, you will have some material things to gain out of your charitable gesture.
Donating a vehicle to Wyoming breast cancer patients is not a complicated as it seems. We have made sure that our process is convenient for both donors and beneficiaries. We have integrated a three-step process for your convenience.
Your Call Can Extend Someone's Else Life
Wyoming car donations give donors a convenient way to reach out. A simple call can extend the lives of many. Once you're ready to make a donation, pick up your phone and give us a call at 866-540-5069. You may also fill out the donation form to begin the process. Either way, we will respond promptly.
The Wyoming car donations process will require some necessary paperwork. We often require donors to present the title of the vehicle. State policies may vary. Feel free to call us at 866-540-5069 for further questions.
You will hear from us after we've gathered all the necessary information about your vehicle. We will ask you to pick the most convenient date and time for the vehicle pick-up. Please note that this is absolutely free of charge.
We will issue a tow receipt after the pick-up. This will relieve you from any liabilities of owning the vehicle. The receipt is also a requirement for the processing of your top tax deductions.
Tax Deductions: The Perks of Donating Your Car to Us
Donating a car for breast cancer patients in Wyoming has its perks. We will mail you the necessary documents for you to file your tax deductions. It only takes a couple of weeks after the vehicle's auction.
Wyoming car donations accept various types of vehicles for breast cancer patients! We take cars, trucks, vans, motorcycles, and SUVs. We also accept boats, non-commercial planes, jet skis, snowmobiles, RVs, campers, lawnmowers, trailers, golf carts, fleet vehicles, and even farm equipment.
For vehicular queries, reach out to us at 866-540-5069.
Donate your vehicle to Wyoming breast cancer patients! Call us at 866-540-5069 today!
or Call Us Now at 866-540-5069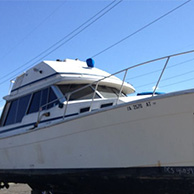 Excellent customer service!