Waterbury, Connecticut Car Donations
Help Beat Breast Cancer by Taking Part in Waterbury, Connecticut Car Donations!
You Can Help Beat Breast Cancer by Taking Part in Waterbury, Connecticut Car Donations
If yours is a vehicle that has seen better days, you don't have to put the safety of your family at risk by continuing to use it. However, before you blindly take that old beater to the nearest scrap heap, you might want to consider taking part in our Waterbury, Connecticut car donations program. Doing so will enable you to dispose of your rusty old car with no hassles whatsoever and without costing you a single dime. More importantly, it will also give you the opportunity to help save the lives of needy patients battling breast cancer in your city.
What You May Not Know About Breast Cancer
According to the latest U.S. breast cancer statistics, one in every eight women in the United States is going to develop invasive breast cancer within her lifetime. Furthermore, in 2019 alone, approximately 268,000 women are expected to be diagnosed with invasive breast cancer while 62,930 women will receive a non-invasive breast cancer diagnosis. Unfortunately, many of these individuals are uninsured and underprivileged.
We have partnered with IRS-certified 501(c)3 nonprofit organizations that are working hard to address the needs of these breast cancer patients. They need all the help they can get to fight off this life-threatening disease.
Our nonprofit partners are doing everything to save as many lives as possible. They have critical programs and services that are focused on breast cancer research, screening, diagnosis, and treatment.
However, to sustain these programs, they need more funds. We at Breast Cancer Car Donations are helping them by operating vehicle donation programs on their behalf. We auction off all vehicles donated to us and use the generated funds to support their life-saving programs.
If you want to learn more about our donation process or how your gift can impact the lives of those who've been diagnosed with breast cancer, check out our FAQs page. If you have questions, feel free to call us at 866-540-5069 or send us a message online.
It's So Easy to Make a Difference!
It's our job to make it extremely easy for you to make a difference in the lives of those who are going through their breast cancer journey. Within a matter of minutes, you'll instantly become a hero to these individuals. To give you an idea about our simple and straightforward donation process, check this out:
1. You can choose to donate over the phone by calling us at 866-540-5069 or by filling out our secure online donation form. Aside from your contact information, we'll also need a few basic details about the vehicle you're offering to donate including its year, make, model, mileage, working condition, and the availability of its title.
2. We'll contact you right after we confirm your given information to schedule the fast and free pickup of your vehicle. Don't hesitate to give us your preferred time and date for us to pick up your vehicle from any location of your choice.
3. You'll receive two types of receipts from us after making your donation – the towing receipt and the tax-deductible sales receipt. On the day of your vehicle's pickup, our driver will hand you the towing receipt, which frees you from all liability pertaining to your vehicle from that point onward. Within 30 days after we sell your vehicle at auction, we'll send you your 100% tax-deductible receipt by mail. You'll need this receipt when you claim your tax deduction in the next tax season.
Reasons Why Donating a Vehicle Makes Sense
Aside from enjoying a guaranteed pleasant giving experience and giving breast cancer patients a real fighting chance to defeat the disease, joining our Waterbury, Connecticut car donations program will entitle you to receive the following benefits:
You can get rid of any unwanted type of vehicle for FREE!
When you donate your car, truck, or van to Breast Cancer Car Donations, you won't have to swipe your plastic to pay for towing expenses because the towing fee is on us. Plus, you'll get to call the shots as to when and where you want us to pick up your vehicle. We won't even require you to be present on the day of pickup as long as you tell us where in your vehicle we can find your keys and title.
You won't have to go through the painstaking process of selling a used car yourself.
It's challenging to make your second-hand car stand out in the market. You'll have to go through all the trouble of advertising it in an attempt to build trust and credibility with your prospective buyers. You'll also have to spend money to fix and refurbish your vehicle to make it sellable.
Save more money by avoiding the costs of more repairs and other expenses.
By taking your hands off your clunker, you no longer have to continue spending needlessly for its repair, maintenance, registration, and insurance coverage. This will enable you to save tons of money.
You'll get a huge tax break.
One of the best things about joining our Waterbury, Connecticut car donations program is that it automatically qualifies you for a top tax deduction in the next tax season. You can count on us to coordinate with the best auction houses within our nationwide network of vehicle liquidation vendors so that we can sell your vehicle at its highest possible price. The higher the selling price of your vehicle, the bigger tax deduction you can claim.
Help Beat Breast Cancer Today!
Don't miss this chance to make a lasting impact on the lives of needy breast cancer patients in your city. Take part in our Waterbury, Connecticut car donations program now by ringing us up at 866-540-5069 or filling out our online donation form.
or Call Us Now at 866-540-5069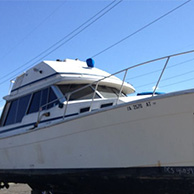 Excellent customer service!